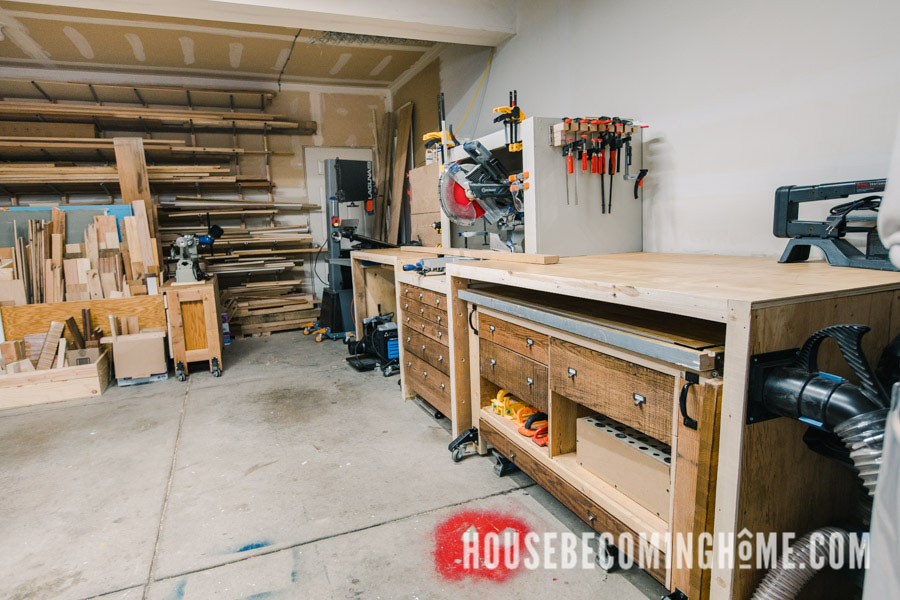 *  This post contains affiliate links for your convenience. Read my full disclosure policy here. *
The Garage Workbench that Has Room for Everything
The heart of my garage workshop is the large miter station, inspired by a modular workbench built by Sadie from The Awesome Orange. This large, stationary miter station has three main sections, and is tall enough that other items (like an assembly table, a router table, etc.) can be stored underneath.
The tables/tools stored underneath are on a set of retractable casters, so that they can be rolled out and used when needed. Then they slide right back beneath the miter station when finished.
It's a really efficient way to make a whole lot of tools and tables fit into a relatively small space. If I weren't such a wood hoarder, I'm fairly certain both of our cars would also be able to fit in this two-car garage. 🙂
A Closer Look : Three Sections of the Miter Station
The Miter Station : Center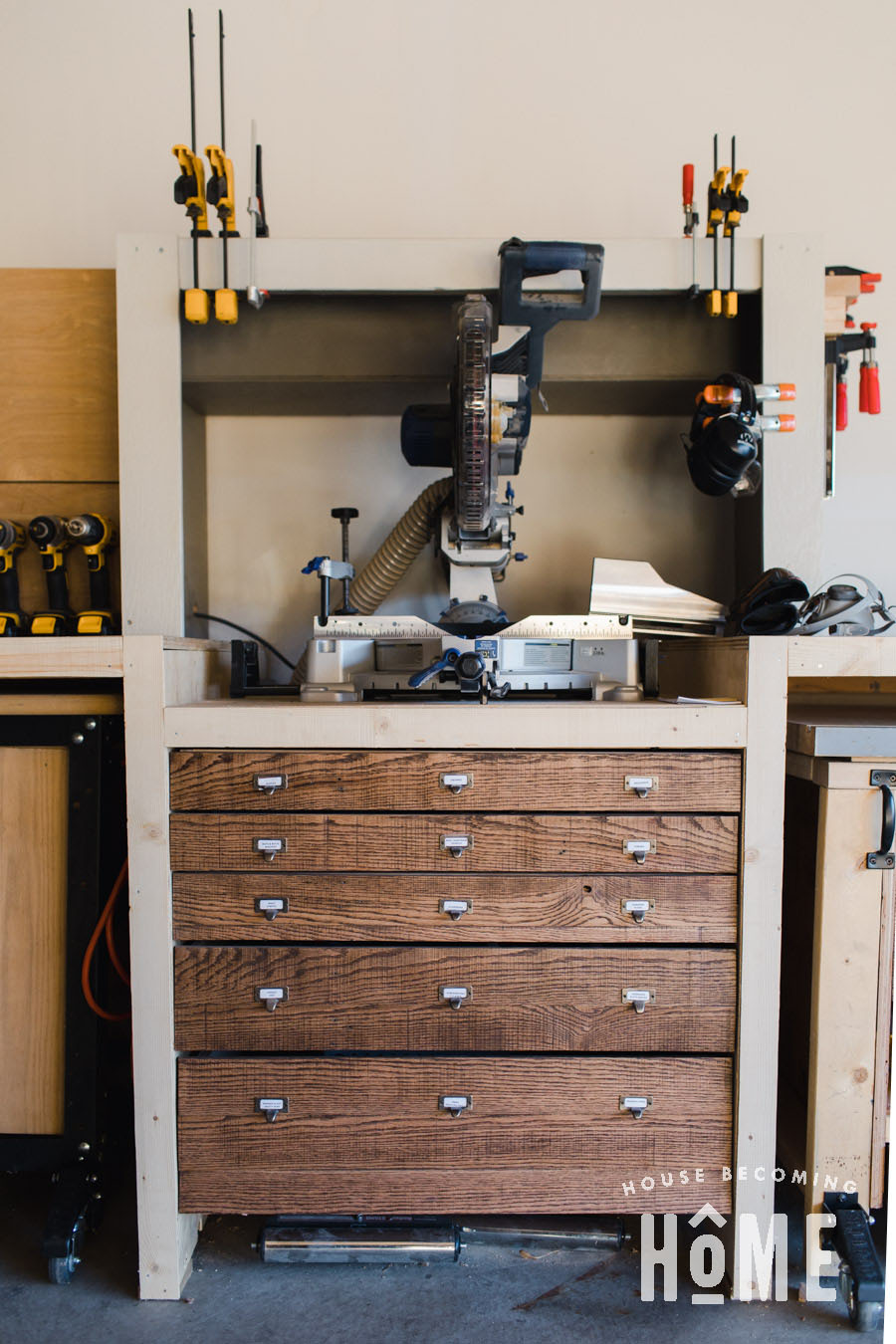 The center section has five drawers housing all sorts of tools and hardware (pencils, measuring tapes, chisels, screws, nuts/bolts, etc.). Fellow organization nerds: you can see in more detail how my small tools and hardware are organized in this post.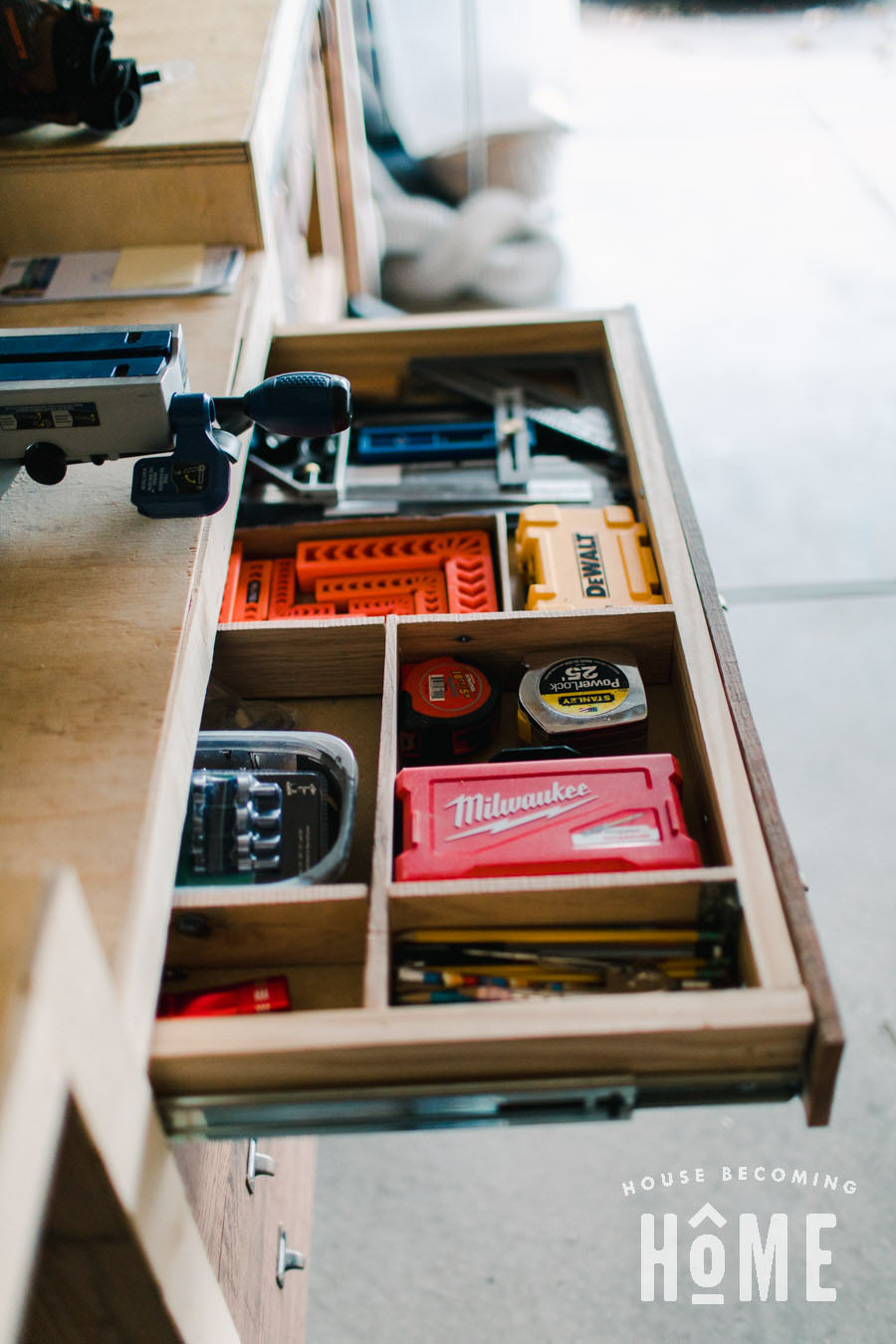 Above this stationary storage is my miter saw, enclosed by a DIY dust hood to contain the sawdust.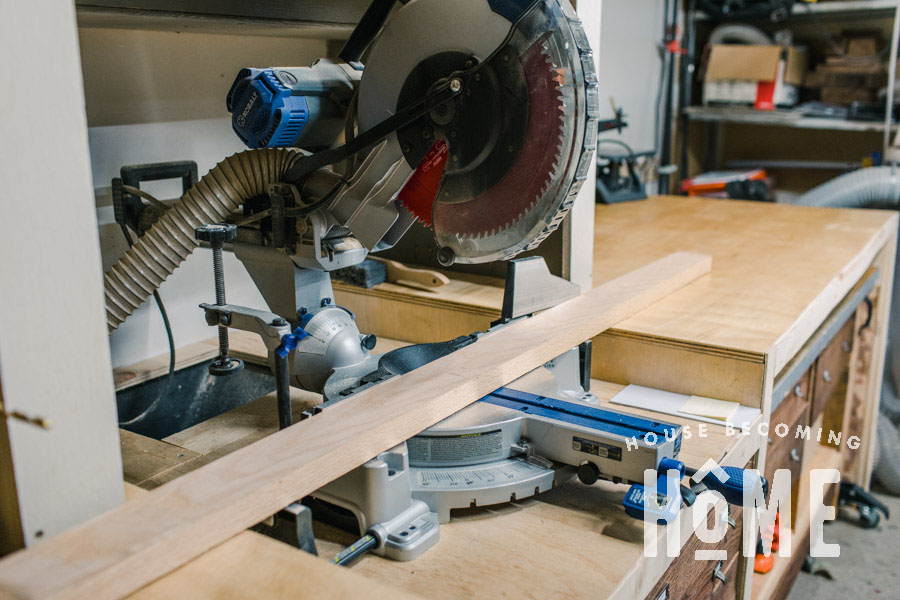 This center section is slightly lower than the other two, so that the lumber I cut on the miter saw is perfectly level as I cut it.
As I made the dust hood for the miter station, I realized it had a perfect spot to sneak in some hidden storage. It's not easily accessible, but it works well as a home for extra dust collection pieces and other items I don't want to throw away, but don't plan on using anytime soon.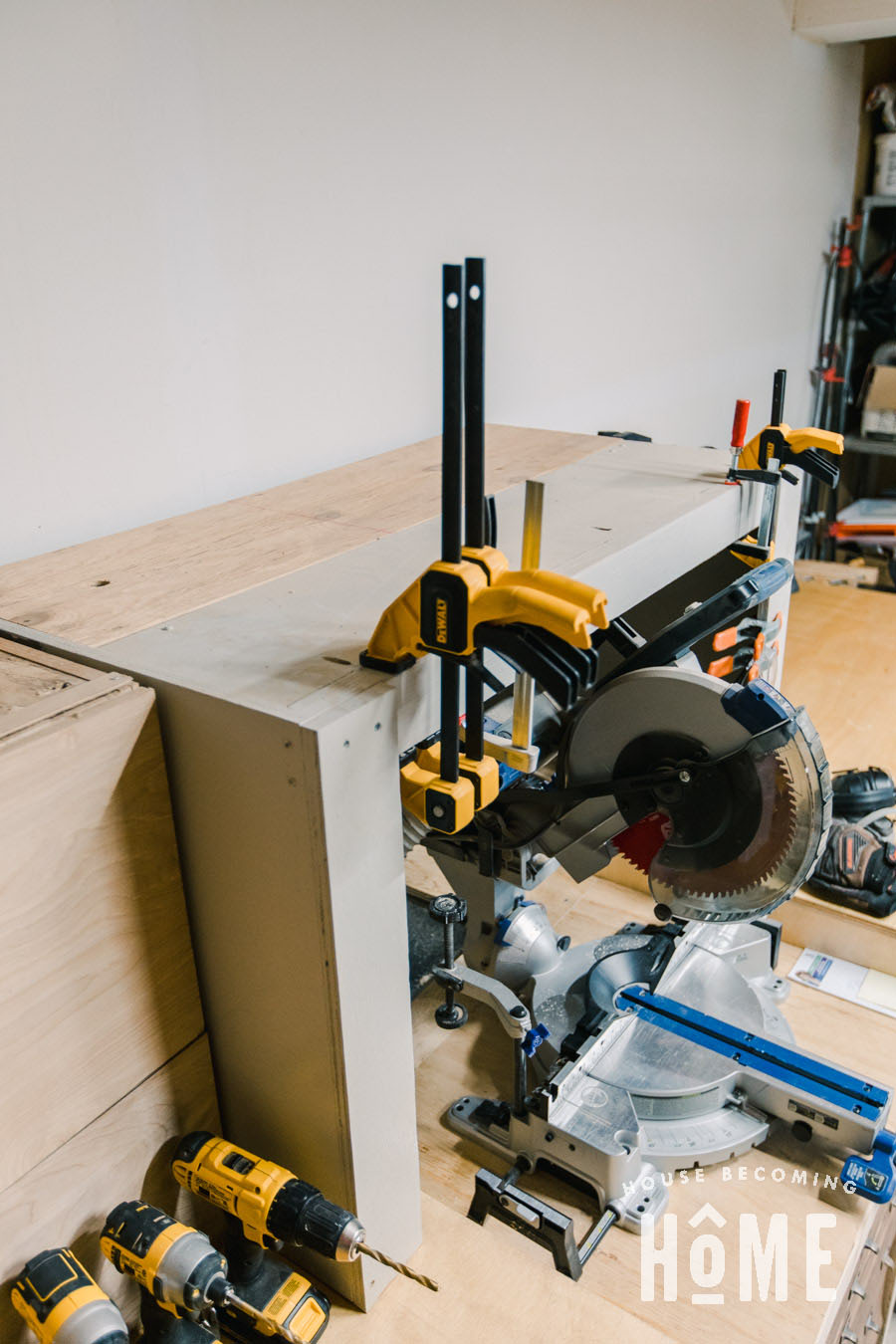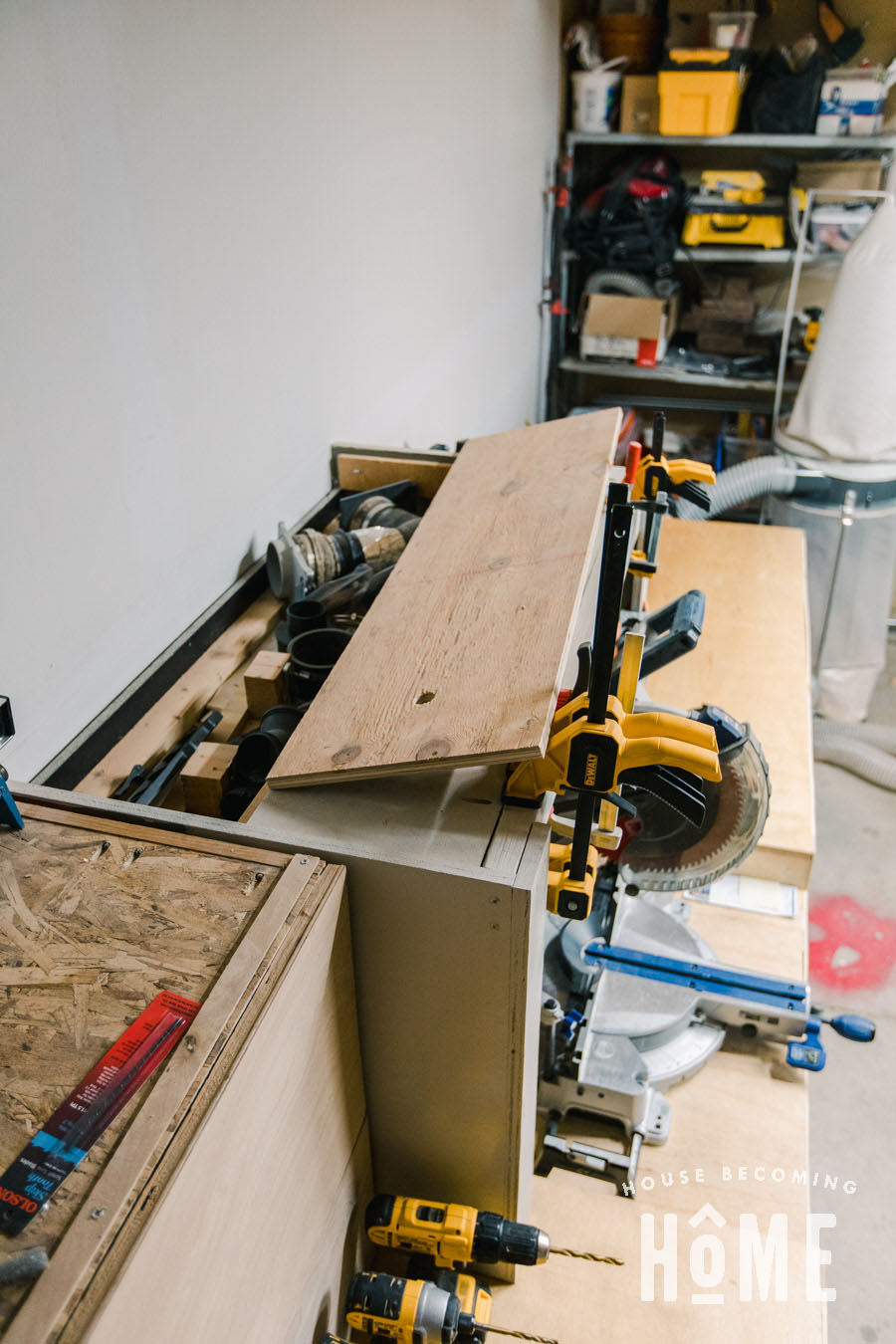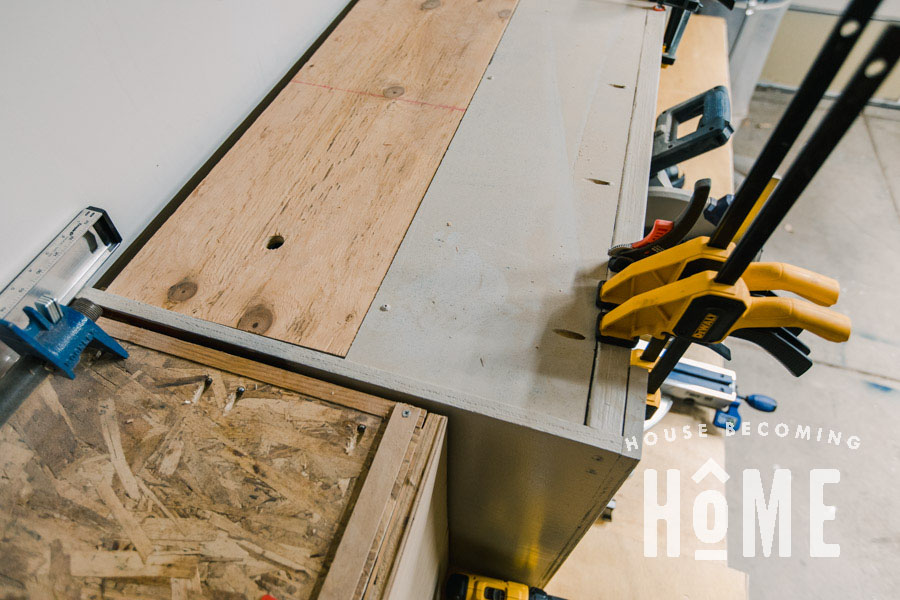 I keep my safety gear (goggles/ear protection/dust mask/gloves) all right there so that I never forget to put them on.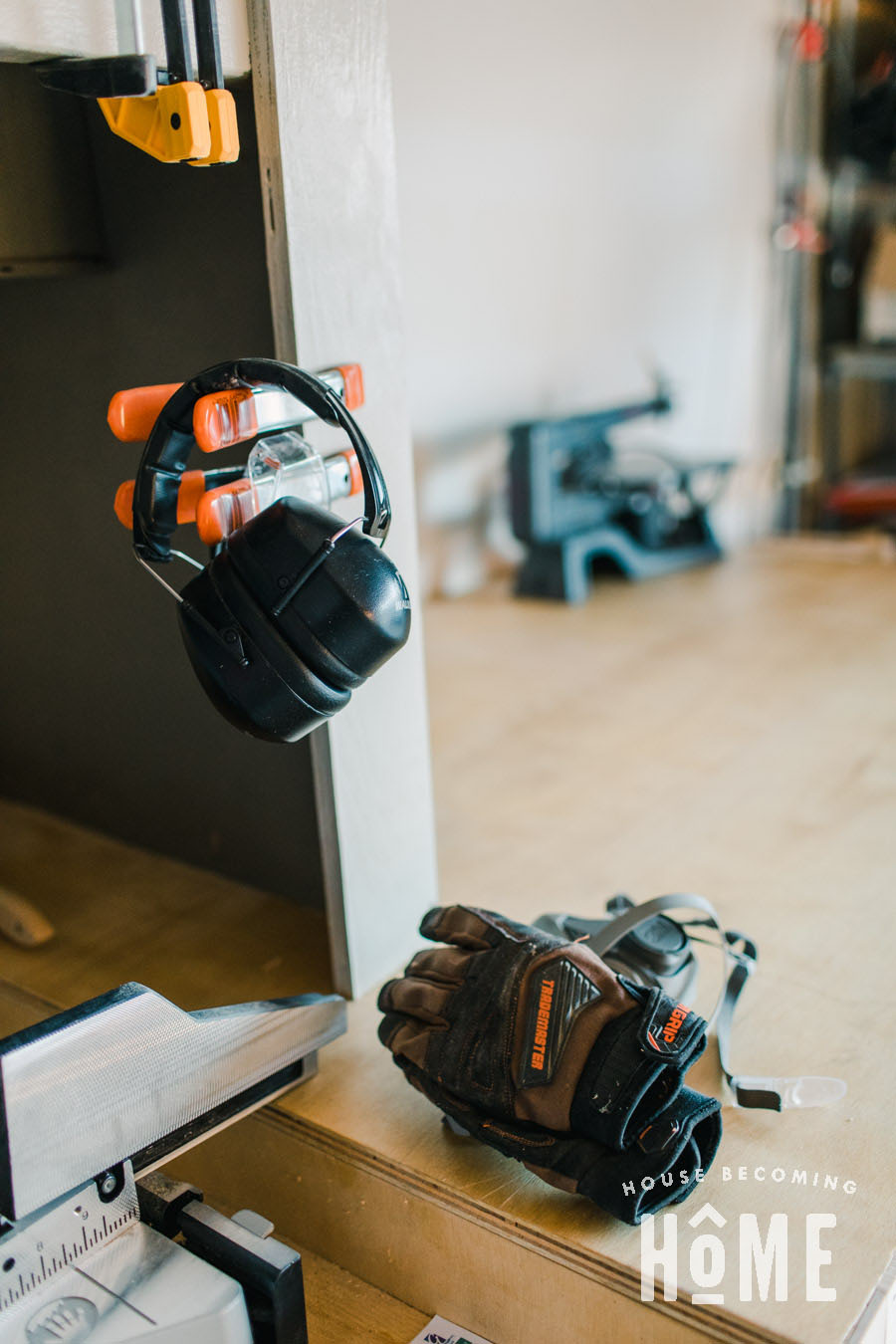 The Miter Station : Right Wing
The right side of my miter workstation is the largest section of the workbench. My large mobile assembly table hangs out underneath it, rolling in and out depending on whether or not I need it.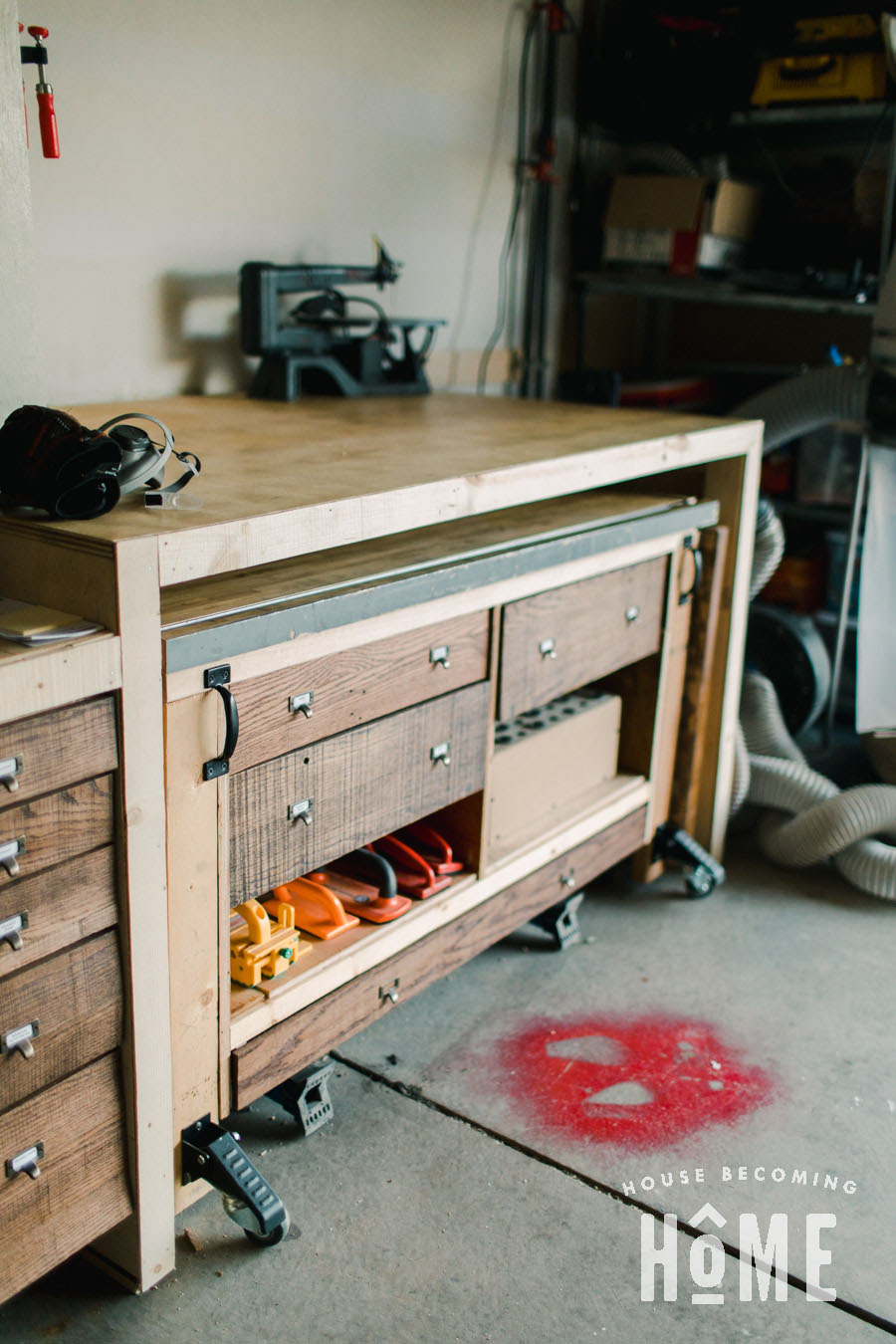 I keep my small clamps here, on a DIY hinged clamp rack.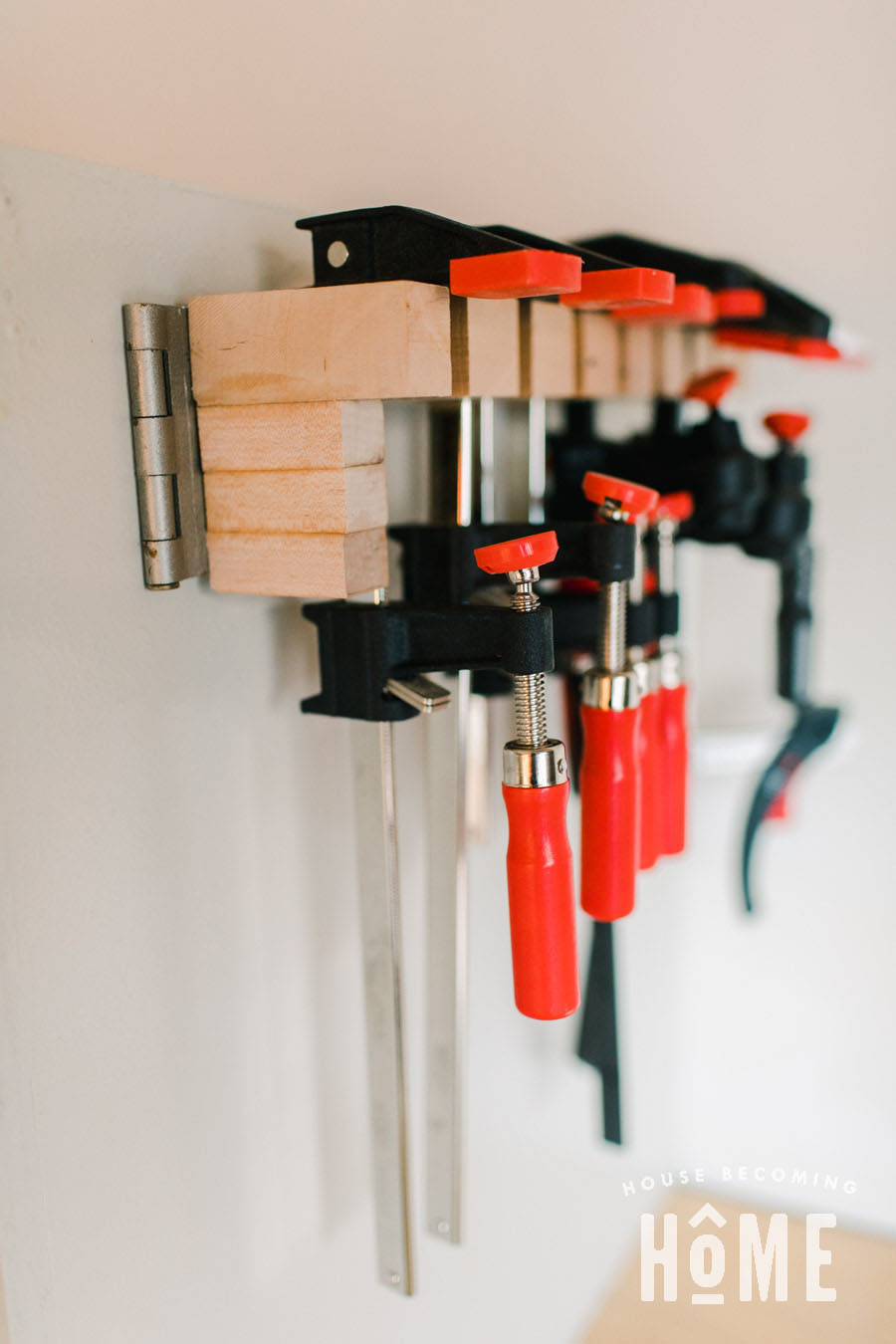 The miter workstation is tall and deep, and I'm short. 🙂 The hinge makes it easier for me to reach the clamps closer to the wall: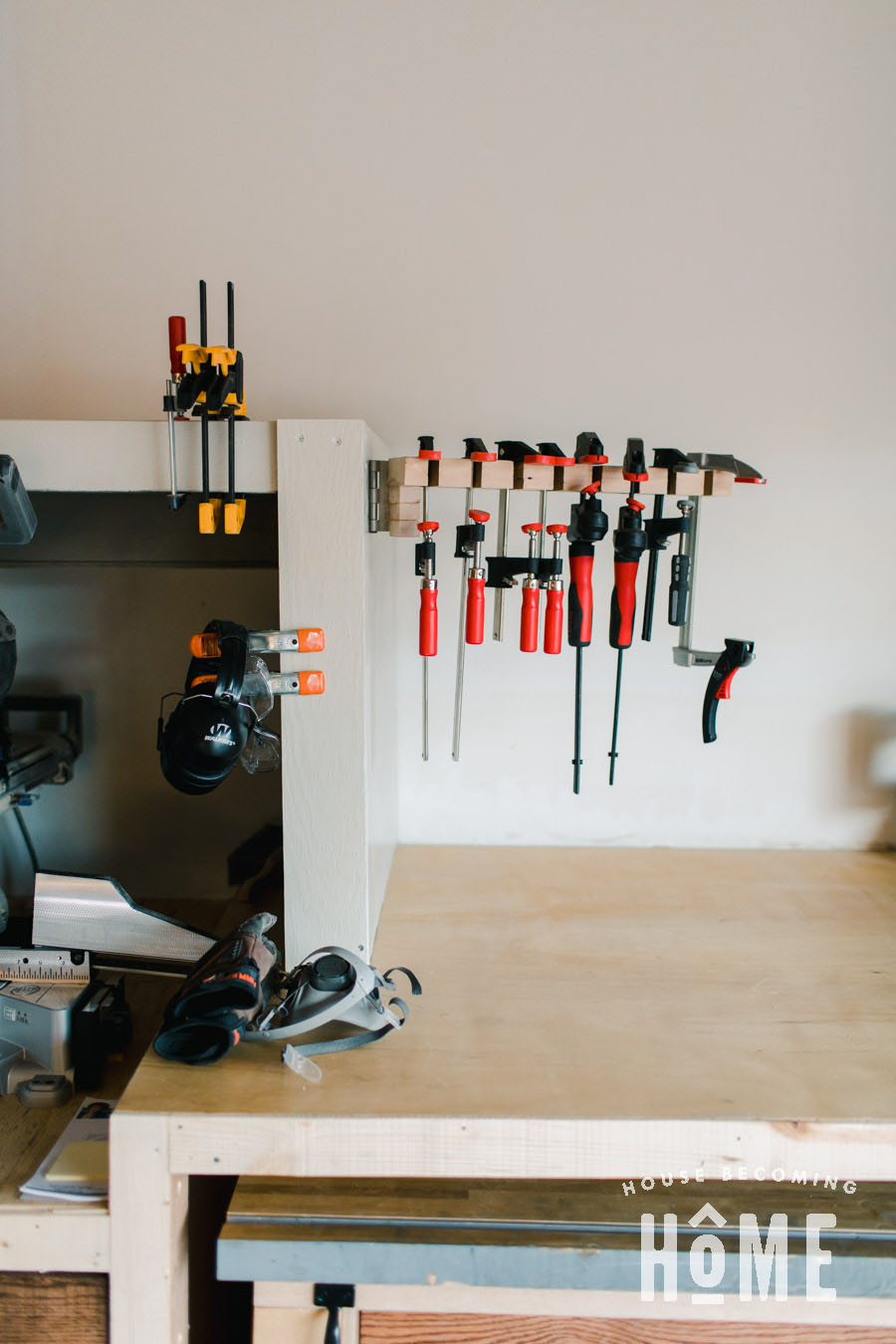 The Miter Station : Left Wing
The left side of my miter workstation isn't quite as large as the right side, but still has enough room to house my mobile router table and my planer underneath (still working on a cart for my planer!).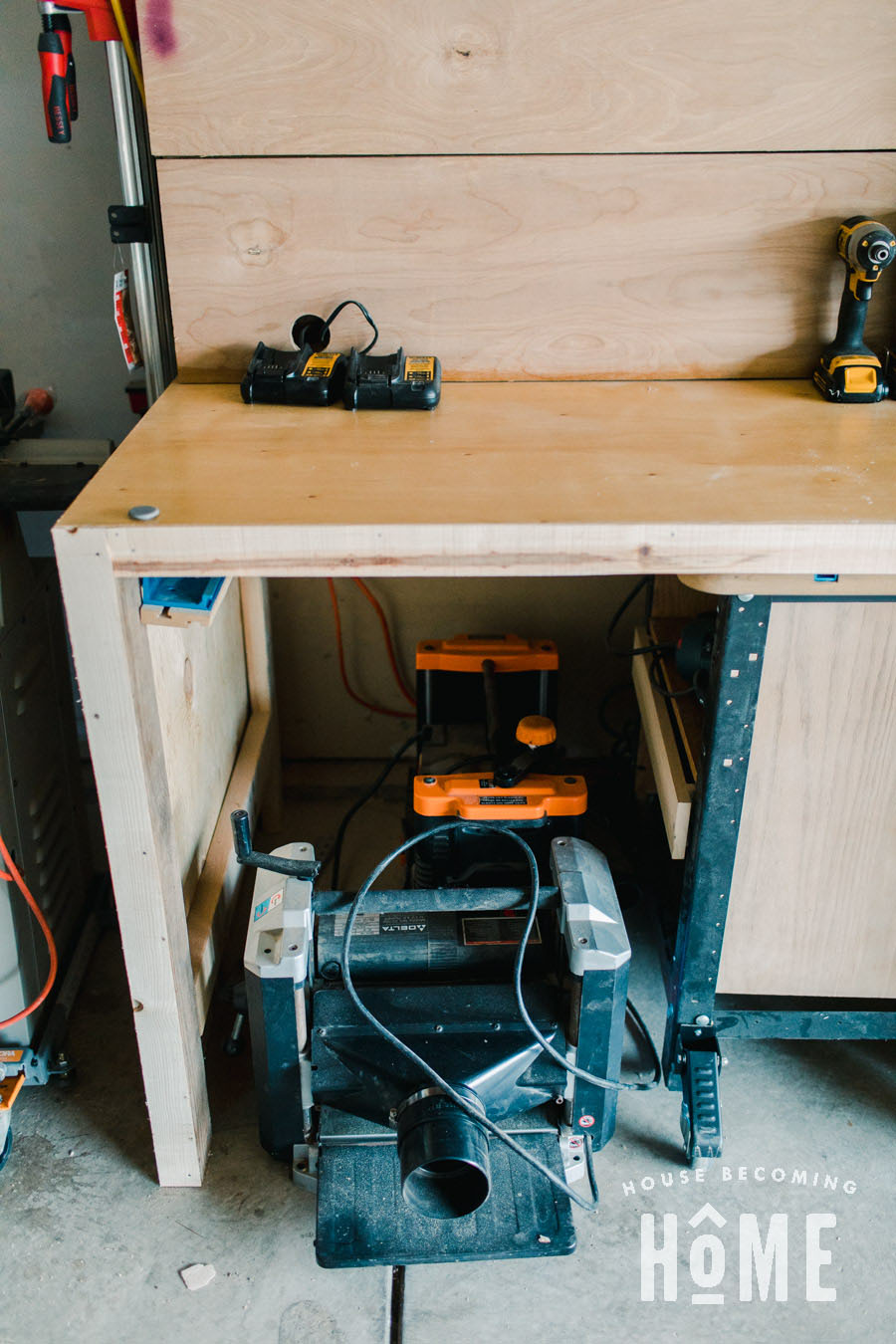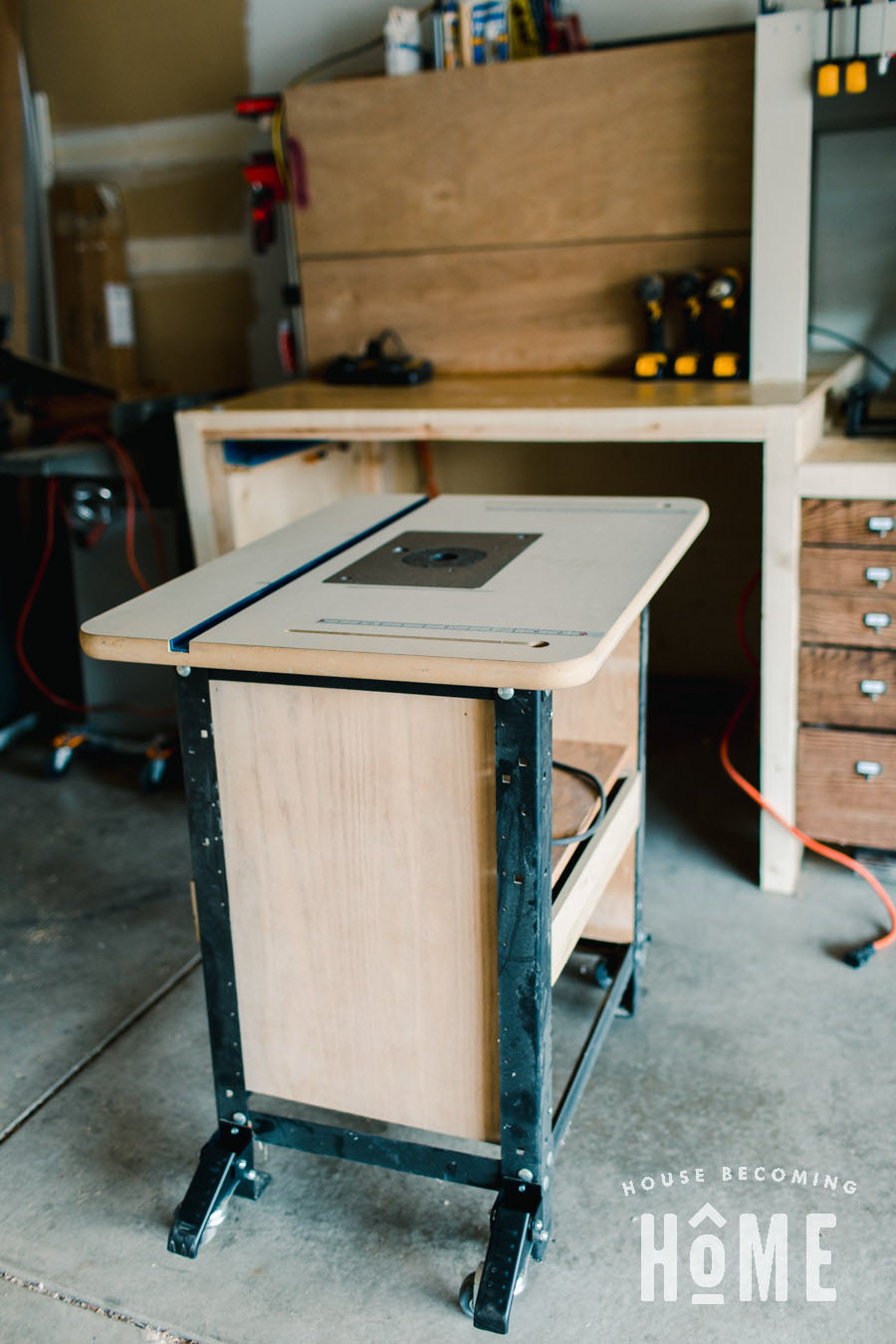 My impact drivers are tools I use nearly every time I'm in the garage, so I keep them easily accessible on the miter station (set back far enough that they're not in the way of lumber being cut on the miter saw).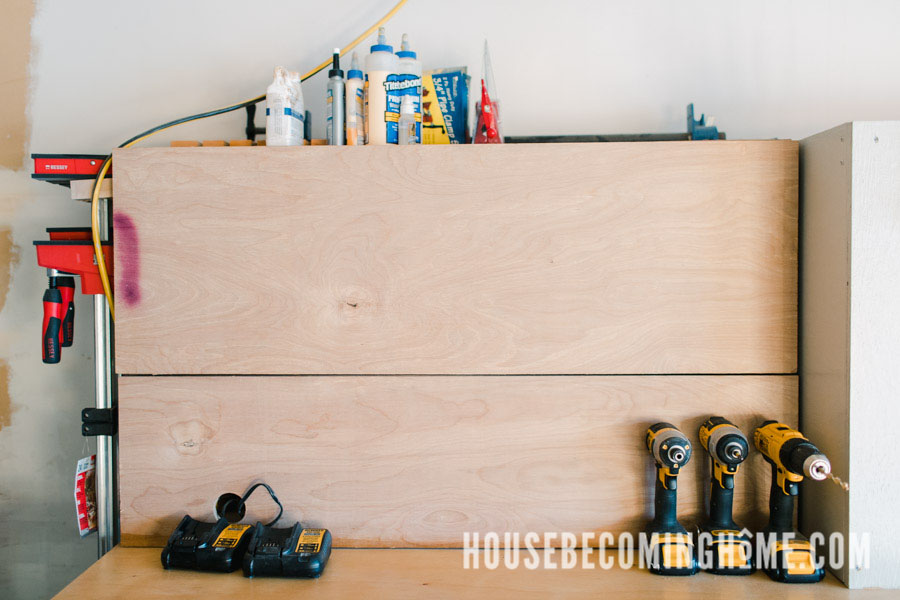 And because I'm always charging batteries, the chargers are nearby: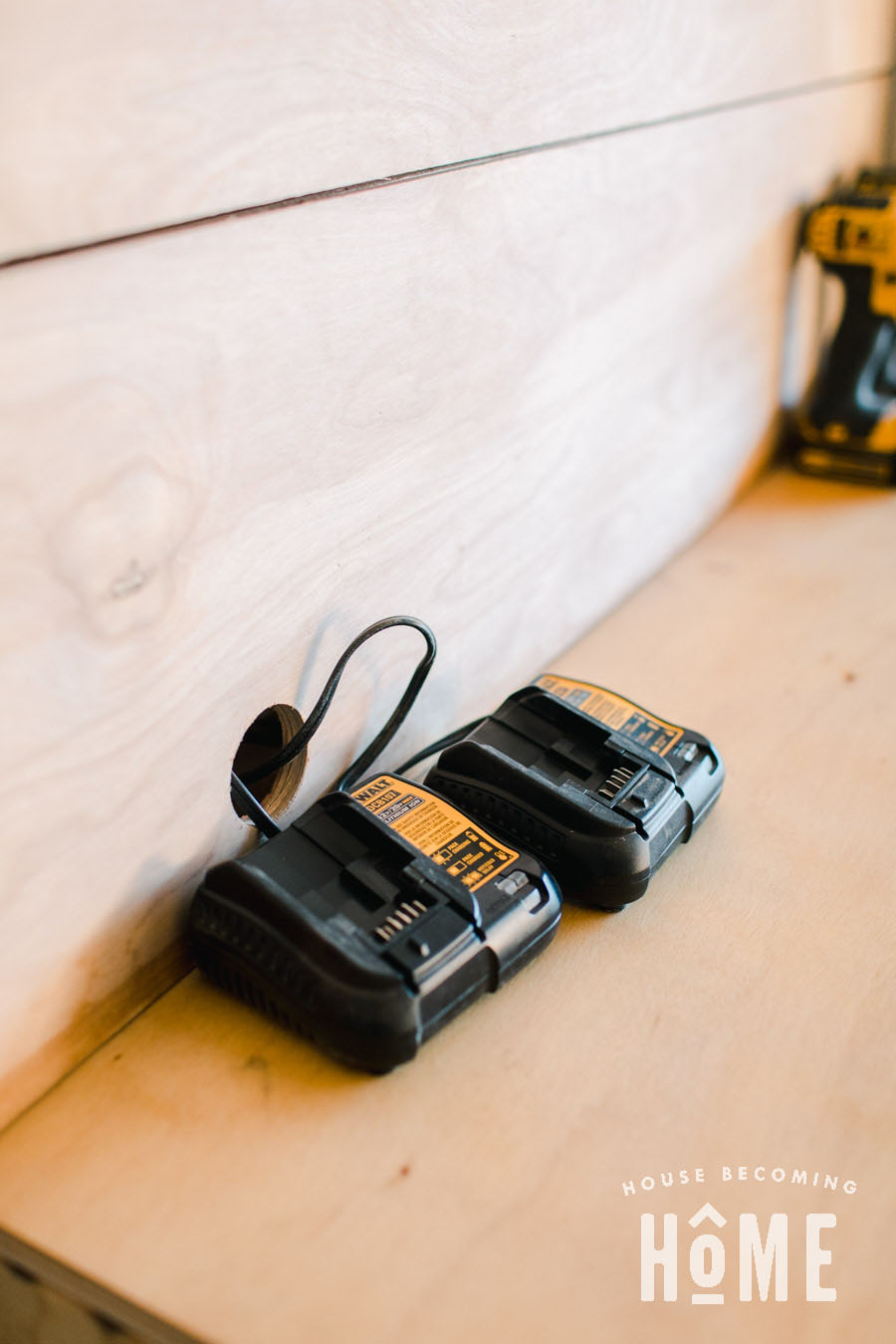 On the wall above the left wing I mounted a top-hinged cabinet. The gas struts I installed keep the door up when it's lifted; the door stays open until you push it closed.
Right now this lift-door cabinet holds some pneumatic nail guns, my paint sprayer, a jig saw, beadlock jig, a tub of wood filler, and a few other random items. It's starting to get a little crowded though, which is a recipe for chaos . . . currently rethinking the organization of this space.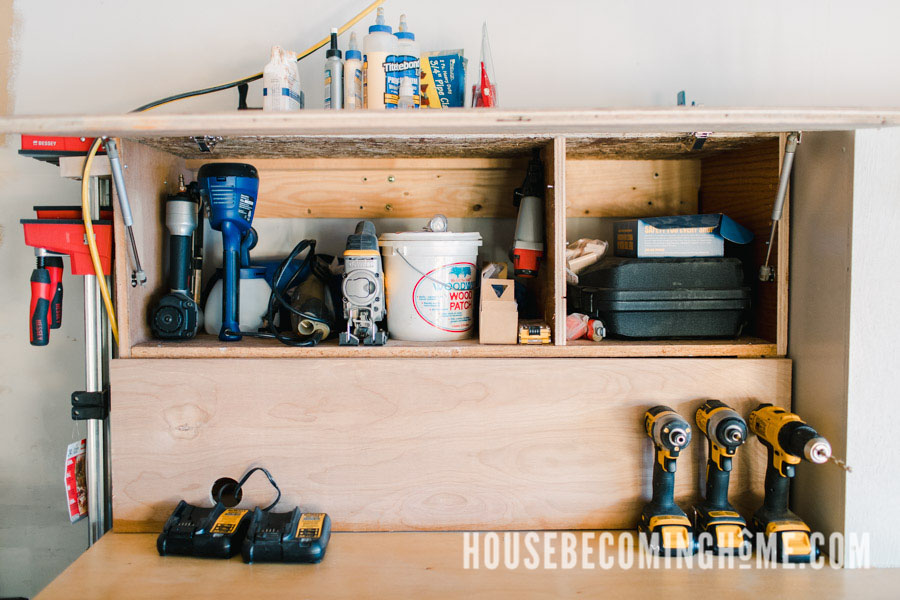 I made a quick clamp rack from a 2×4 scrap of hardwood and fixed that to the side of the cabinet: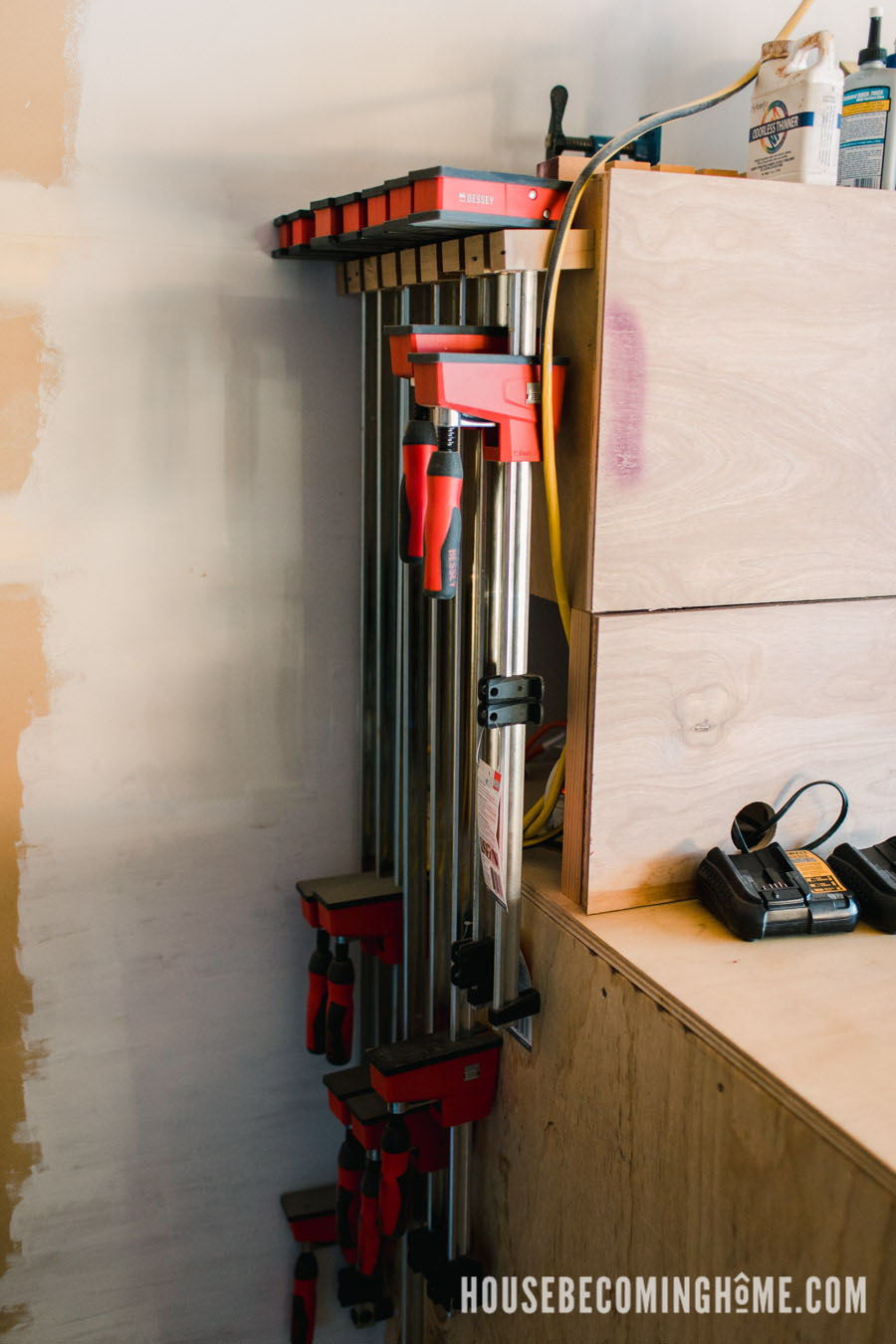 Check out more from my garage workshop
And that's an overview of my miter station! If you're looking for more small garage workshop ideas, check out the rest of mine: