Home Products I Love
Below you will find short descriptions of a handful of my favorite home products.  Most of these products are linked to a retailer where you can purchase these products. Some are affiliate links. All products, whether affiliate or not, are products I love and recommend. My list of favorite home products is continually updated, so check back often!
To jump to a specific section click an item in the bar below.
01 | Kitchen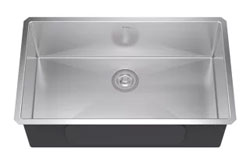 This undermount, single bowl sink is wide and deep.  I love it because you can have a whole day's worth of dirty dishes hiding in here and no one will know. It easily holds my big pots, pans, and cookie sheets, which makes cleaning them less of a drag. The best price I found for this beast of a sink is on Amazon.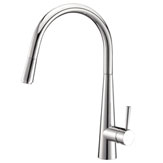 Ruvati Faucet Polished Chrome
I love our Ruvati kitchen faucet.  Clean and simple. Though the one I bought is no longer available, this Kraus Faucet is similar.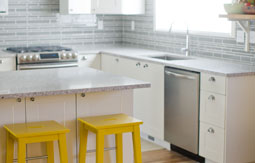 I had considered getting all white quartz countertops, but Jim talked me out of it. I'm glad we went with Atlantic Salt instead. It's still light and has a modern feel, but all the specks of grey do a really good job at hiding the spilled food/crumbs, etc. until I'm ready to wipe them down.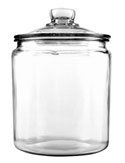 I keep our flour, sugar, dried beans, rice, and whole wheat flour in these large jars on a shelf in our kitchen. They aren't airtight though — not a good storage container if you want a long-term food storage solution.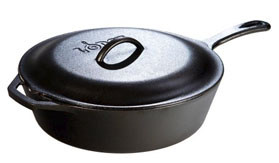 I recently started using this cast iron skillet and I love it! Because it retains heat well I find that searing meats works better in here than any other pan/skillet. It is not meant to go in the dishwasher though, so keep that in mind if you don't enjoy scrubbing dishes by hand.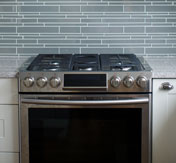 When we renovated our kitchen I made sure we swapped out the old electric stove for a gas range. Our Samsung gas range has been great.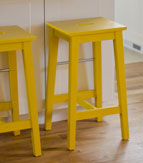 Bar Stools
These are actually the affordable wooden bar stools from Ikea. Jim and I sawed off a few inches from each leg to make them the correct height, then primed and painted the stools yellow to add a pop of color into our mostly white and grey kitchen.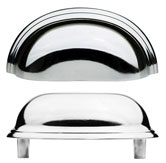 We bought these from Ikea–the Fagleboda drawer pulls, which they stopped making, though I see you can still get them on Amazon.  
02 | Bathroom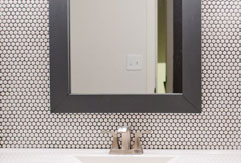 At $2.99/square foot, penny tile is a pretty affordable option to cover your walls.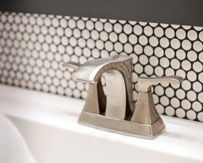 Faucet
This Pfister Venturi brushed nickel faucet is the one I picked out when we remodeled the powder room. 
03 | Home Furnishings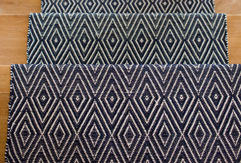 Dash and Albert Stair Runner
This indoor/outdoor rug has held up really well (even with four kids!) and provides a some traction on our wood stairs.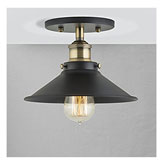 I love the style of this ceiling fixture–a mix of modern, industrial and farmhouse all in one. 
04 | Home Cleaning

90% of the floors in our home are hardwood, so this is a must.  I love our bissell steam mop.

I LOVE this stuff. I once left my cast iron skillet on my countertop overnight without realizing the bottom was still wet.  In the morning when I picked it up, the counter had a large rust stain that WOULD NOT come off.  After some googling, Soft Scrub with bleach was what I found to be recommended, and it worked.  I love using this to clean my kitchen and bathroom. 
05 | Bedroom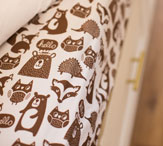 Kids Bed Sheets
These are the sheets in my daughter's DIY twin bed–so I can't vouch for their level of warmth/comfort–but I love the graphic pattern of hand-drawn forest animals. Though I purchased them at Target, they are no longer listed for sale.
06 | Organization
Check back soon!