About House Becoming Home & Angie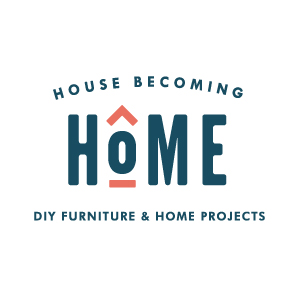 House Becoming Home is a collection of projects that
transform house into home
— DIY home projects, simple room updates and major renovations, DIY furniture and home organization projects.
It is a journal of successes, mistakes and lessons learned.  It is a guide to some of my favorite tools and products and a resource of how-to's, tips and tricks that I've learned/am learning along the way.
My aim is not to pretend to be perfect nor a professional–I am neither; just someone who enjoys designing, learning new things, and finds fulfillment and empowerment in developing the skills to personalize our space. My hope is that House Becoming Home will inspire you to find the confidence, desire, and inspiration to turn your own house/apartment/tiny house/cabin/dorm room into "home."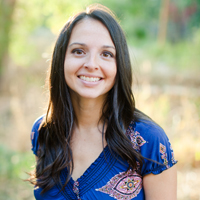 A little bit about me? I'm Angie, the creator of House Becoming Home. I live in northern Colorado with my husband Jim and four kids (three boys and one girl).
My loves:
The obvious
Home improvement projects, building furniture, home renovations, DIY home projects and organizing.
But there's more!
Art & design, running, reading cookbooks & trying new recipes, browsing architectural house plans, celebrating holidays, dreaming about someday building our own home or renovating an old craftsman house, conversations with friends, fresh peaches, playing roller hockey, turning the music up loud, snowboarding, homemade salsa, visiting new places, playing Rummikub with my kids, family walks on Sunday afternoon, dark chocolate.
"We shape our buildings; thereafter they shape us."  -Winston Churchill
My Story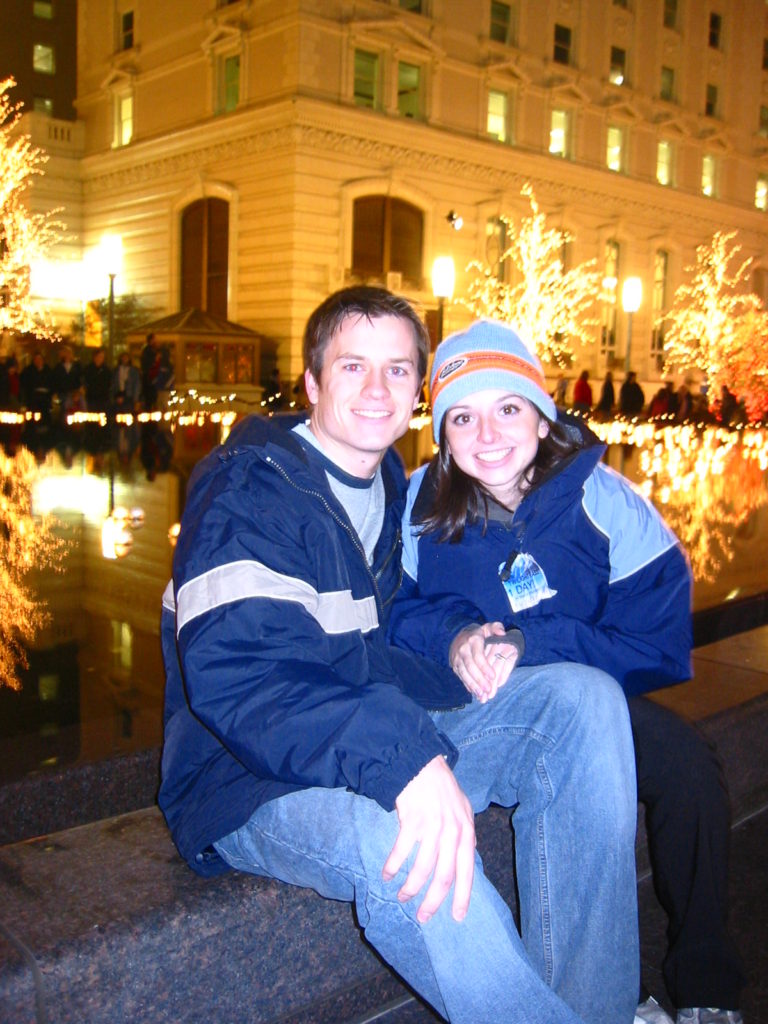 I was only 21 years old
when I married Jim. We were both finishing our college degrees working part-time jobs that paid slightly more than minimum wage.  Although eventually we started making more than $7.50/hour, those early years of thrifty living impacted me in a major way. I try to keep many of my home improvement projects budget-friendly when possible. Though I do love nice things and splurge when I think it matters, many times I am searching for a cost-efficient way to update a space –the frugality from those early years of marriage has never quite left me.
We bought our first house
about a year after graduating from college. It was fairly small and ugly in a major way; we bought it because it was the most affordable house in the city we wanted to live in.  Jim and I took care of a few things fairly quickly–the butterfly backsplash in the kitchen was the first thing to go, followed by the carpet in the bathroom. (What were those builders thinking in the '80s?!) But we had almost no experience with DIY home improvement projects and no budget to pay to have it done. So for almost four years we lived with it.
Our family grew and our house started feeling smaller. I began looking for ways to make the most out of our limited square footage. After plenty of HGTV watching I became convinced that we could tackle some larger home improvement projects that would help make our house become more functional for the specific needs of our family, more personalized, and a better reflection of our family and our style. Little by little, project by project, we started turning that house into home; a comfortable, functional and inviting environment I was excited to be and a place I wanted to share with others.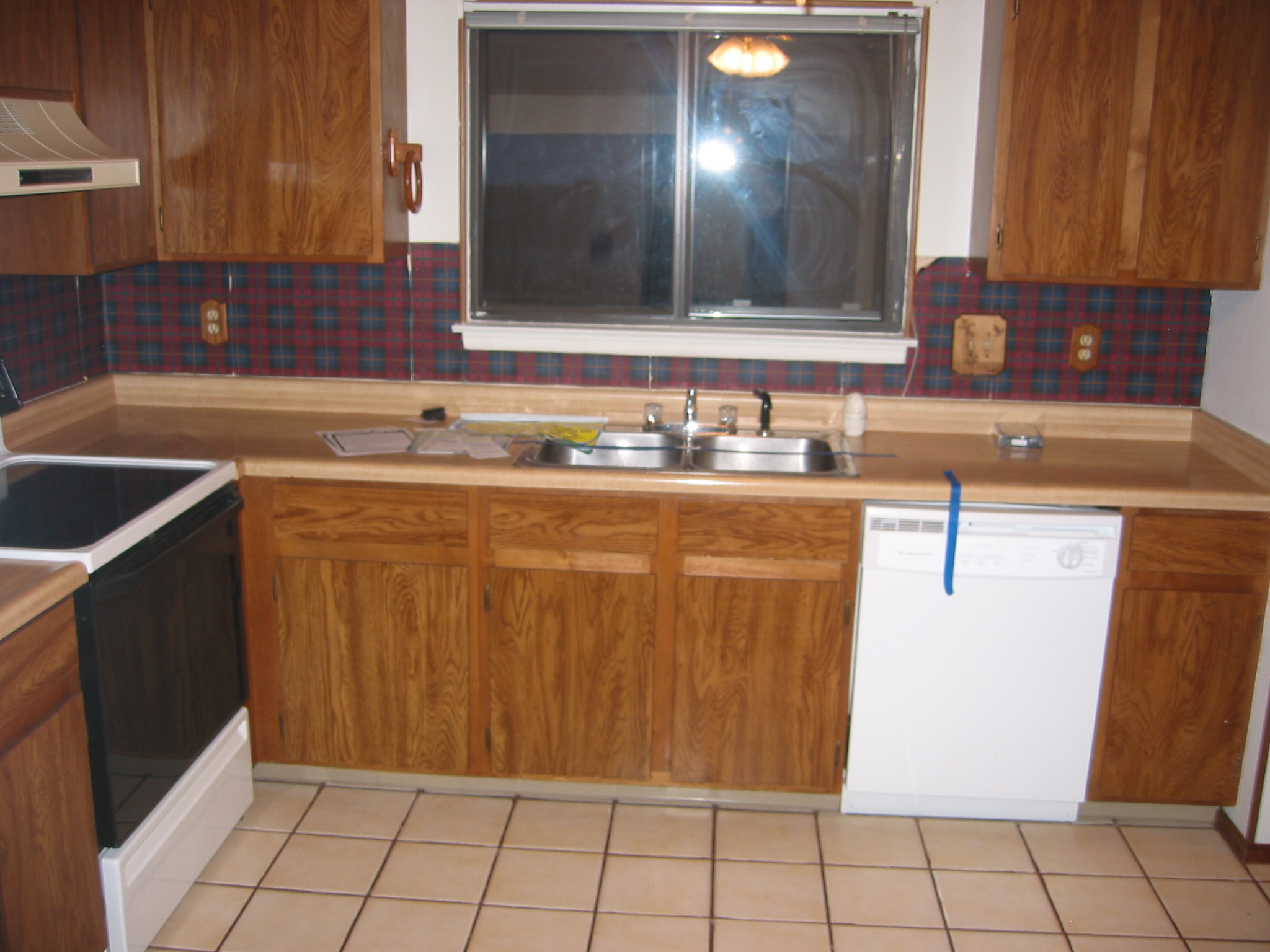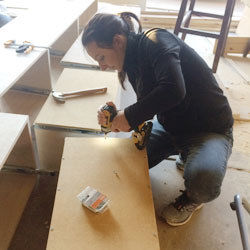 . . . And then the home we currently live in.
Though I eagerly continued taking on house projects and was always ready to help, I relied on Jim to use the miter saw, to tear down the walls we removed, in short, all of the "scary" stuff.  A few years later we moved into a new house, at a time when Jim's work schedule was quite full.  I soon realized that I was capable of using the power saws, that I, too, could take down a wall, and that our kitchen renovation would go quite a bit faster if I would learn the skills that I had relied on Jim to do in our previous home.  Trying led to learning which led to confidence. I discovered that many of those intimidating tools and mysterious tasks weren't so intimidating or mysterious after all. Learning one skill opened up doors to begin new projects, which led to more trying, more learning, and more confidence.