Every year as my birthday approaches the present I request and look forward to the most is a whole Saturday to myself. No changing diapers, no making lunch, no driving anyone anywhere, no responsibilities and no guilt about being selfish; it's my birthday! For the last three years I've spent most of this very-special-day in the garage working on some kind of project. Last year it was the bathroom vanity. This year it was this simple, modern eight-drawer dresser: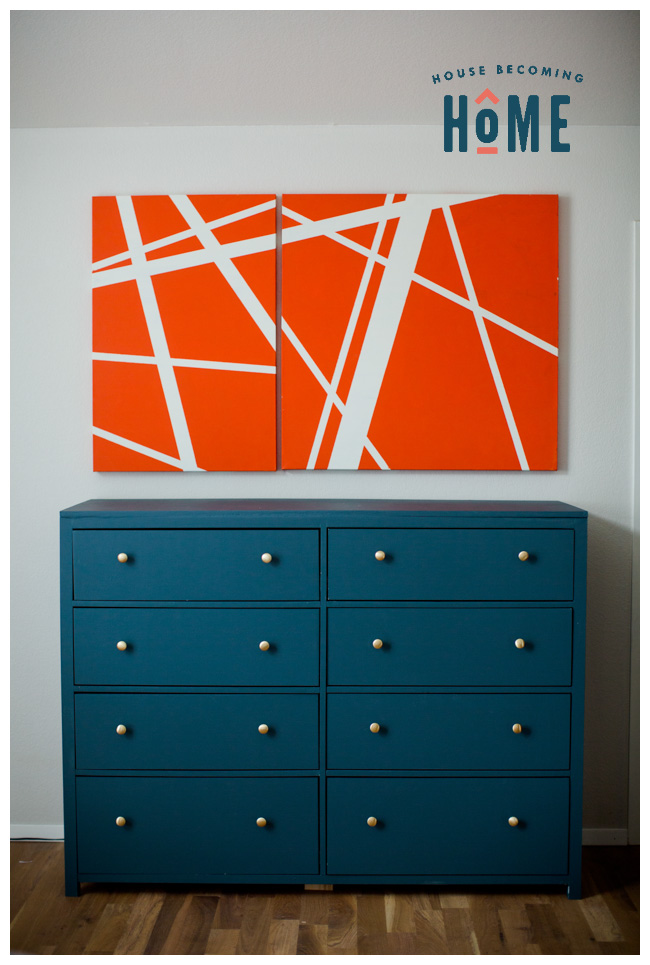 House Becoming Home is a participant in the Amazon Services LLC Associates Program, an affiliate advertising program designed to provide a means for sites to earn advertising fees by advertising and linking to Amazon.com. Some links in this post may be affiliate links. Read my full disclosure policy here. 
I used this dresser from Sew Woodsy as my inspiration and starting point but drew up something of my own in SketchUp, making it quite a bit bigger to fit our needs.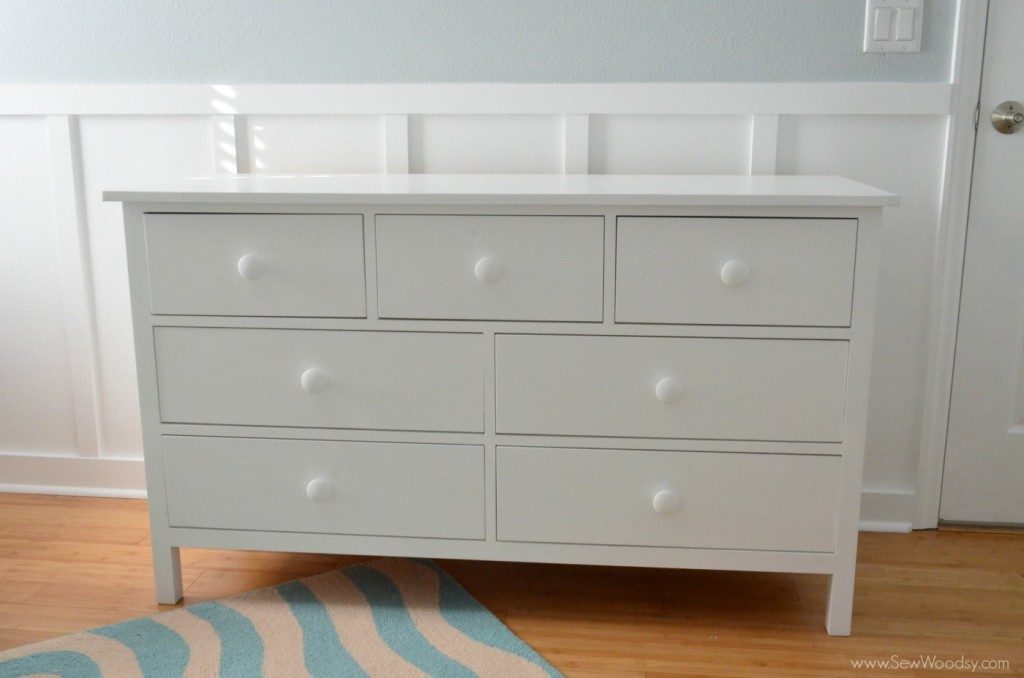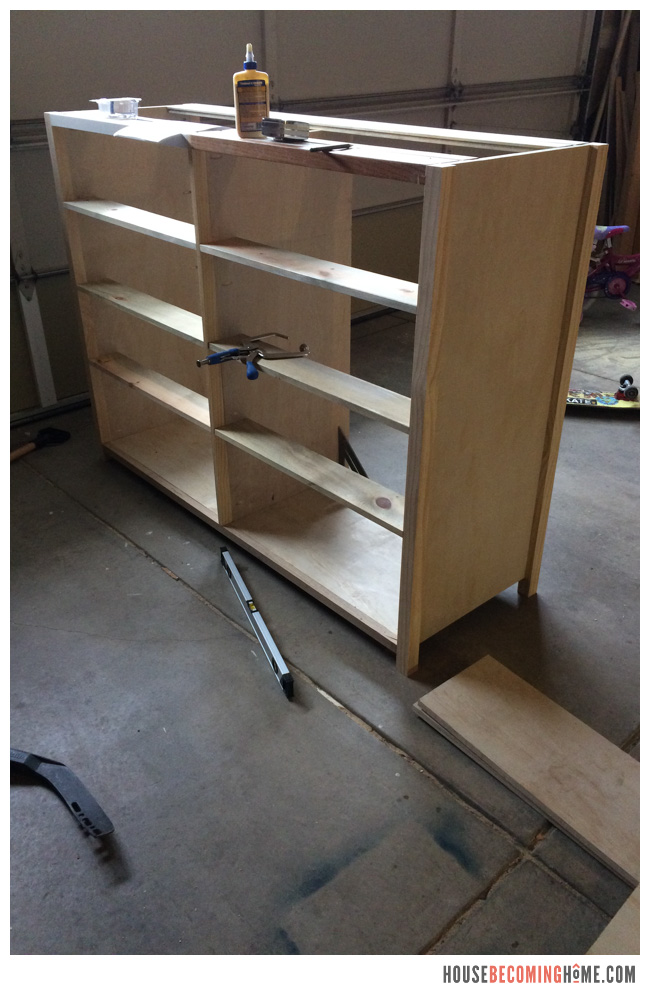 I was able to cut costs quite a bit by using leftover wood from other projects.  Recognize these?  They are the old oak balusters from our stair update.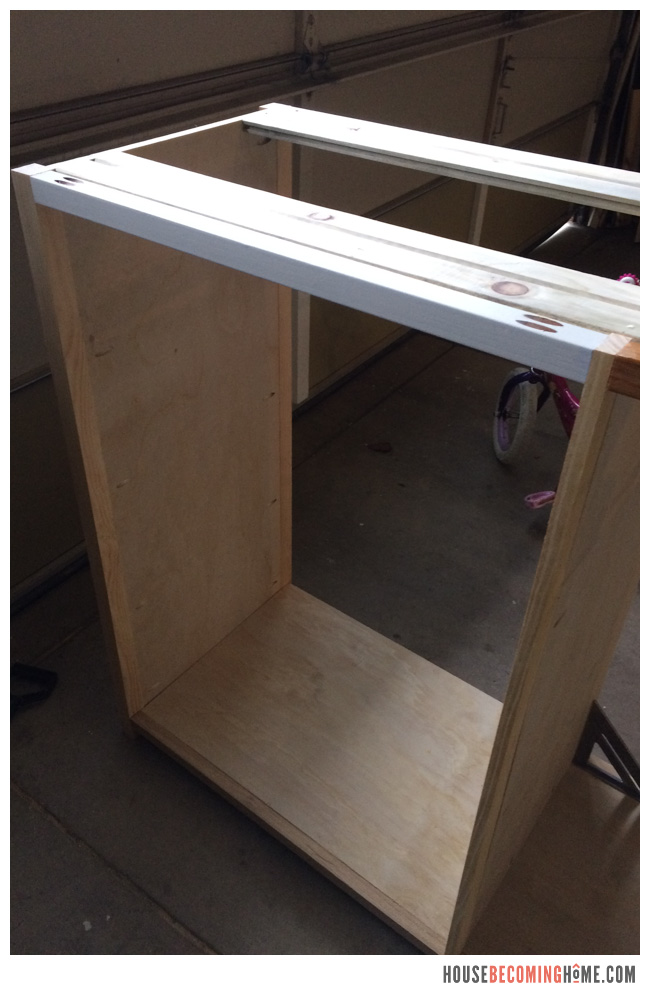 And most of the drawer dividers? Those are pieces of beetle-kill pine that my friend Kristen gave to me after removing them from a feature wall in her house.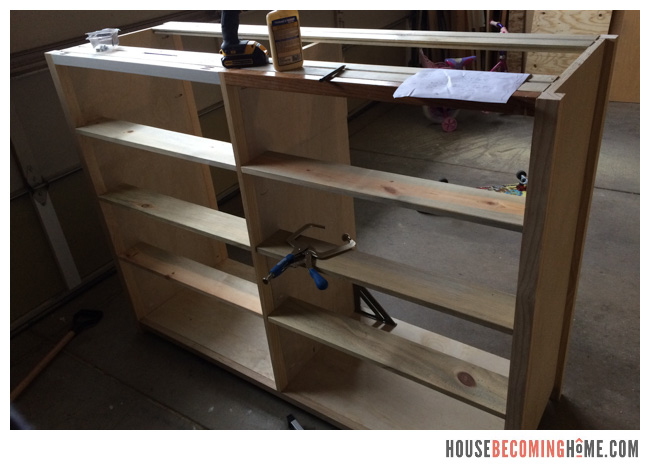 Each drawer slide is mounted 3/4″ from the front to allow space for the drawer face to be flush. I took a chance and ordered a pack of ten pairs of 18″ full-extension, ball-bearing slides from Amazon (<–affiliate link) and I am so happy with them! (I ordered the same brand, just a different length, when making drawers for Lucy's DIY storage bed with drawers.)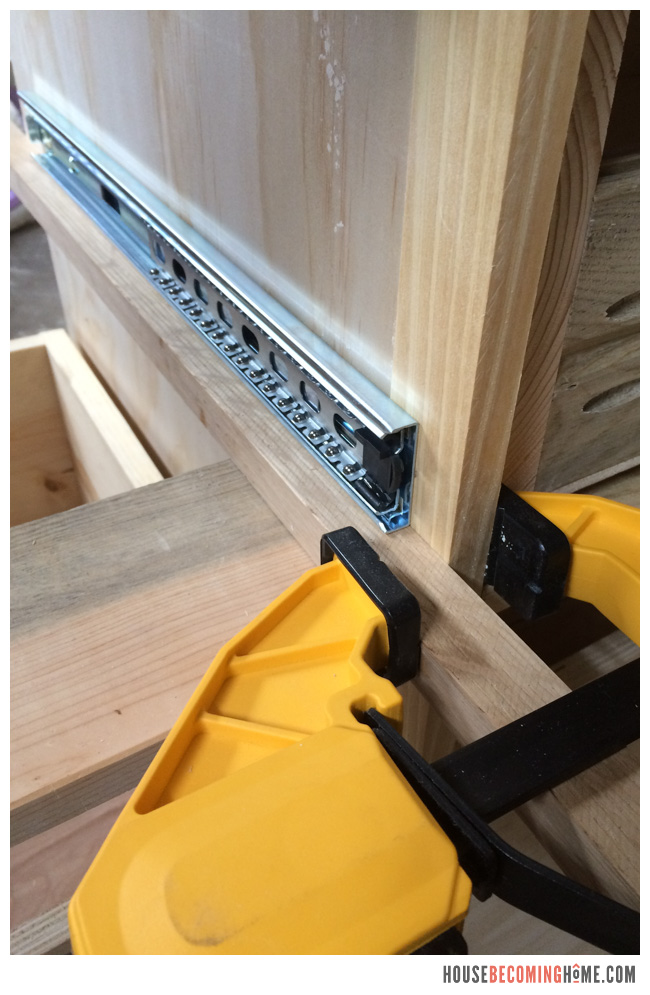 To be sure that all drawer slides were installed at the same height, I clamped this piece of scrap wood at the top of the drawer divider and sat each drawer slide on top of the scrap wood.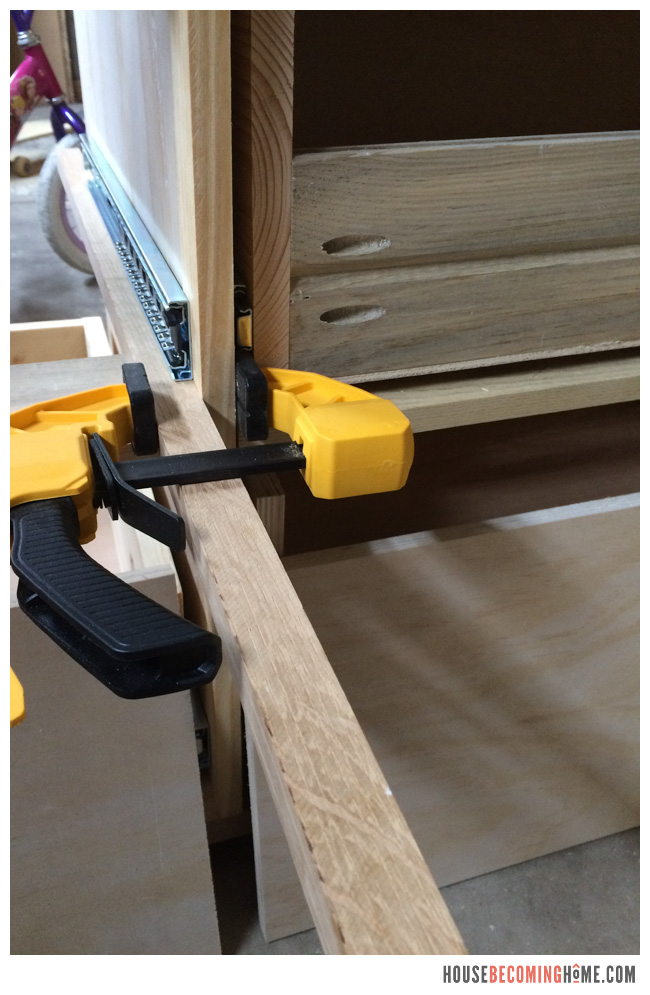 Here it is after half of the drawer slides and drawer boxes are in. You can see I was able to recycle the beetle-kill pine on some of the drawer boxes too.  I used these pieces specifically as the front part of the drawer box. They are shorter than the other sides, which is no big deal on the front because a face will be screwed into it.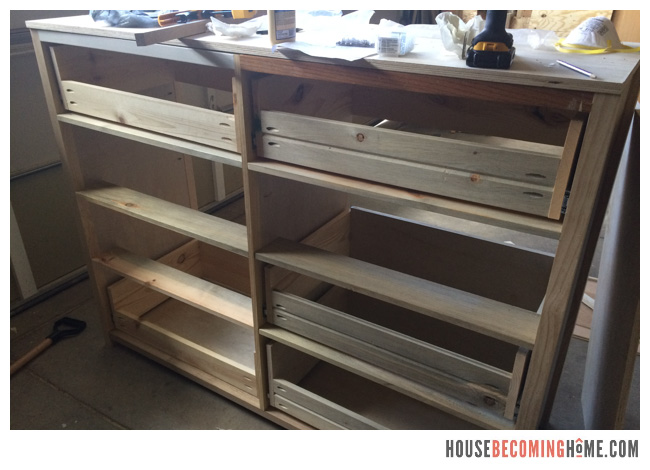 And here it is all finished–drawer faces screwed onto the drawers, a piece of plywood screwed onto the top (from underneath), primed and then painted, and some simple knobs added to each drawer: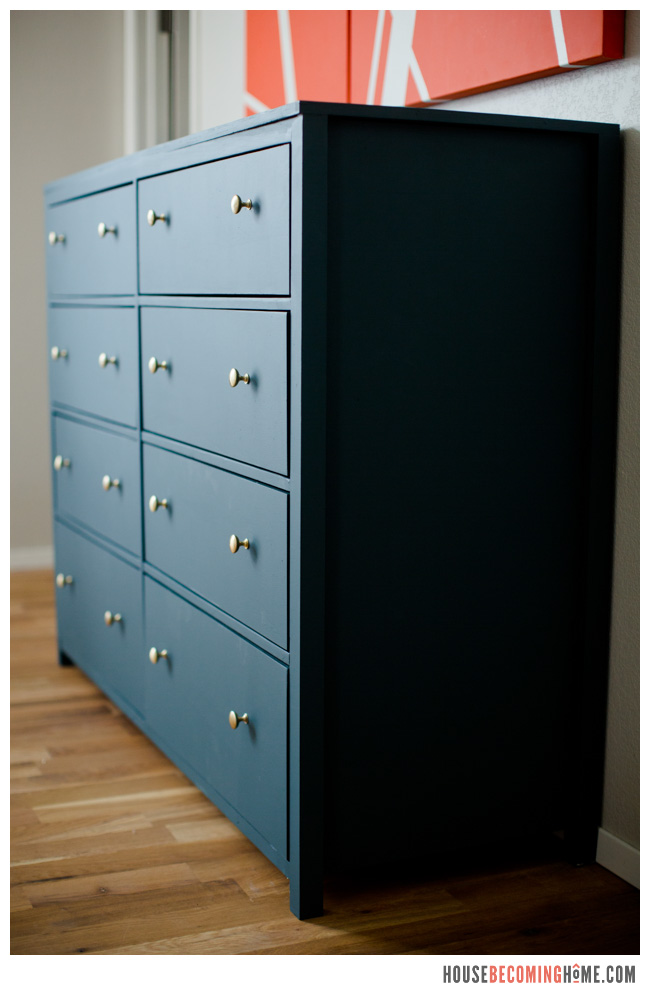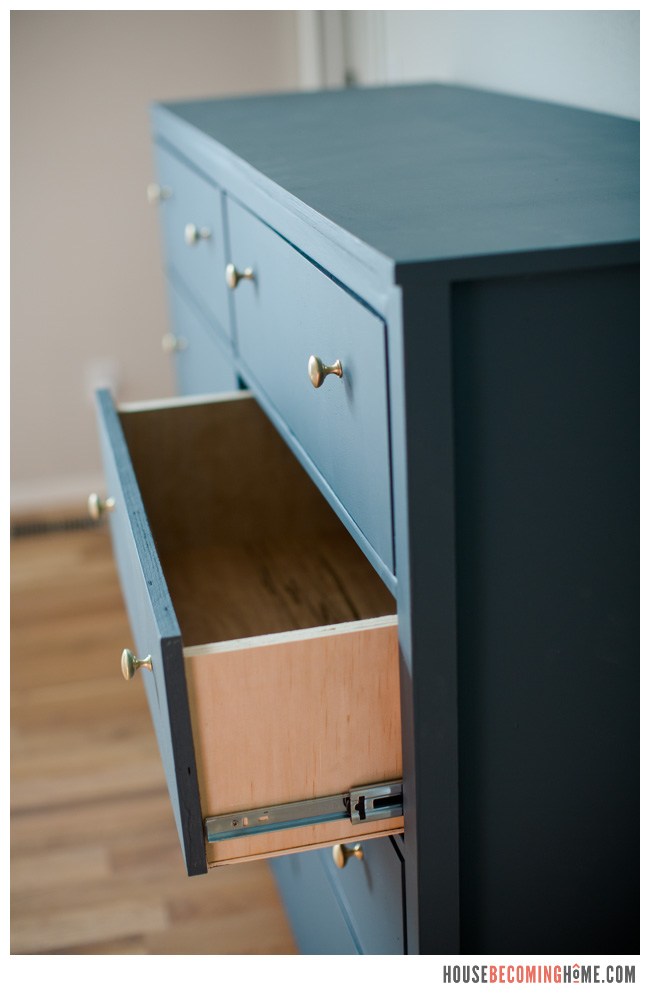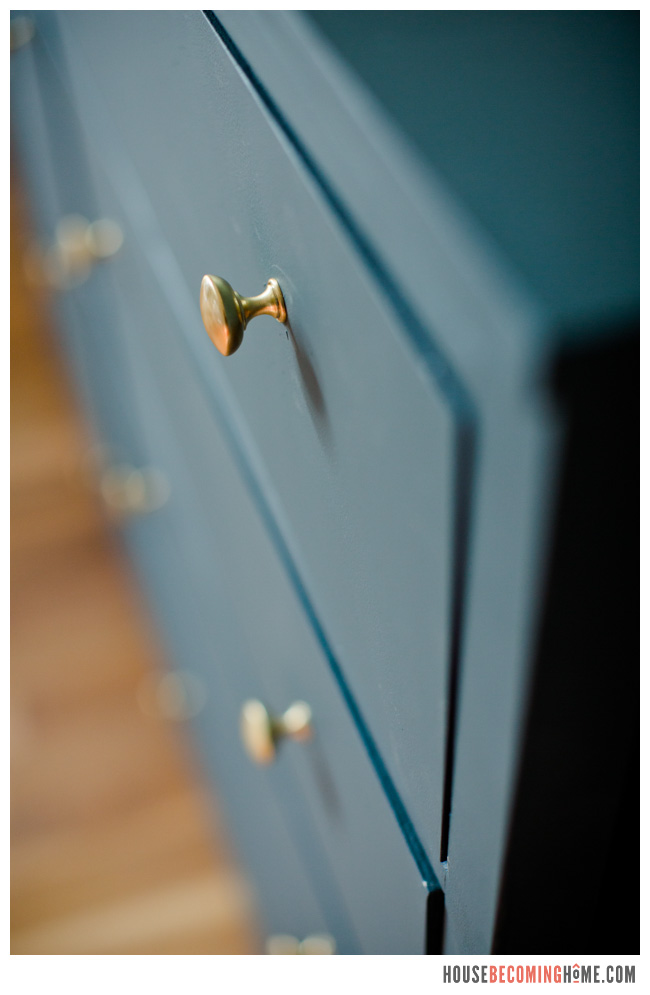 It was my first project with drawer slides and I'm mostly happy with the way it turned out.  It's got plenty of room for our clothes and the simple, modern look matches our style.