This post is Sponsored by Rustoleum. All opinions are my own.
If you follow me on Instagram, you know we've been working on a DIY kids' bathroom renovation. When I originally sketched out a design plan, the idea was that we would be replacing the outdated and chipped, beige-colored 1990's bathtub with a new white tub. As we got further along in our renovation, I started to wonder if maybe we could keep the bathtub out of the landfill by refreshing it instead of replacing it . . . can you paint a bathtub??? Other than a few chips in the enamel, and a terrible beige color, there wasn't anything actually wrong with the tub–and, in fact, is probably actually a better quality tub than what we'd be replacing it with.
I'd heard of the Rustoleum Tub and Tile Refinishing Kit (affiliate link) and started looking into it to see if it might work for us. We decided to give it a try. Here are some tips I picked up from our experience painting our bathtub. (Disclosure: Rustoleum sent me a Tub and Tile Refinishing kit to try, but all opinions expressed are my own).
How to Paint a Bathtub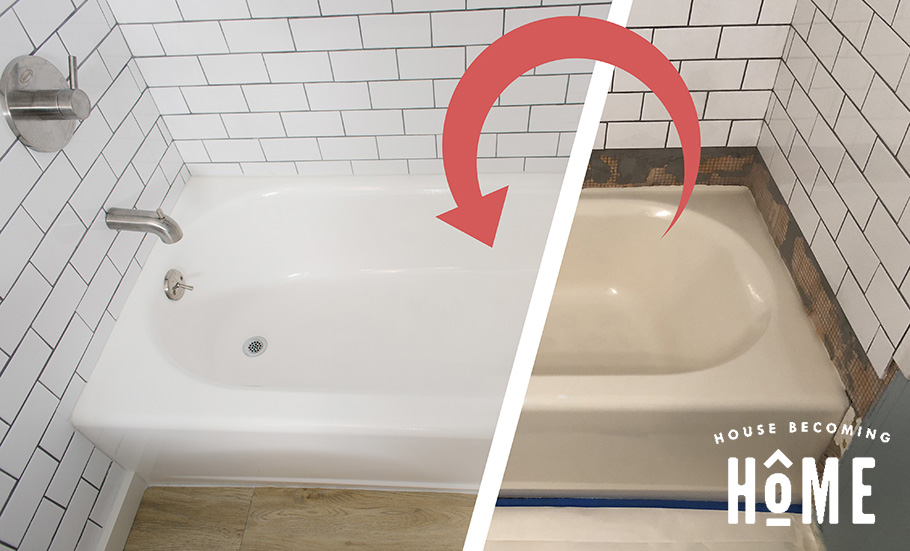 How to Paint a Bathtub TIP # 1
Be thorough in your prep
As I do with everything DIY, I googled the heck out of it before I actually painted our bathtub. The general gist of what I read was this: do a good job prepping your bathtub for paint. Don't rush through this step. The actual painting of the bathtub is pretty quick. Most of the time you'll spend on this DIY project will be in the prep time. I'll agree with that advice. Do a good job preparing your bathtub for paint (which basically means–get your bathtub clean clean CLEAN).
Here's what I did to prep our bathtub for paint:
Repair chips
Our bathtub had a few chips, so I first filled them with J-B Weld WaterWeld Epoxy Putty (affiliate link):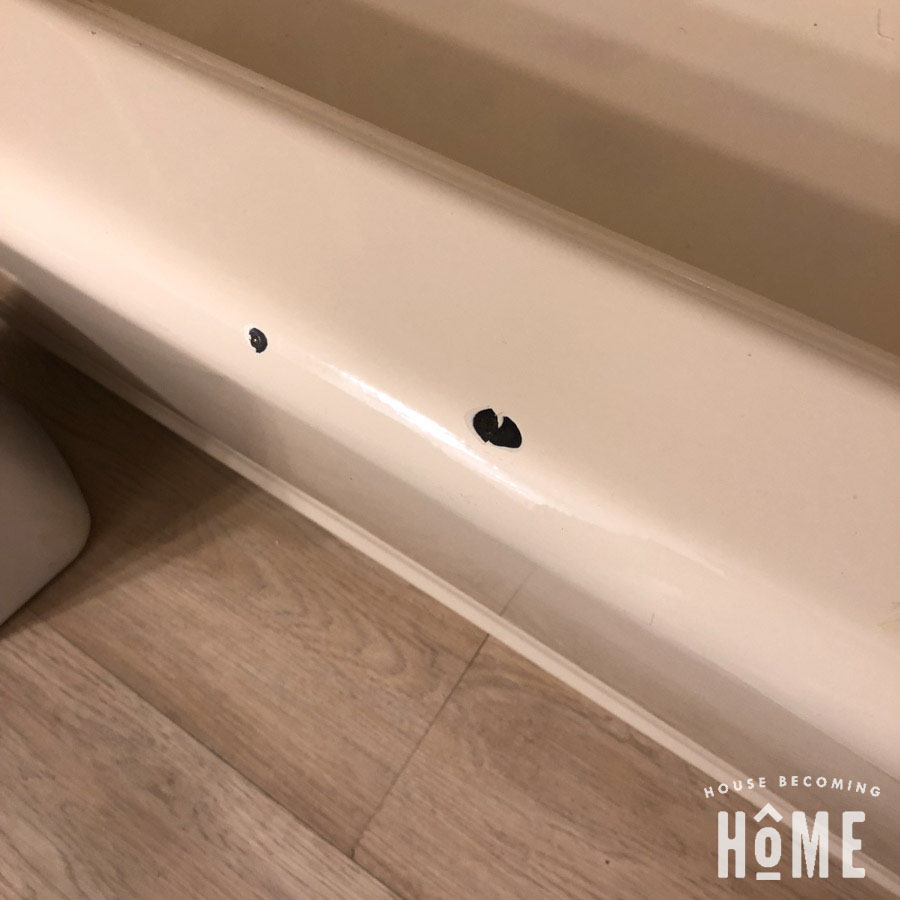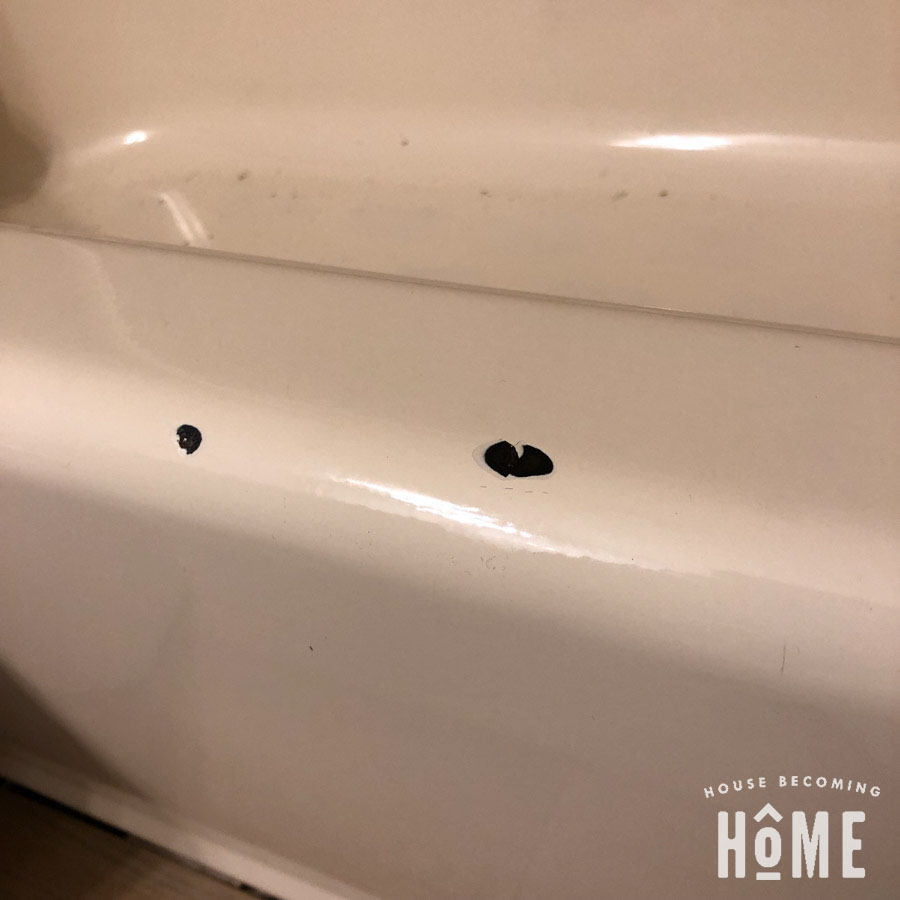 Spread the epoxy putty over the cracks: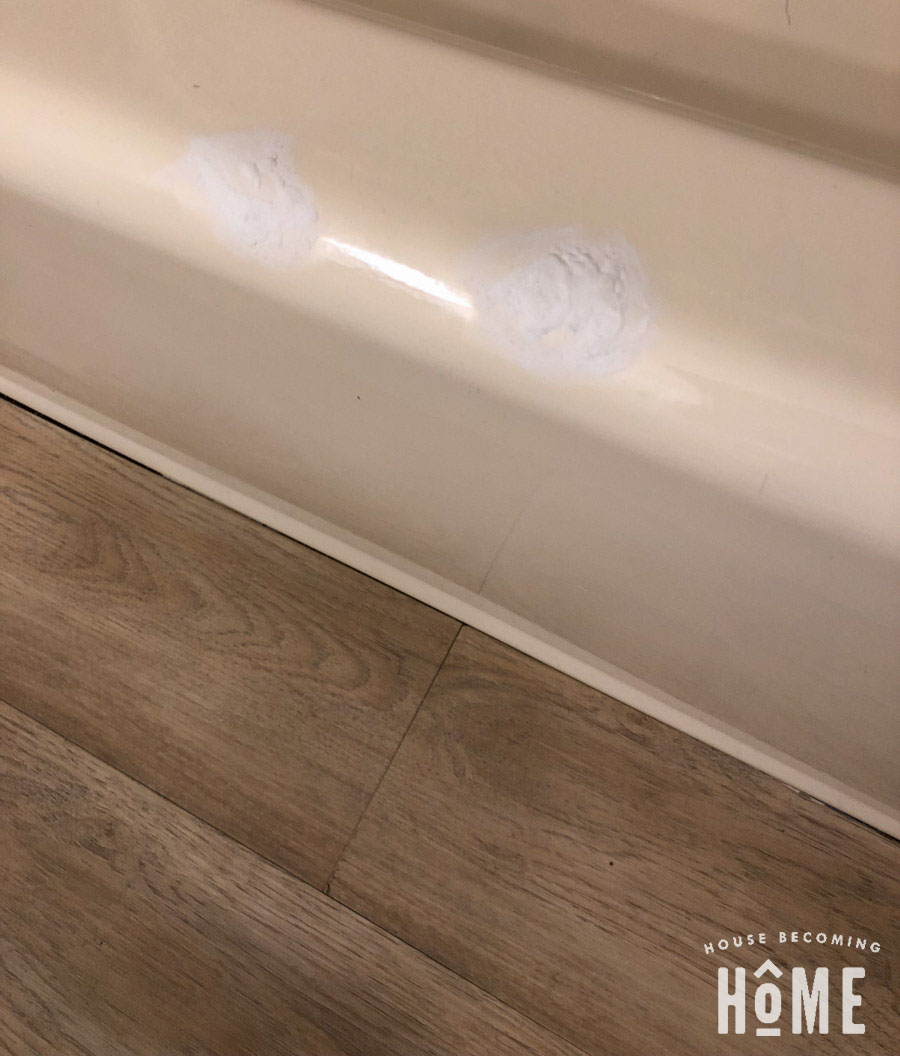 Let dry, then sand off the excess: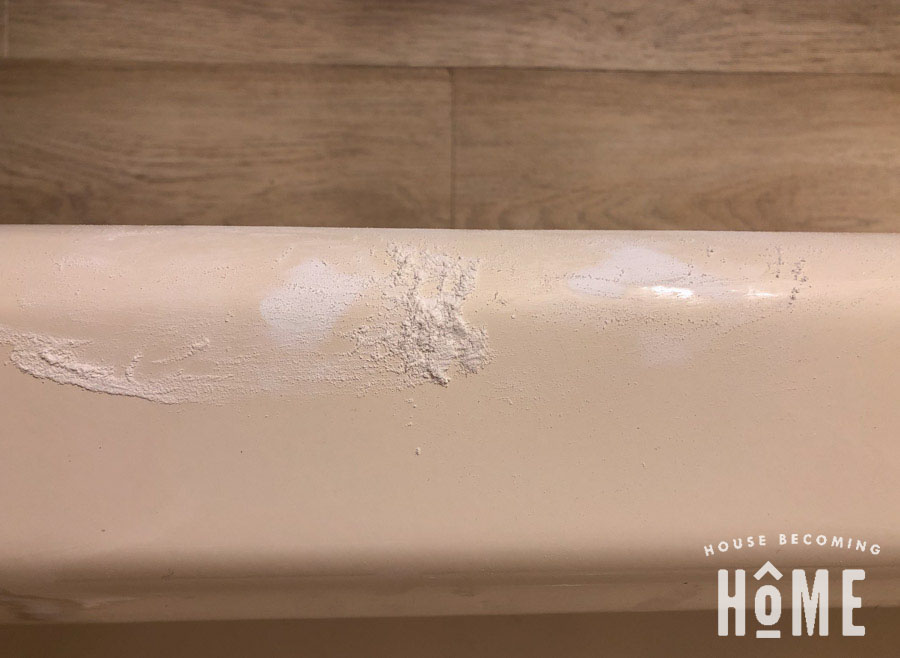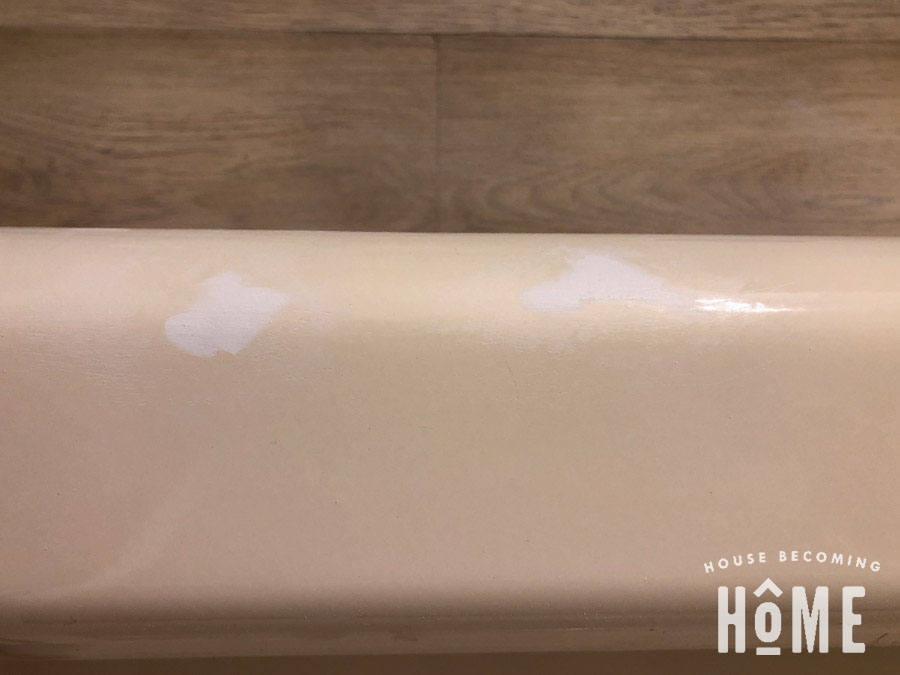 Clean Well
We did this in several steps. First, we did a standard bathtub cleaning, getting rid of any dirt, soap scum, etc. After that we peeled/scraped off any and all traces of caulk. Finally, I used a sander with 100 grit sandpaper and ran it across the entire bathtub. (In the directions, Rustoleum recommends sanding with 400 grit sandpaper, but I guess I'm a rebel and wanted to go with something a little more coarse.) After sanding, I wiped down the tub one last time, to make sure it was dust free.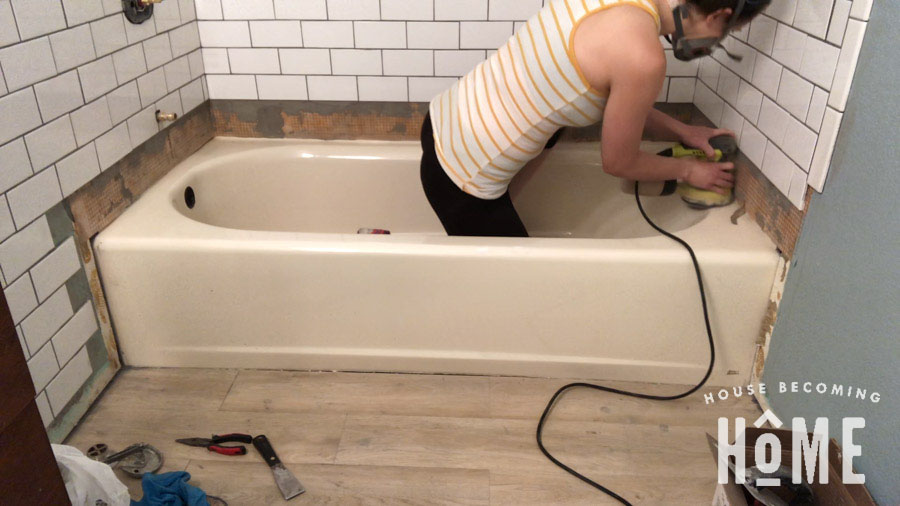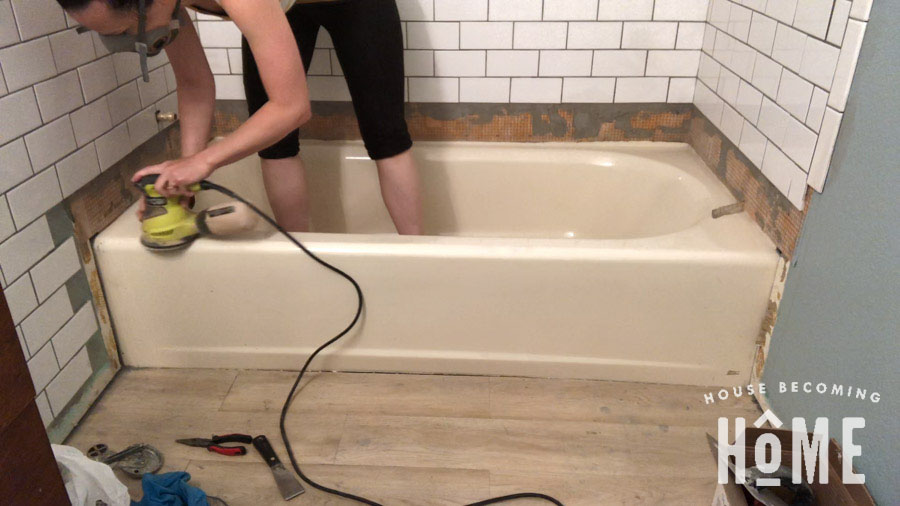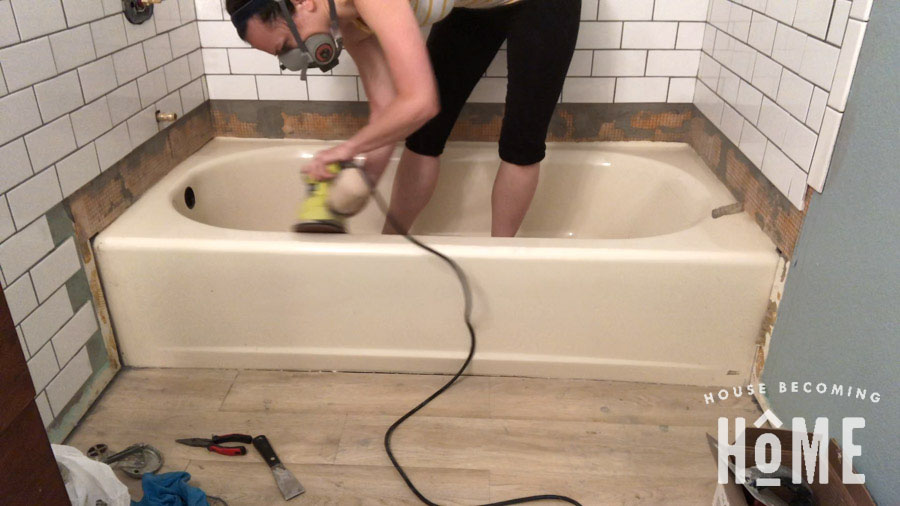 How to Paint a Bathtub Tip #2:
Use A Good Quality Roller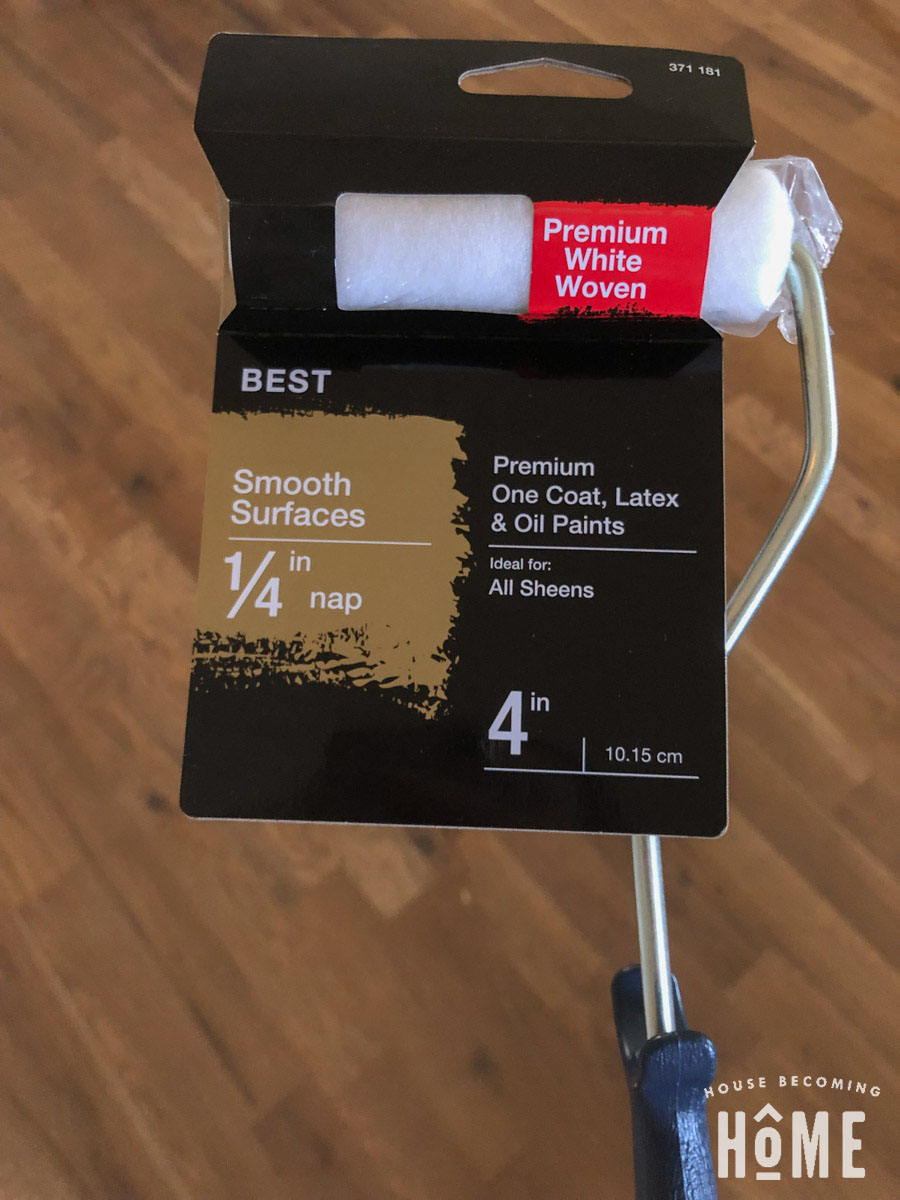 There seemed to be two opinions online regarding the best type of roller to use. Some suggested using a high quality foam roller, but others reported the foam rollers not holding up well to the chemicals in the paint. Rustoleum recommended using a high quality roller with short nap, so that's what I went with.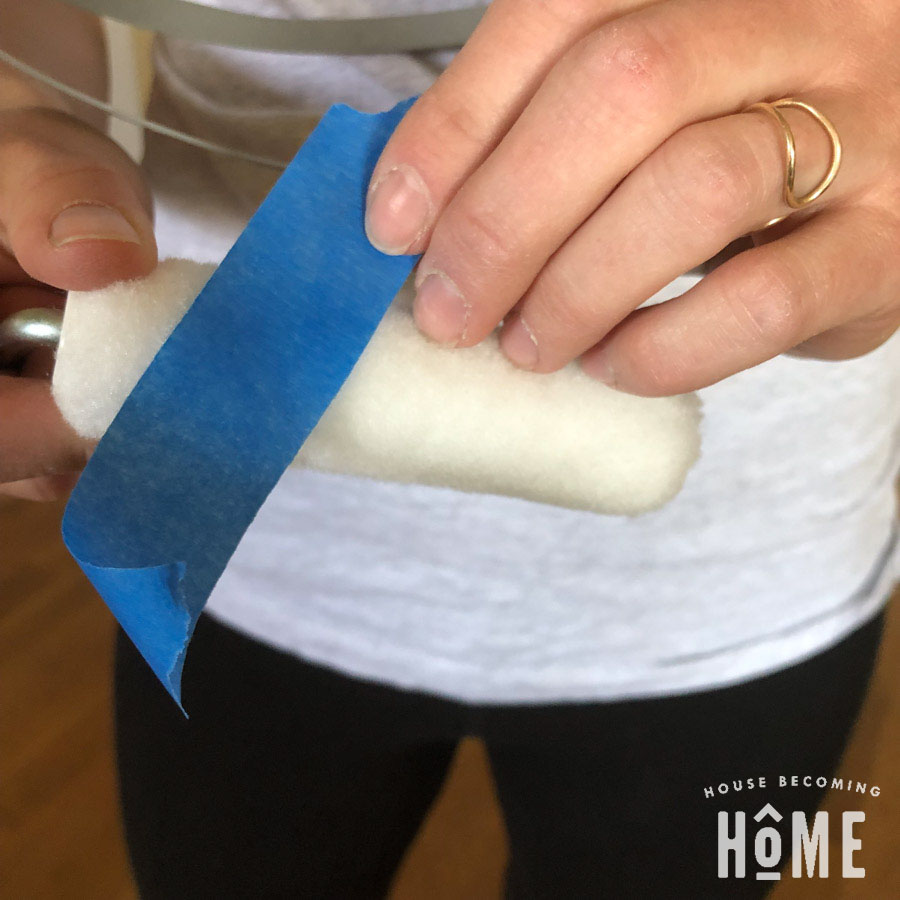 Use a piece of painter's tape to pull off any loose bits of fibers from the roller.
How to Paint a Bathtub Tip #3:
Protect Yourself from the Fumes
**In case anyone is using the same respirator that I did, DON'T FORGET TO ADD THE TWO OUTER CARTRIDGES! Without them, the mask doesn't provide adequate protection, which I didn't realize at the time!**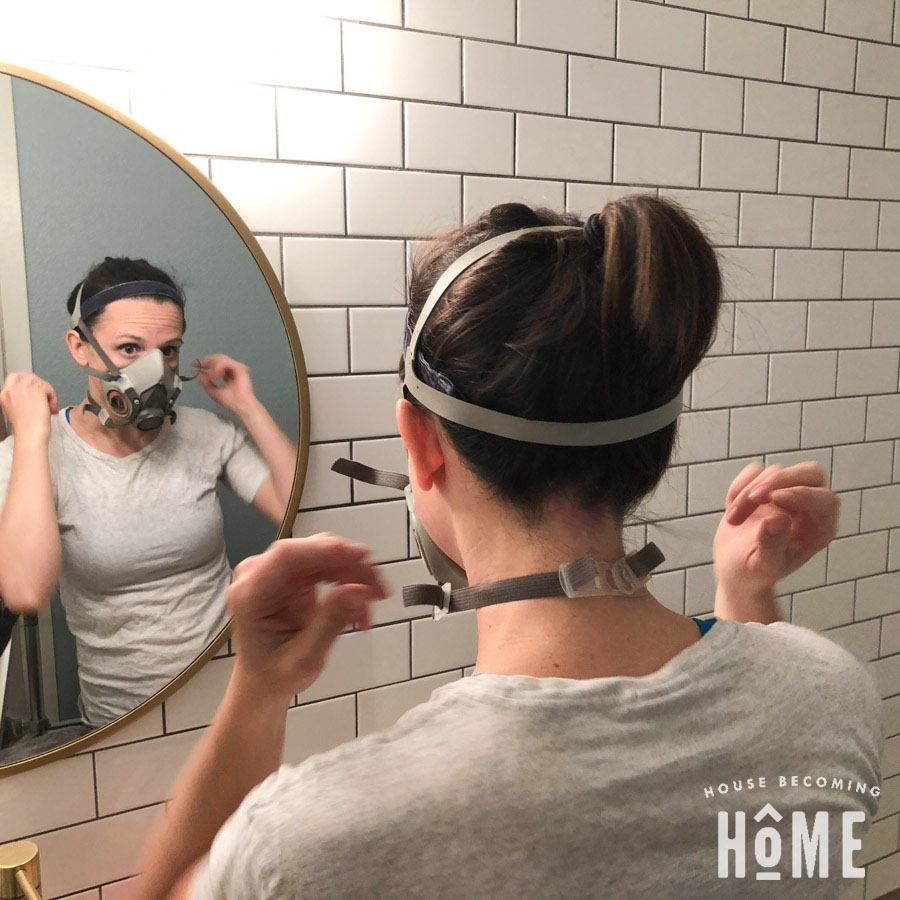 I read so much online about the fumes from the paint that, honestly, I was slightly nervous and took quite a few precautions.
I waited until the weather was warm enough that all the windows in our house could be open.
I sent my husband out with the kids while I painted so they wouldn't be in the house.
I put a fan at the edge of the bathroom to get the air circulating.
I wore protective eye goggles and a respirator mask (though I forgot to add the two outer cartridges to the mask . . .doh! . . . so learn from my mistake and do it right!)
The fumes were strong, which was probably my least favorite part about the whole experience. But with the windows open and fans circulating the air, the smell didn't linger too long (less than a day).
How to Paint a Bathtub Tip #4:
Cover the Drain
I was worried about getting paint clogged in the drain pipe, so I put paper/tape inside the drain. In the end it didn't seem all that necessary, and you can probably do without this step. But it also doesn't hurt. 🙂 (Just keep the paper or tape completely inside the drain so that you're not missing any spots on the bathtub when you paint).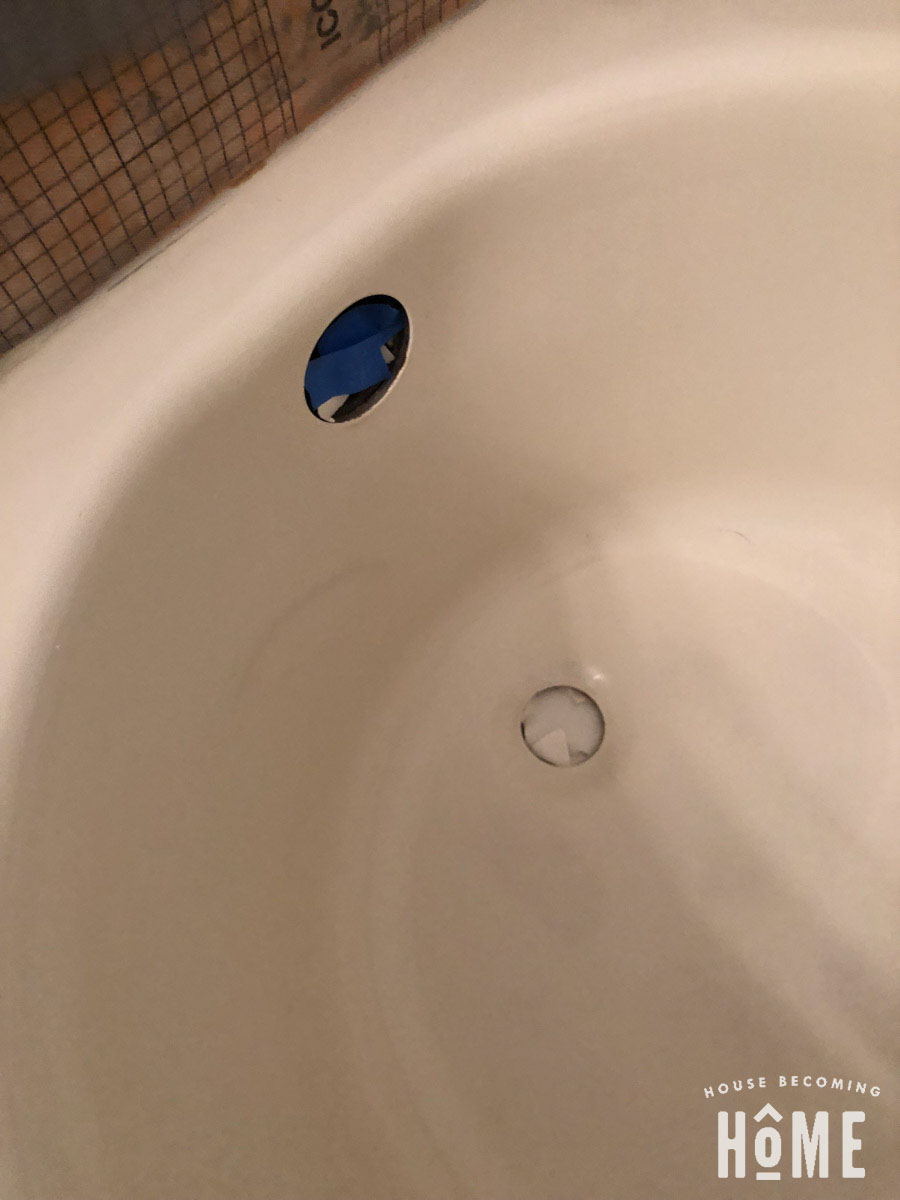 How to Paint a Bathtub Tip #5:
Stir Well and Mix Activator into Base
Rustoleum Tub and Tile comes with two cans, a part A activator, and a Part B Base. Open up both cans, grab a wooden paint stick and stir the activator well, then stir the base.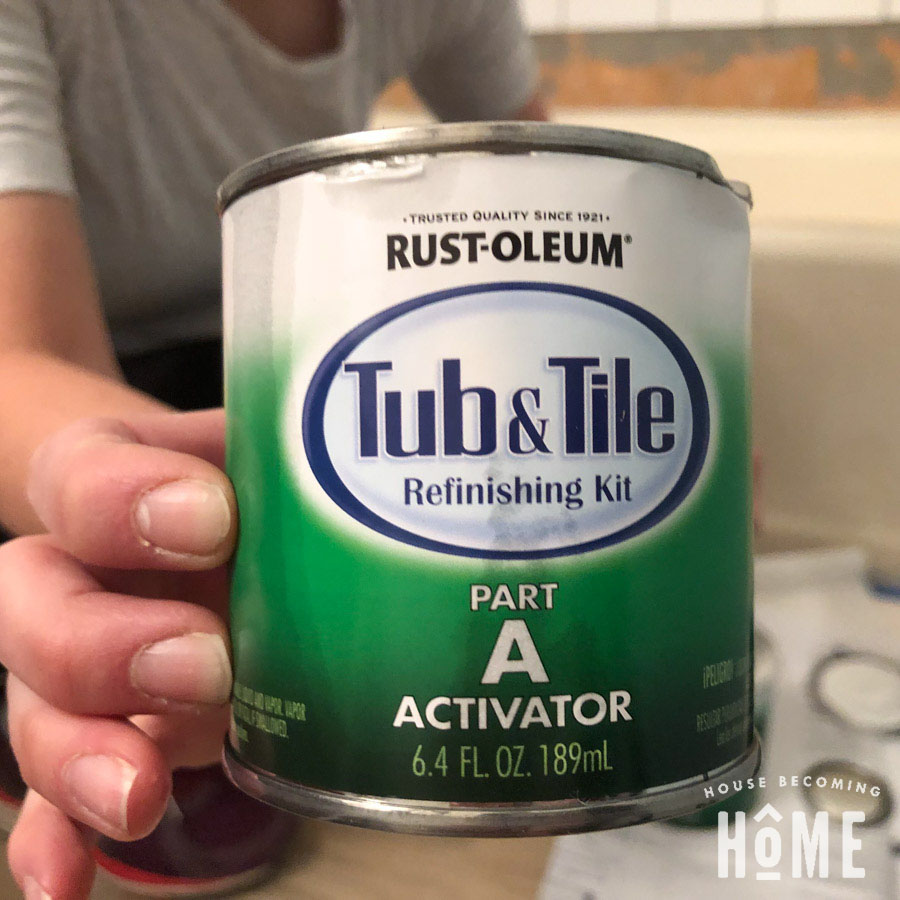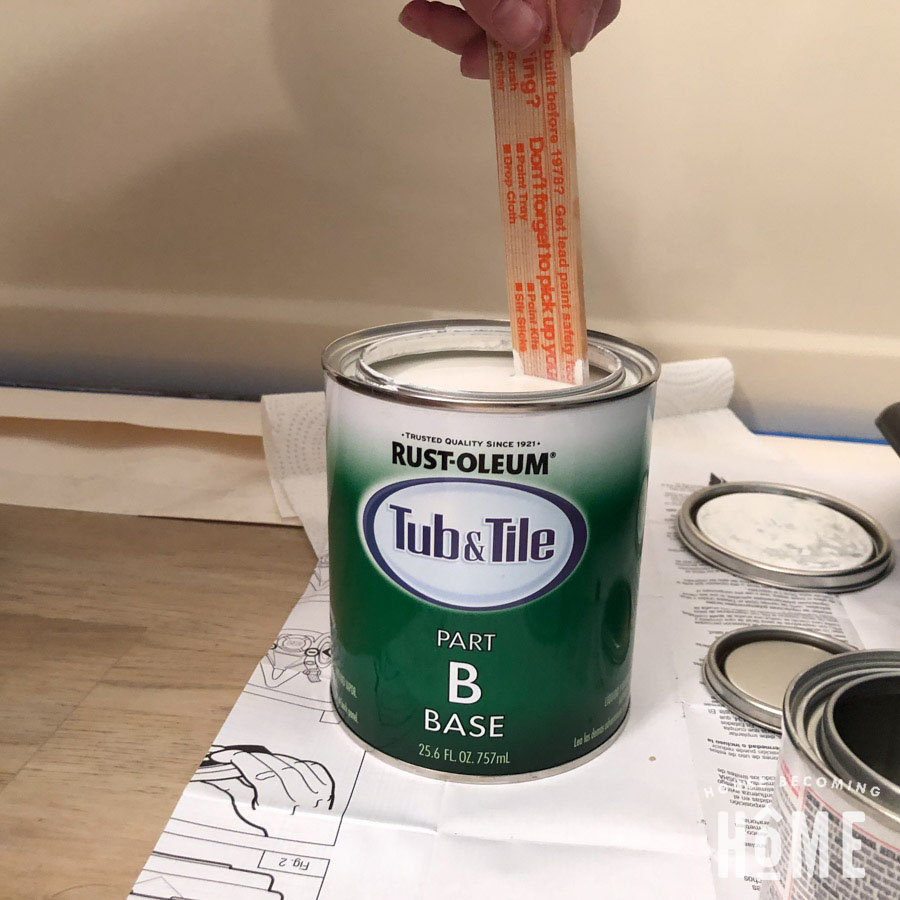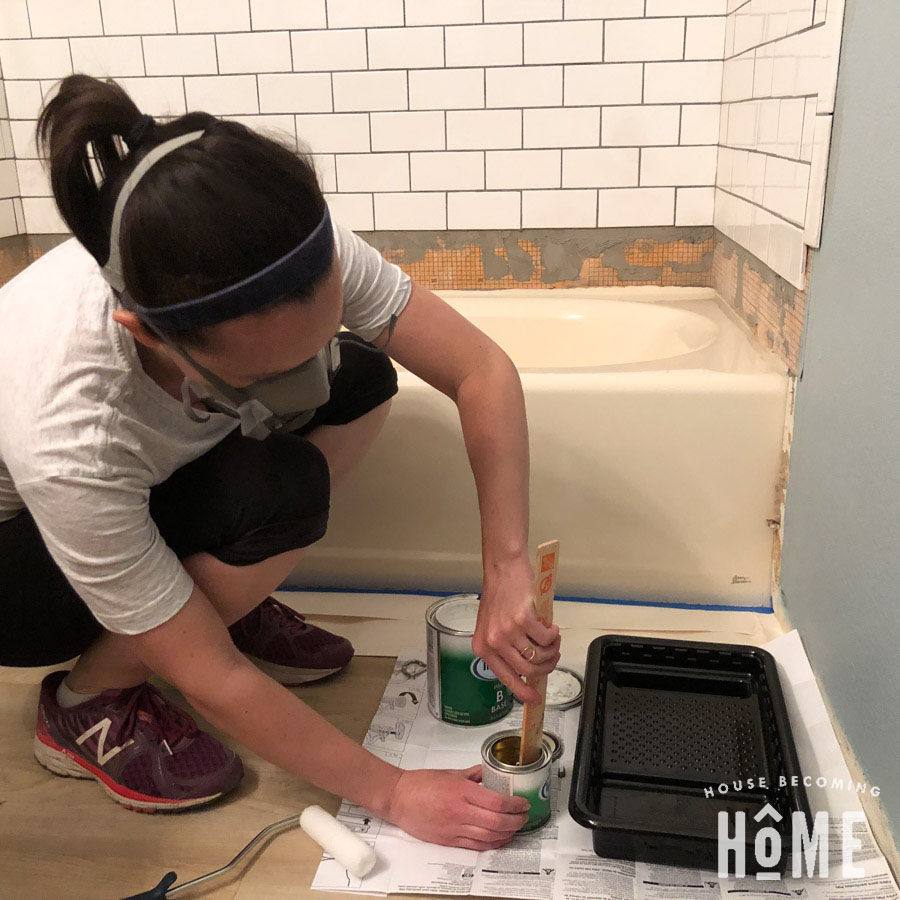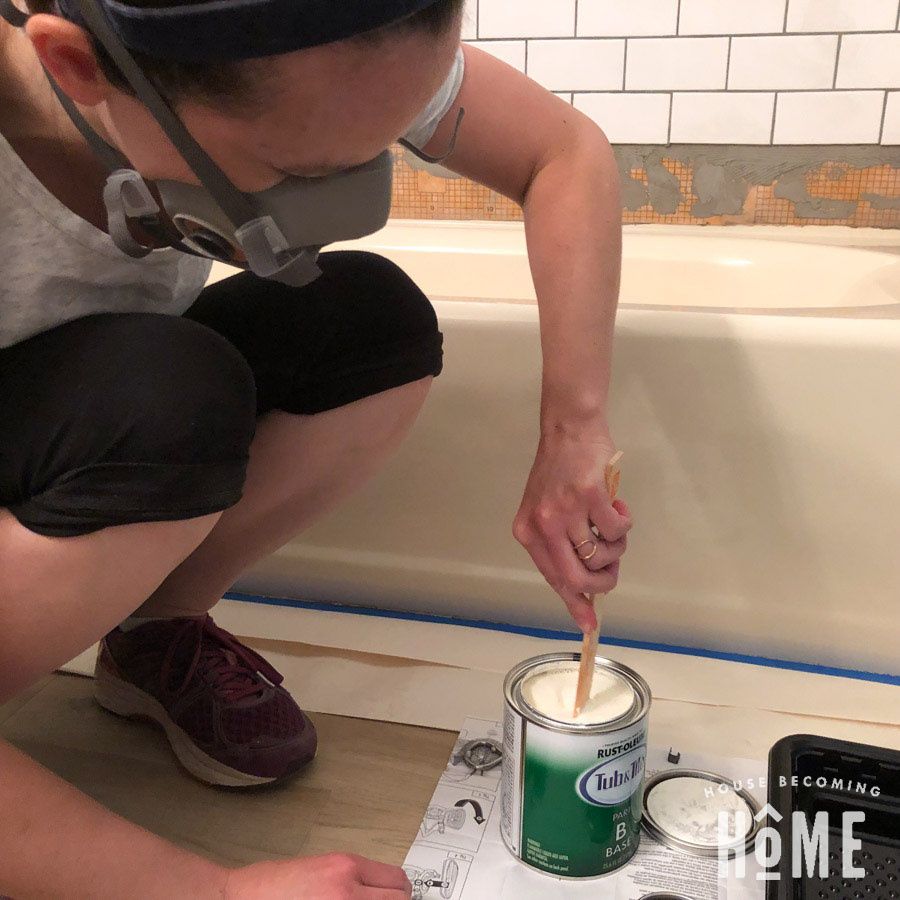 Pour the activator into the base can, and mix well!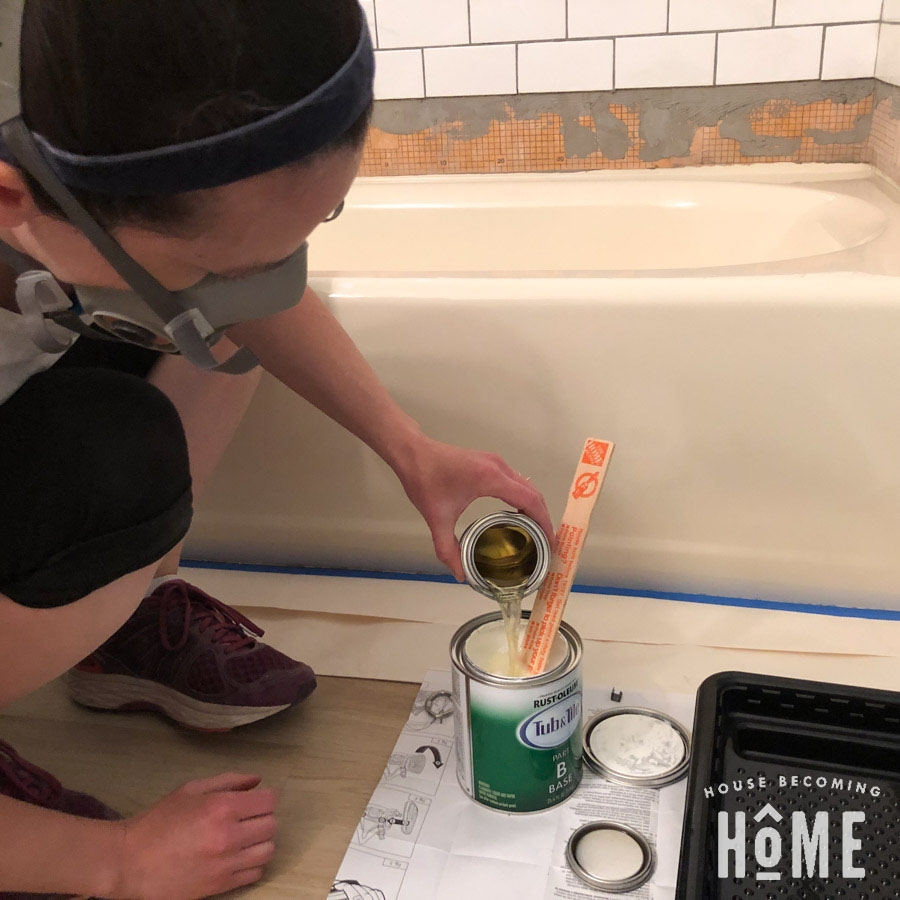 Pour the activator/base mixture into a paint tray (or just a paint tray liner, like I did)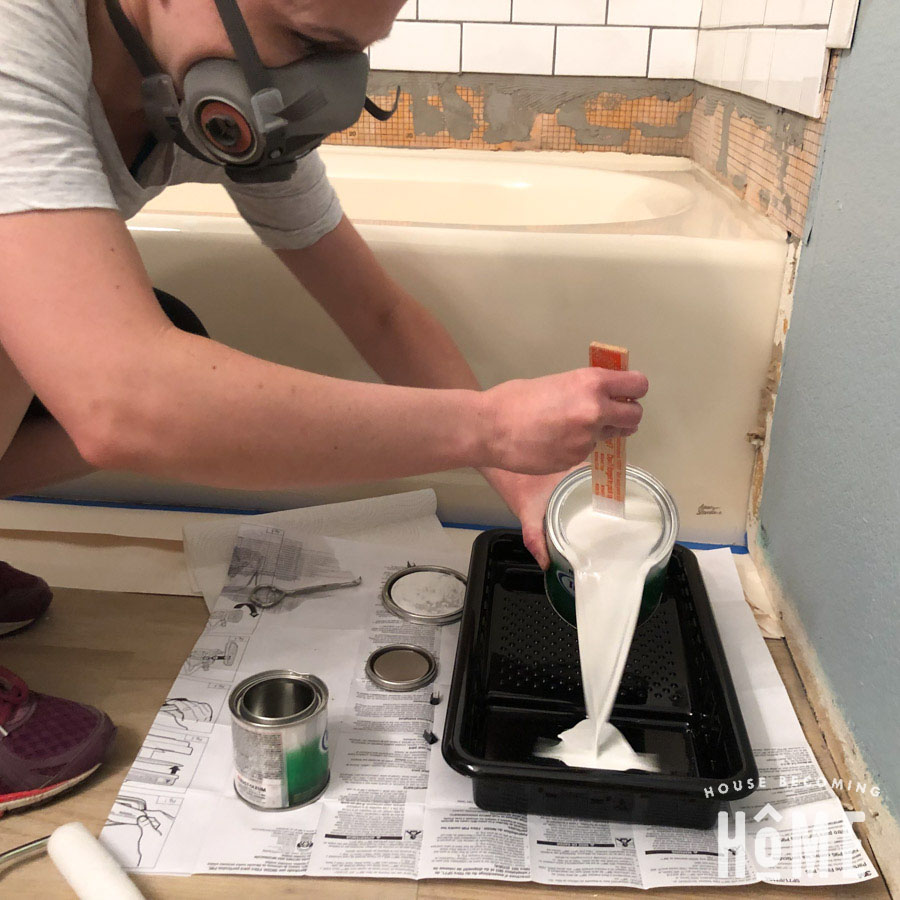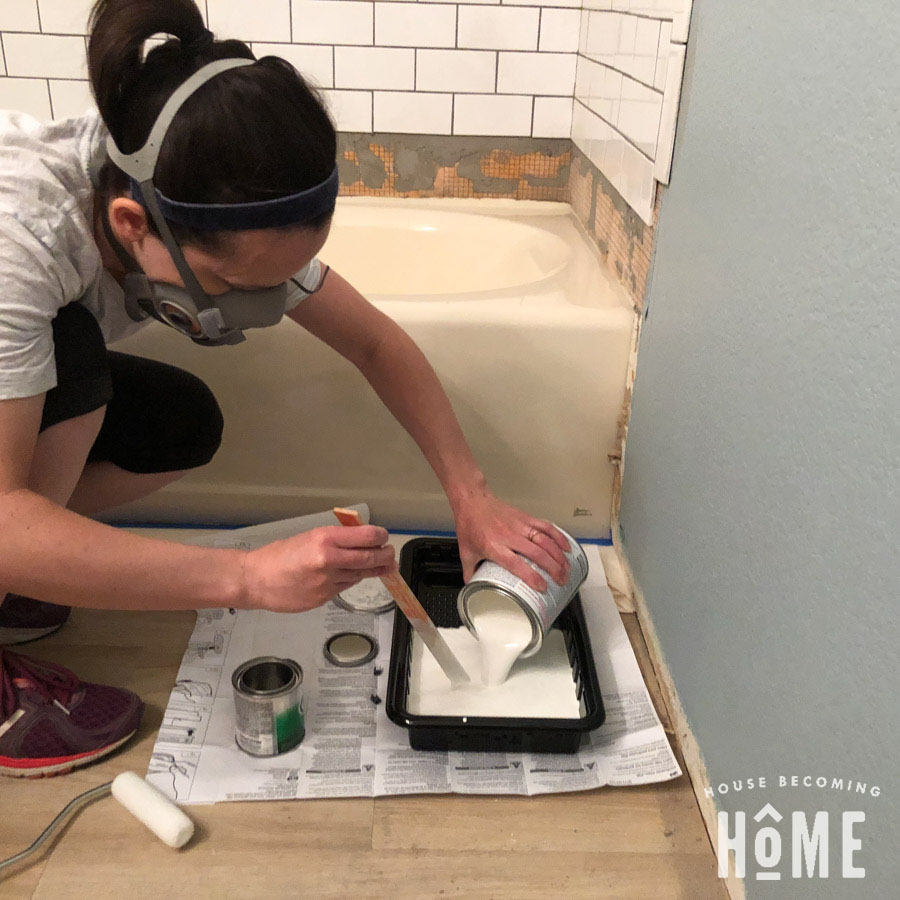 How to Paint a Bathtub Tip #6:
Begin Painting the Hard-to-Reach Areas
Start by painting the harder-to-reach areas, so you can lean on the tub without smearing paint.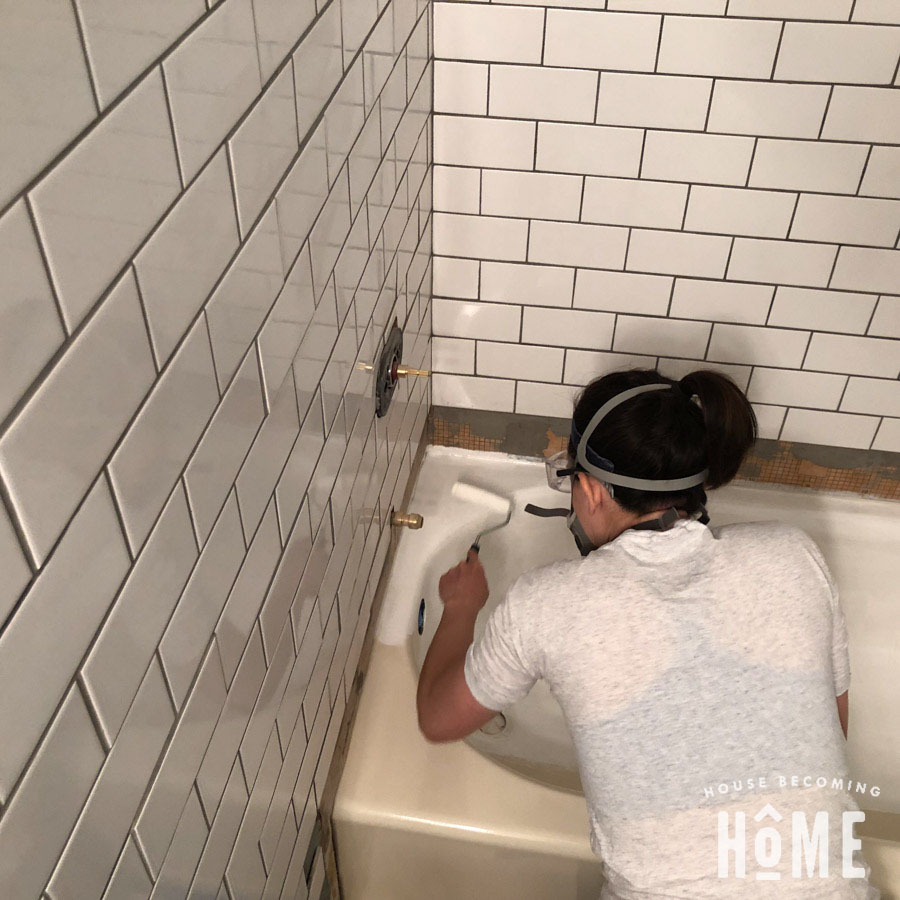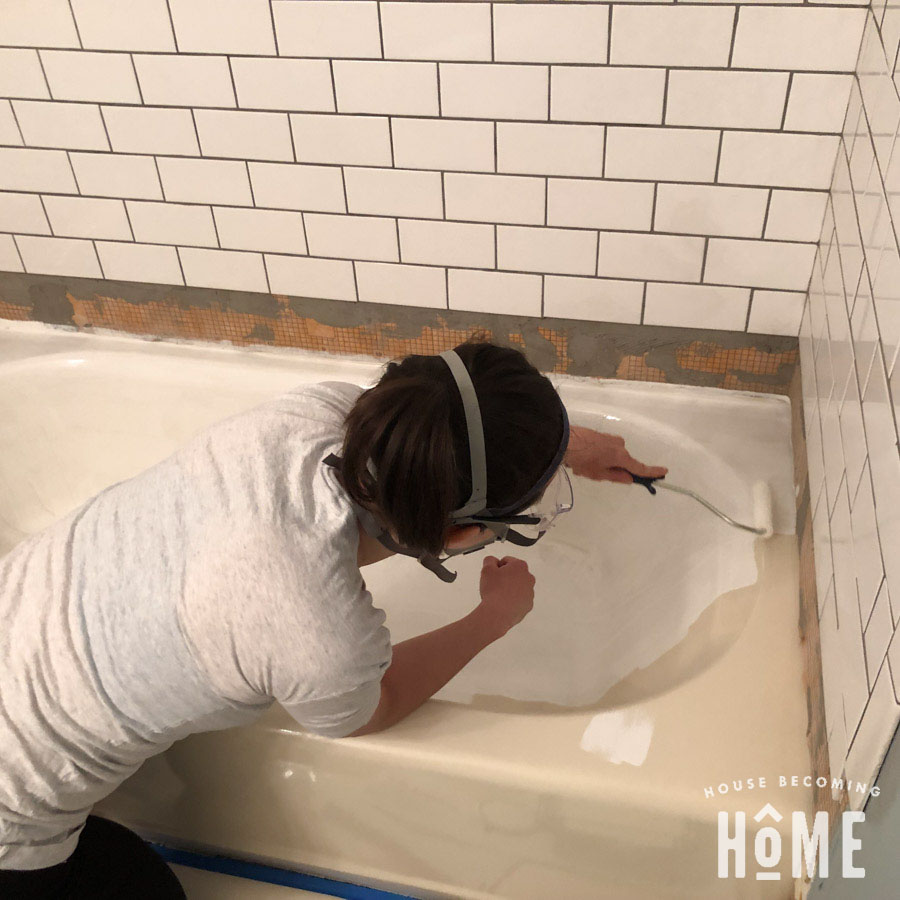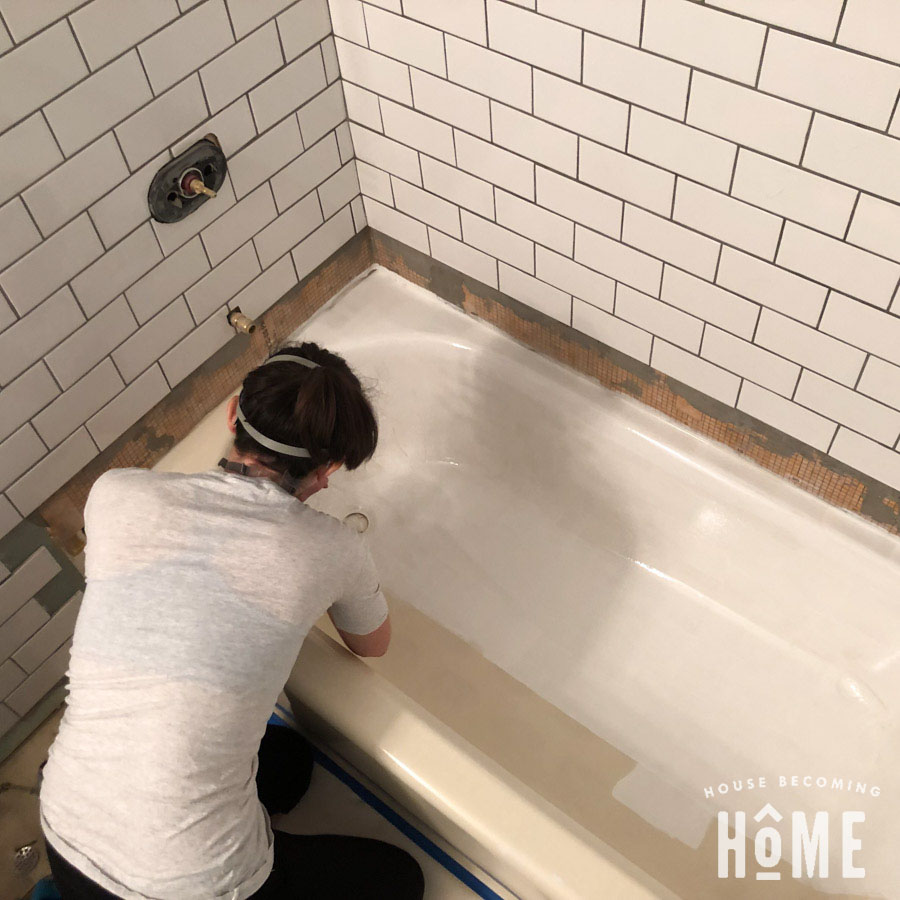 How to Paint a Bathtub Tip #7:
Apply Multiple Coats
Wait one hour after the first coat is on, then apply another.
Here's the bathtub after the first coat: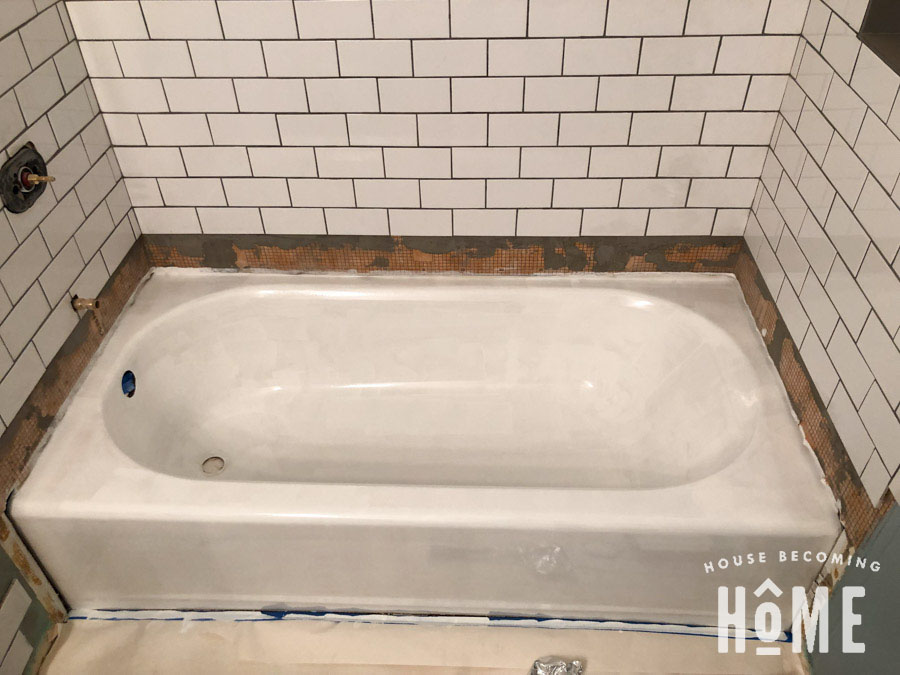 Here's the bathtub after the second/final coat: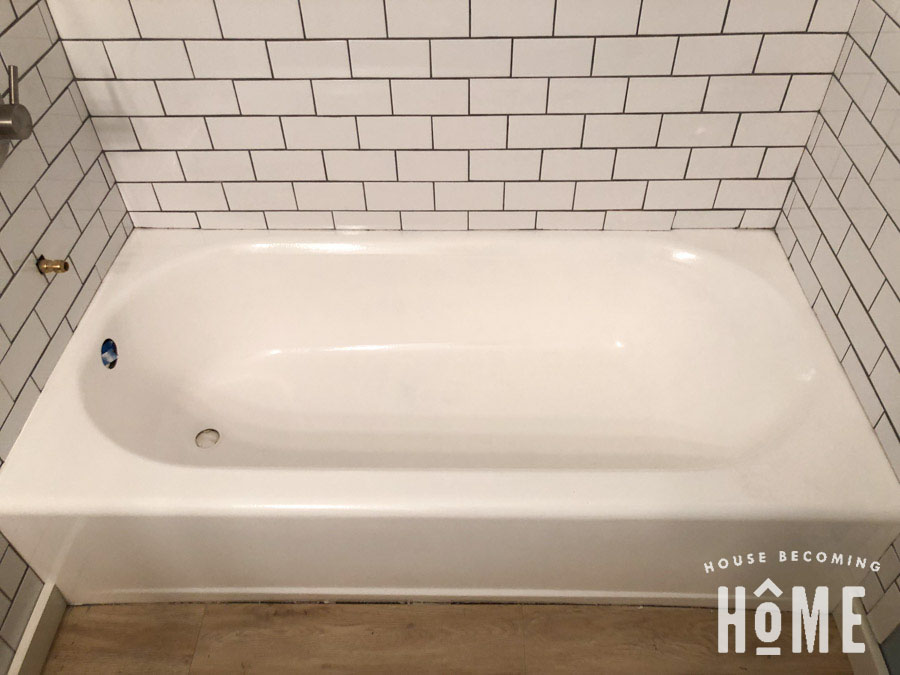 Our kids' bathtub is pretty small. One Rustoleum Tub and Tile kit was more than enough to cover the bathtub in two coats. If your bathtub is on the larger side, you may want to have another tub and tile kit ready just in case, then return it if you don't end up needing it (I hate running to the store mid-project!!).
Final Thoughts : Rustoleum Tub and Tile Refinishing Kit Review
We haven't put it to the test yet, but from what I can tell, the finish seems REALLY durable. I'm so happy with the way it turned out. I think it looks great, and at about $25 for the kit + a few basic supplies (roller, mask, etc.), it's a really affordable way to update an old bathtub.
I'll keep you updated as time passes and let you know how it's holding up.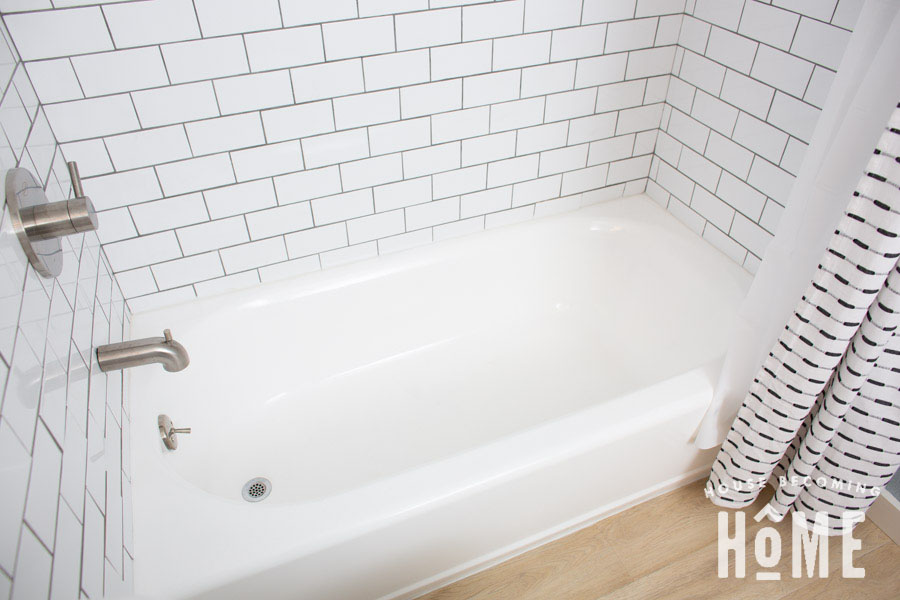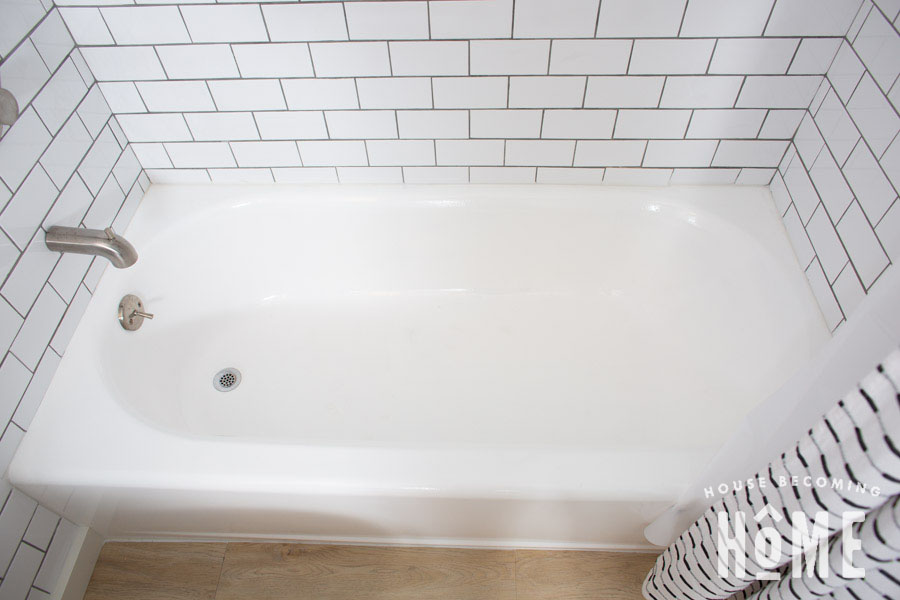 Is your bathtub outdated? Have you ever thought about painting your bathtub??? Let me know in the comments if you have any questions and I'll try my best to answer them!
One Year Later Update
It's been one year since I painted the bathtub! If you're interested in seeing how it has held up and curious to hear my "would you do it again?" response, head to the post:
Painted Bathtub One Year Later Update