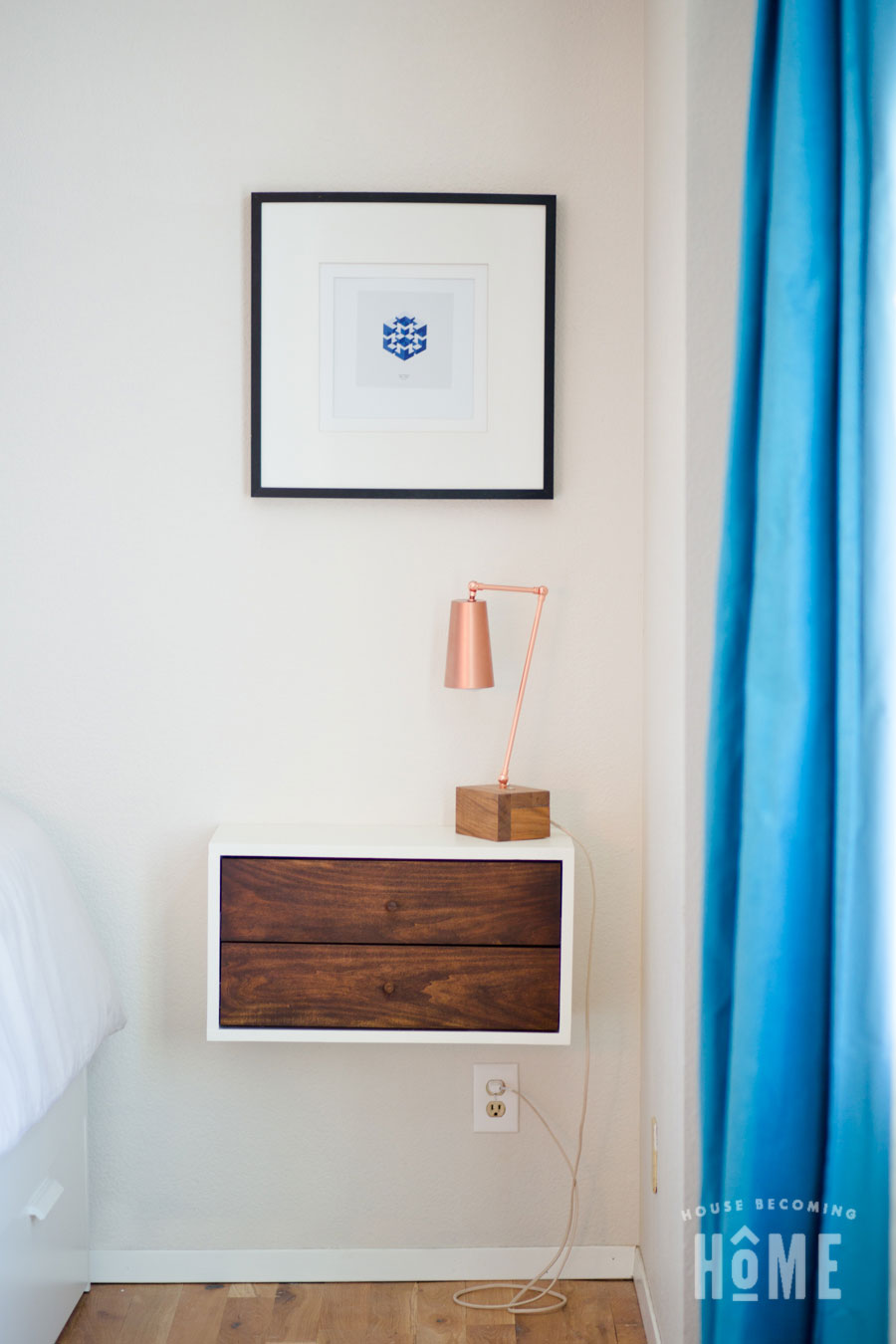 This modern floating nightstand is super easy to build, and a great beginner project to tackle if you're new to woodworking. If you're not a new woodworker, well, it's still great because it's a quick, affordable build that provides you with some modern bedside storage. 🙂 I always say yes to extra storage, especially hidden storage.
BEST OF ALL–beginning woodworkers I'm talking to you–once you can build and hang this floating nightstand you can change up the dimensions and make SO MANY THINGS! This basic idea of a framed box + drawers can be utilized for much more than just a floating nightstand.  Closet organization systems, a floating bathroom vanity, hanging wall shelves (swap out the drawers for shelves), etc.etc.  You get the idea, right? Learn to build this floating nightstand and soon you'll be making all kinds of DIY furniture for your home. 🙂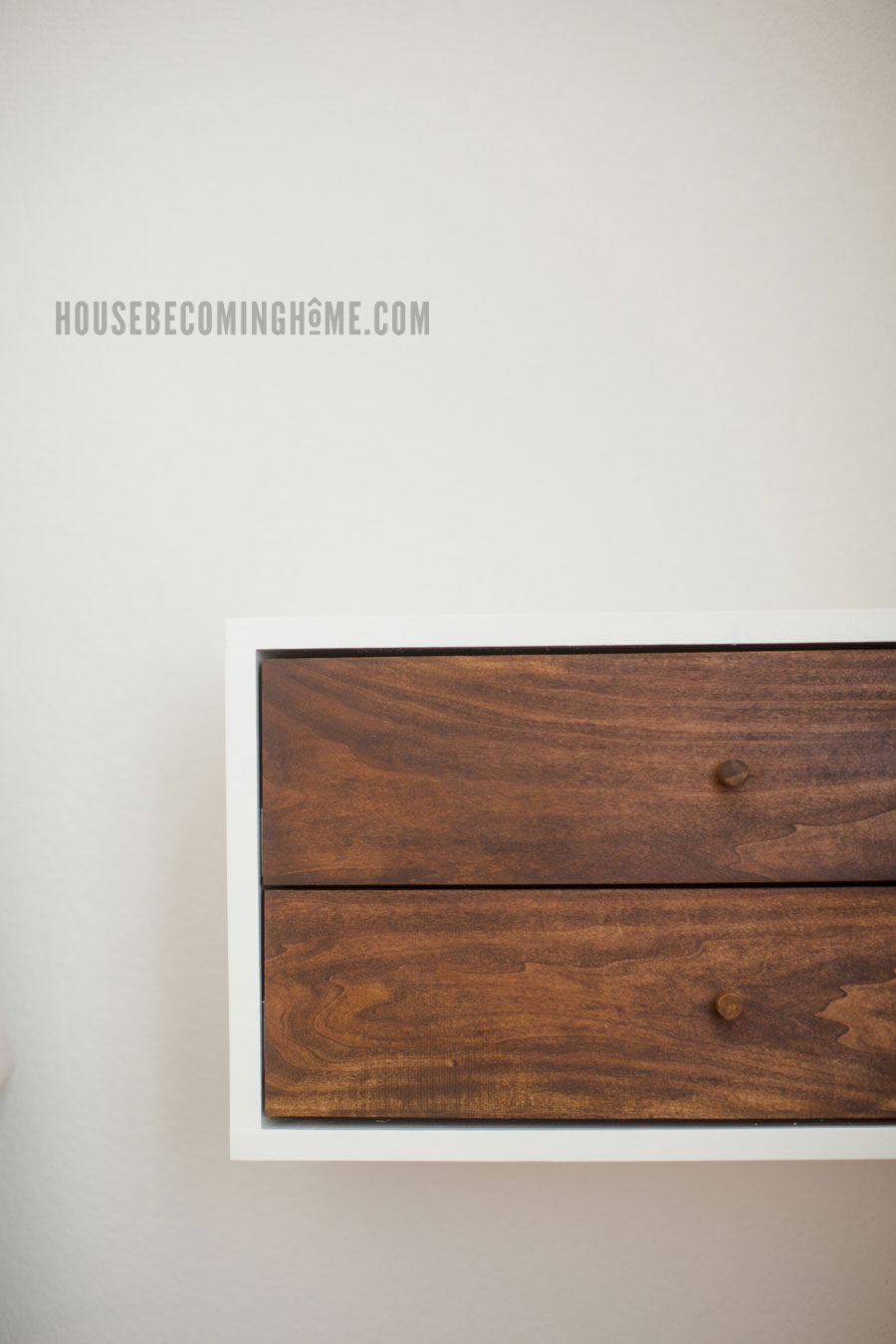 House Becoming Home is a participant in the Amazon Services LLC Associates Program, an affiliate advertising program designed to provide a means for sites to earn advertising fees by advertising and linking to Amazon.com. Some links in this post may be affiliate links. Read my full disclosure policy here. 
How to Build a Floating Nightstand
Lumber
(1) 1 x 12 x 6ft.
(2) 1 x 4 x8ft.
(1) Plywood or MDF
1/4 in. x 2 ft. x 4 ft
(1) poplar hobby stock- 1/2" thick x 5.5" wide x 4 ft. long
Hardware & Fasteners
(2 pairs) 10" full-extension drawer slides (each of my drawer slides was actually 9 3/4" long and 1/2" wide–if yours are more or less you'll need to adjust your drawer sizes). These are the slides I used.  It's been brought to my attention that the slides I used are no longer available. These drawer slides look identical to the ones I used, and they come in a set of two–perfect for this project!)
1-1/4" pocket hole screws
Finishing products of your choice–stain, paint, wax, polyurethane, etc.
Knobs/pulls or make your own modern knobs for cheap
Tools
Miter Saw
Table saw
Drill
Pocket Hole jig
Sander + sandpaper
Tools for finishing
(paintbrush/ stain rag, etc.)
For a detailed cut-list and printable instructions, download the pdf following the instructions below.
Free Furniture Plans
– DIY Nightstand – 
Subscribe to the House Becoming Home newsletter and receive the DIY Floating Nightstand plans, a free printable PDF. Enter your name and email address below–you'll immediately be sent a link to download the file. (*personal & non-commercial use only*)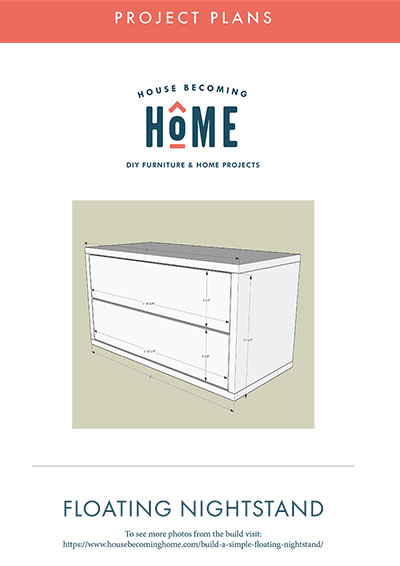 ---