This post is sponsored by Kreg Tool as part of their holiday campaign. All opinions are my own. This post contains affiliate links. See disclosure policy for more details.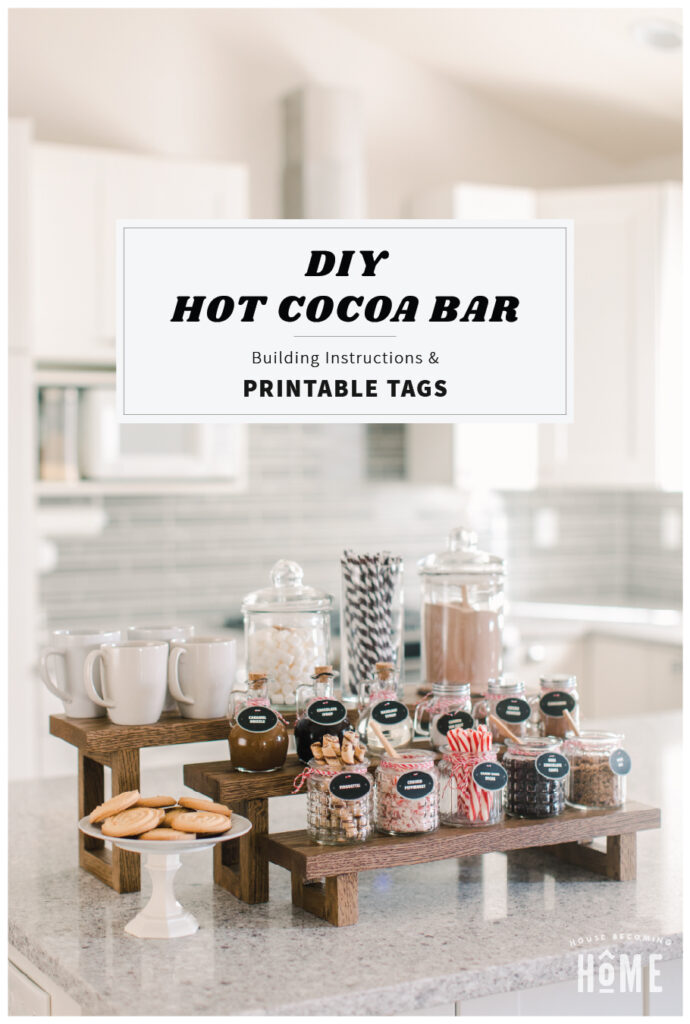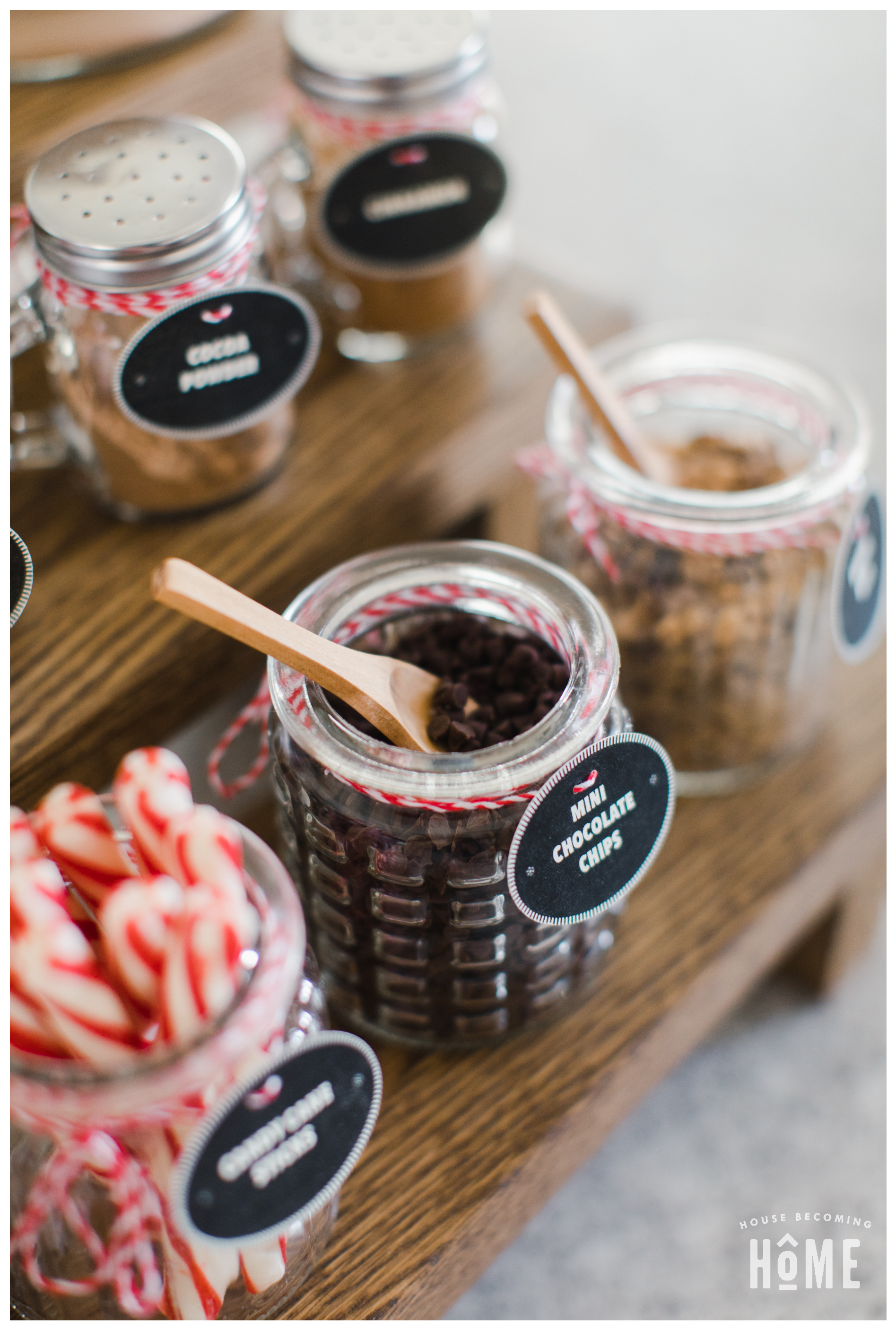 Today I'm excited to share my latest project (and very likely my kids' favorite to date)–the DIY Hot Cocoa Bar. This is a simple and quick build that will perfectly display ALL THE THINGS to make your mug of hot chocolate just the way you like it.  Bring it out for holiday gatherings, at a winter wedding, or simply a night with friends/family + lots of hot cocoa.
DIY Hot Cocoa Bar Materials
1″ thick lumber. I actually used a leftover 48″ white oak stair tread (that I ordered as an extra when we re-did our stairs . . . and then forgot to return…!).
Stain & Polyurethane
DIY Hot Cocoa Bar Tools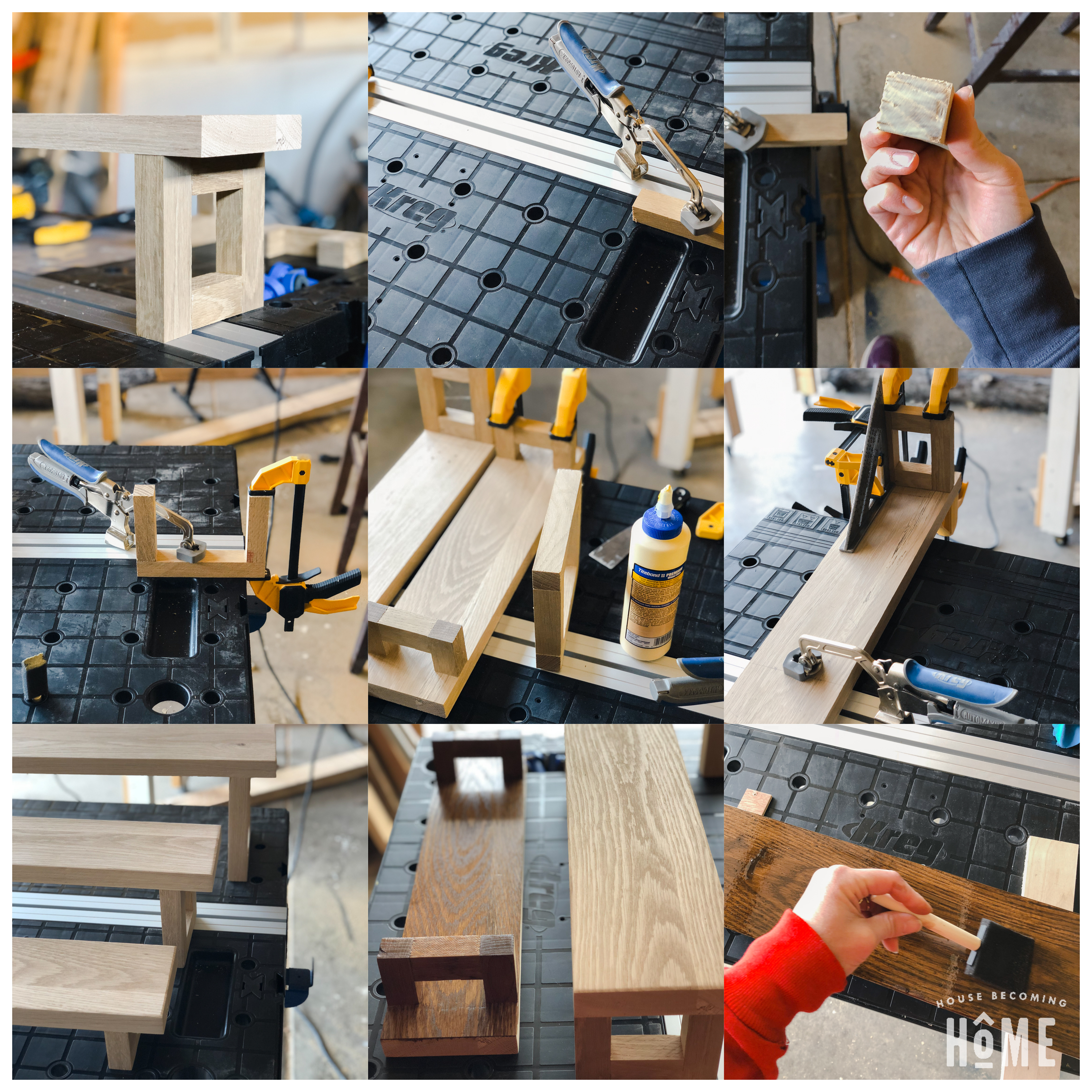 DIY Hot Cocoa Bar How-To
To build your own modern, three-tier hot cocoa bar, visit the full tutorial on BuildSomething.com.
Toppings and Items for a DIY Hot Cocoa Bar
There's really no right or wrong way to do this, but if you need some ideas, read on to see what I included in my DIY Hot Cocoa Bar.
Hot Chocolate Bar Shortest Tier :
Five glass jars filled with various goodies: crushed peppermint, candy cane sticks, crushed toffee, mini chocolate chips, and pirouettes. Chocolate sprinkles or crushed Andes mints are also great options.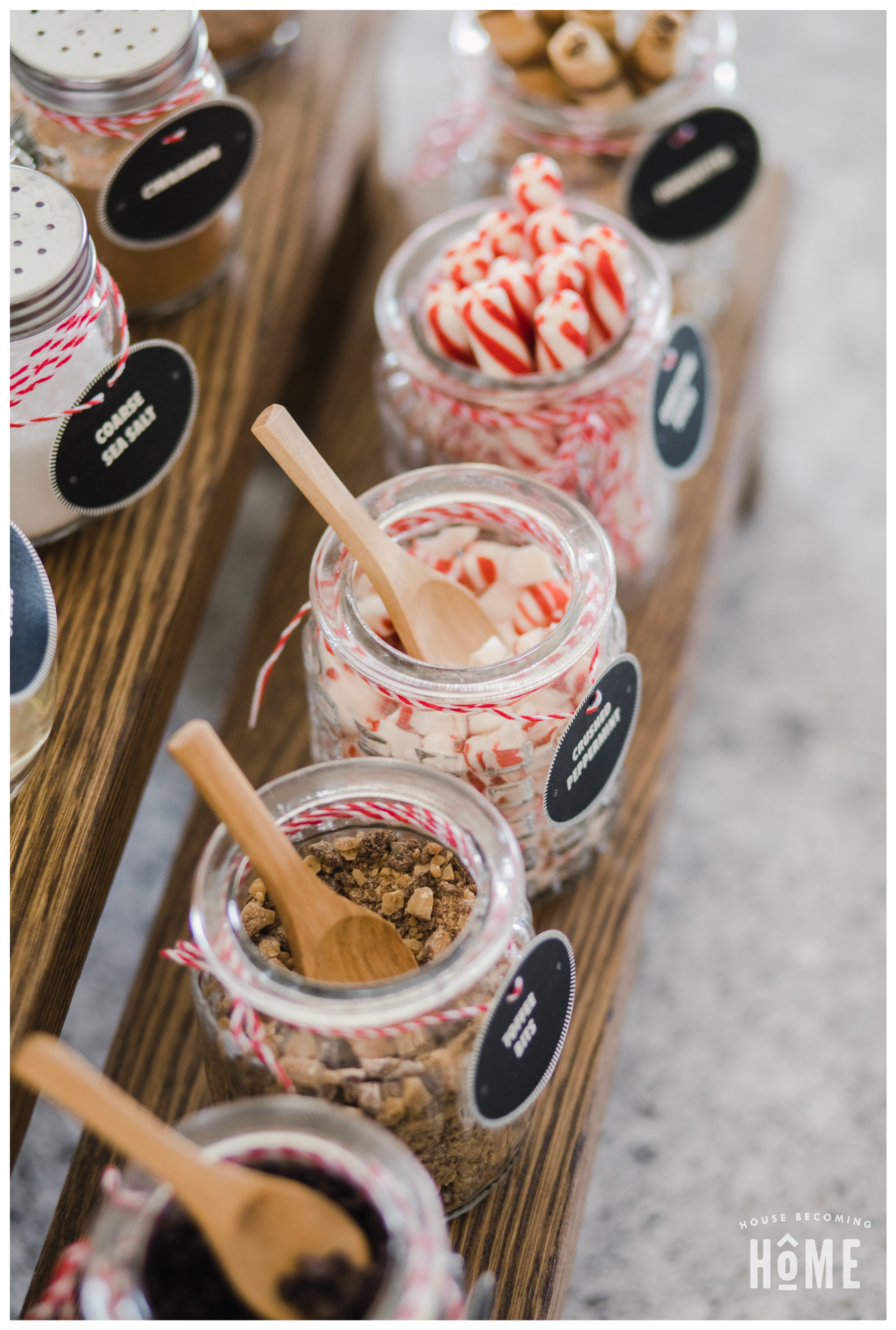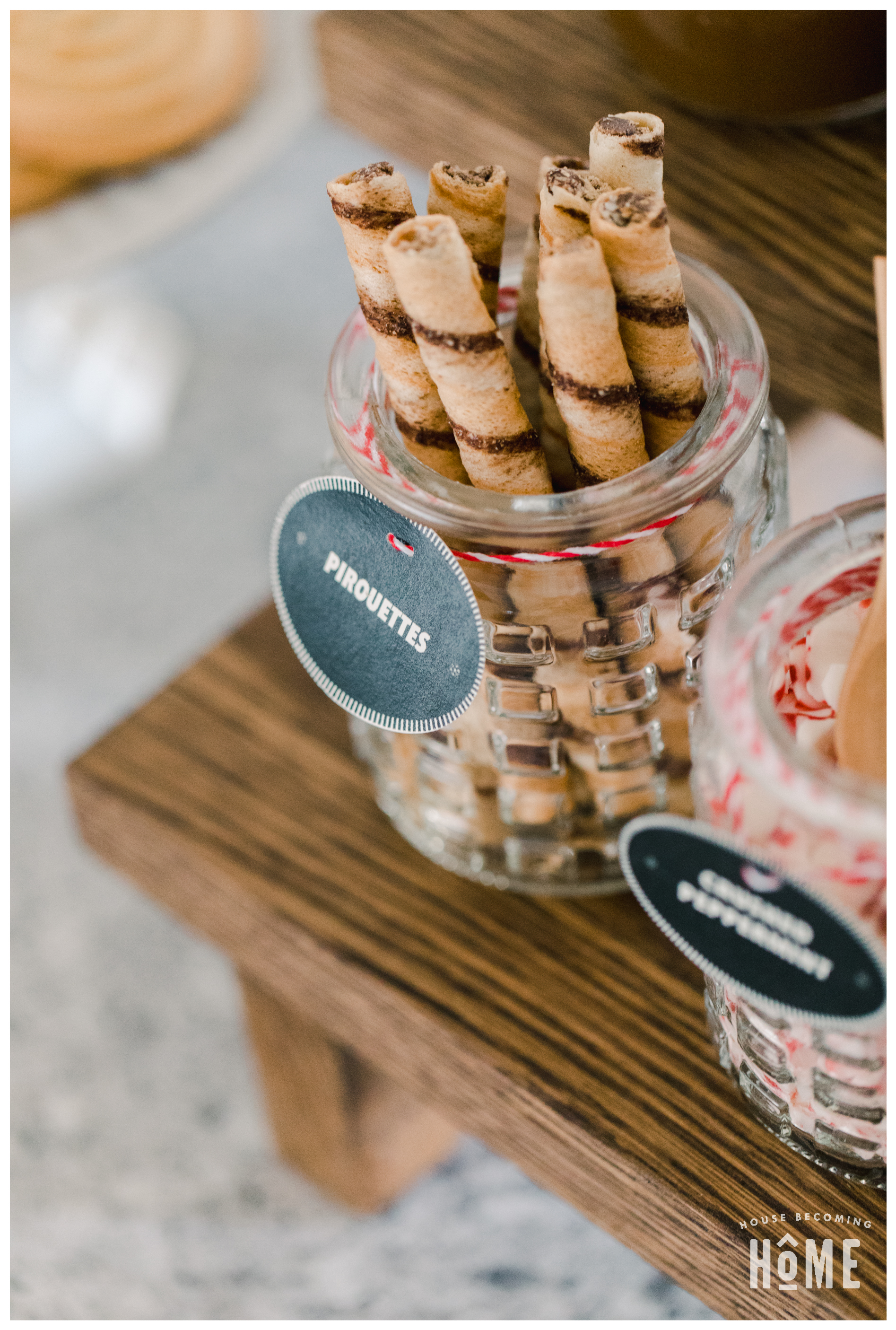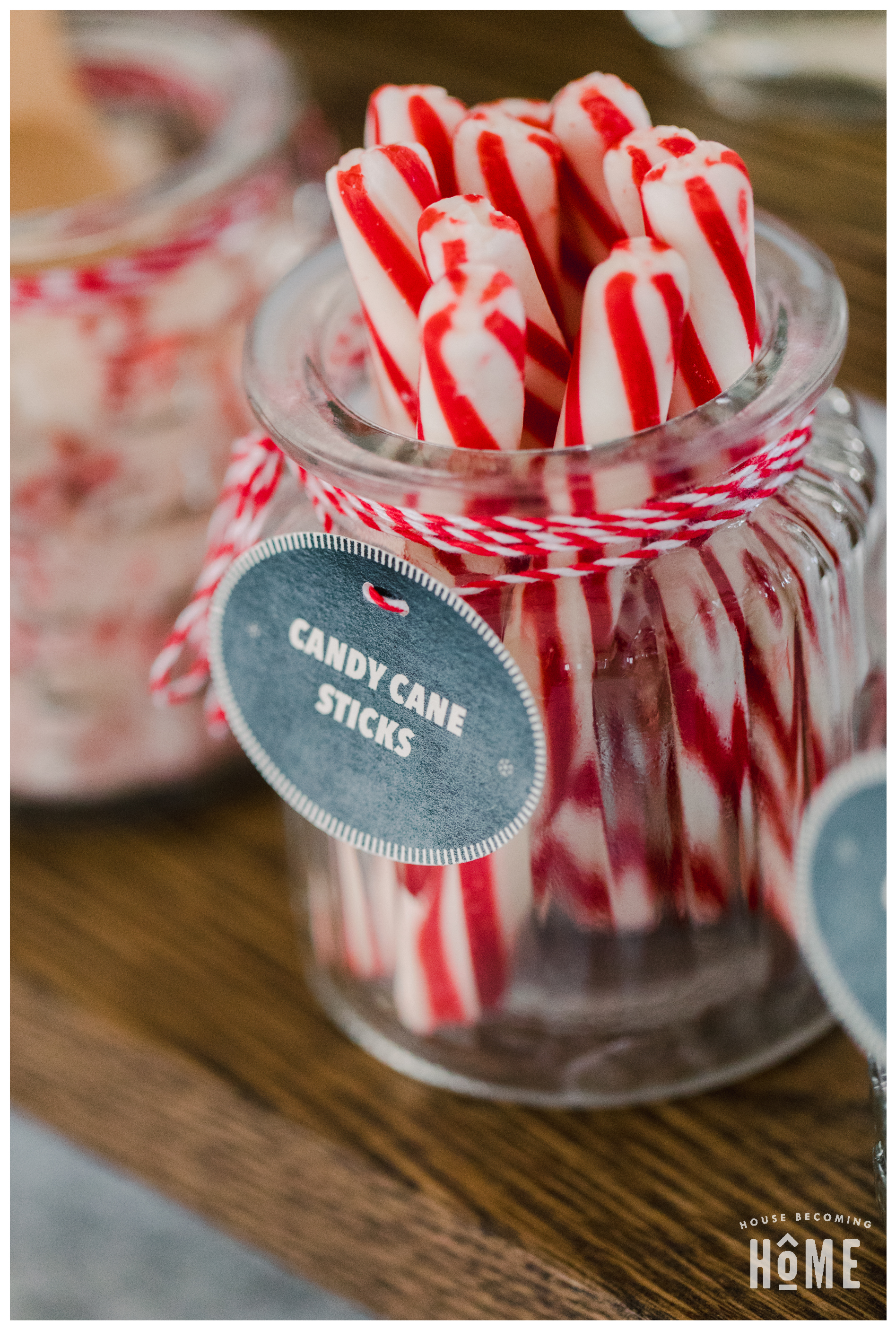 Hot Chocolate Bar Middle Tier :
Three syrup-style glass jars with corks: chocolate syrup, caramel drizzle and hazelnut syrup (HAZELNUT HOT COCOA IS MY FAVORITE!). Next to those are three large glass shaker jars: cinnamon, cocoa powder, and coarse sea salt.
My kids thought I was nuts for including a shaker of sea salt. But if you're up for a gourmet hot cocoa, try this: Top hot chocolate with fresh whipped cream, add some caramel drizzle, then give it a light sprinkle of salt. Woah. Amazing.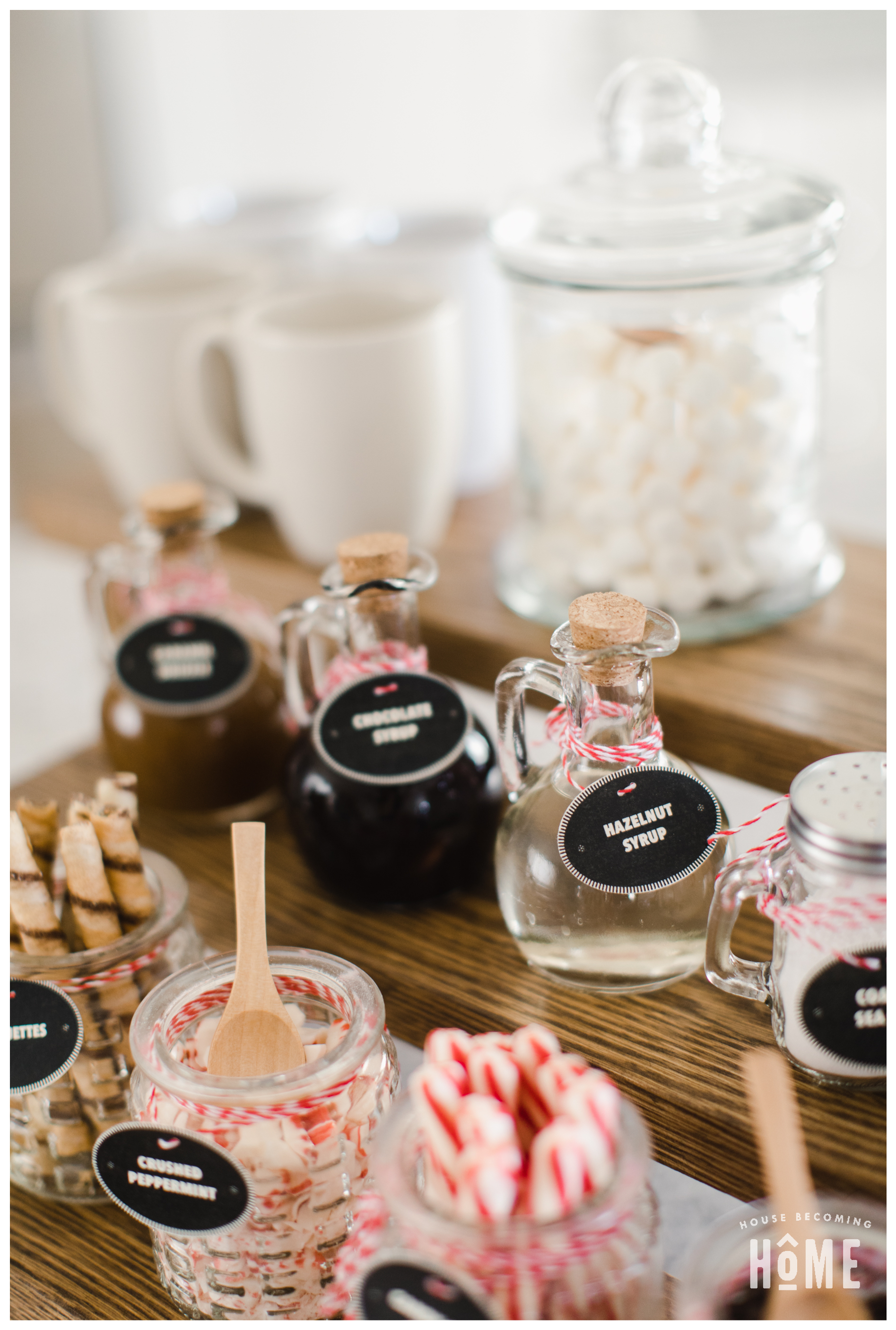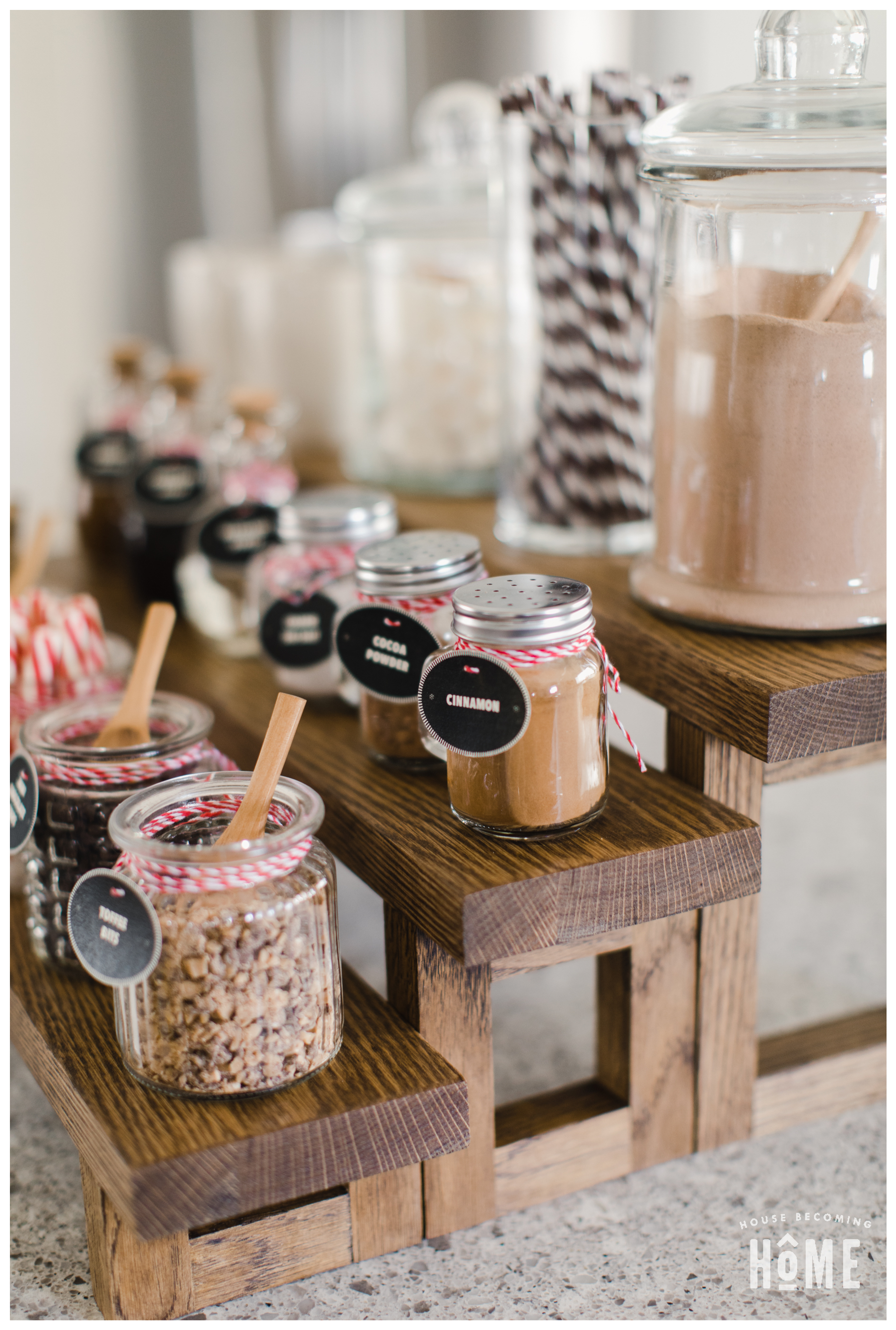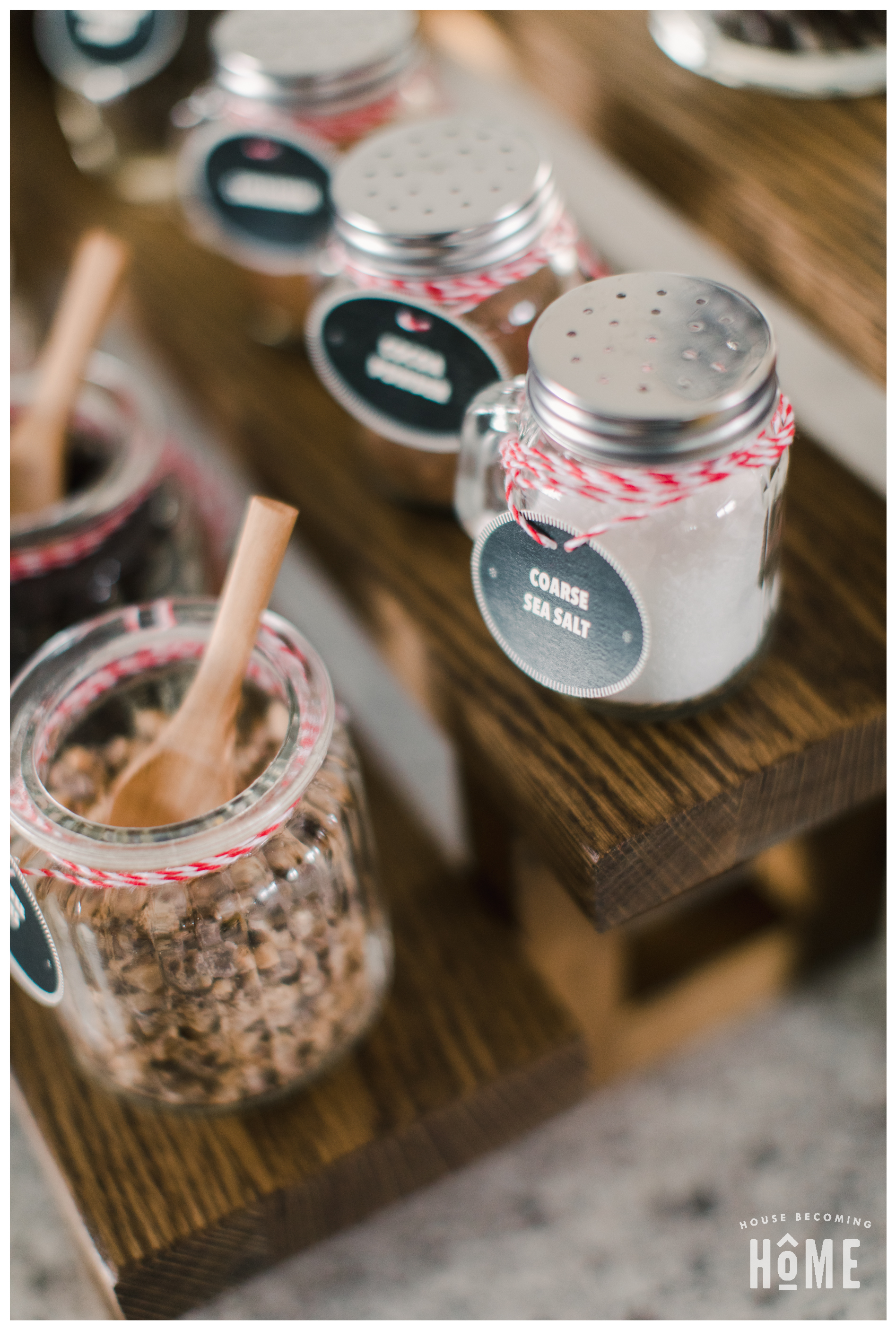 Hot Chocolate Bar Top Tier :
Two large glass jars, one with hot chocolate mix, the other with small marshmallows. A cylindrical vase with brown and white striped paper straws. With the remaining space I lined up two rows of hot chocolate mugs. Other options could be a big bowl of fresh whipped cream, a glass jar with coffee spoons (I love these modern gold coffee spoons), or a small cake platter with shortbread cookies, cake pops, or another treat.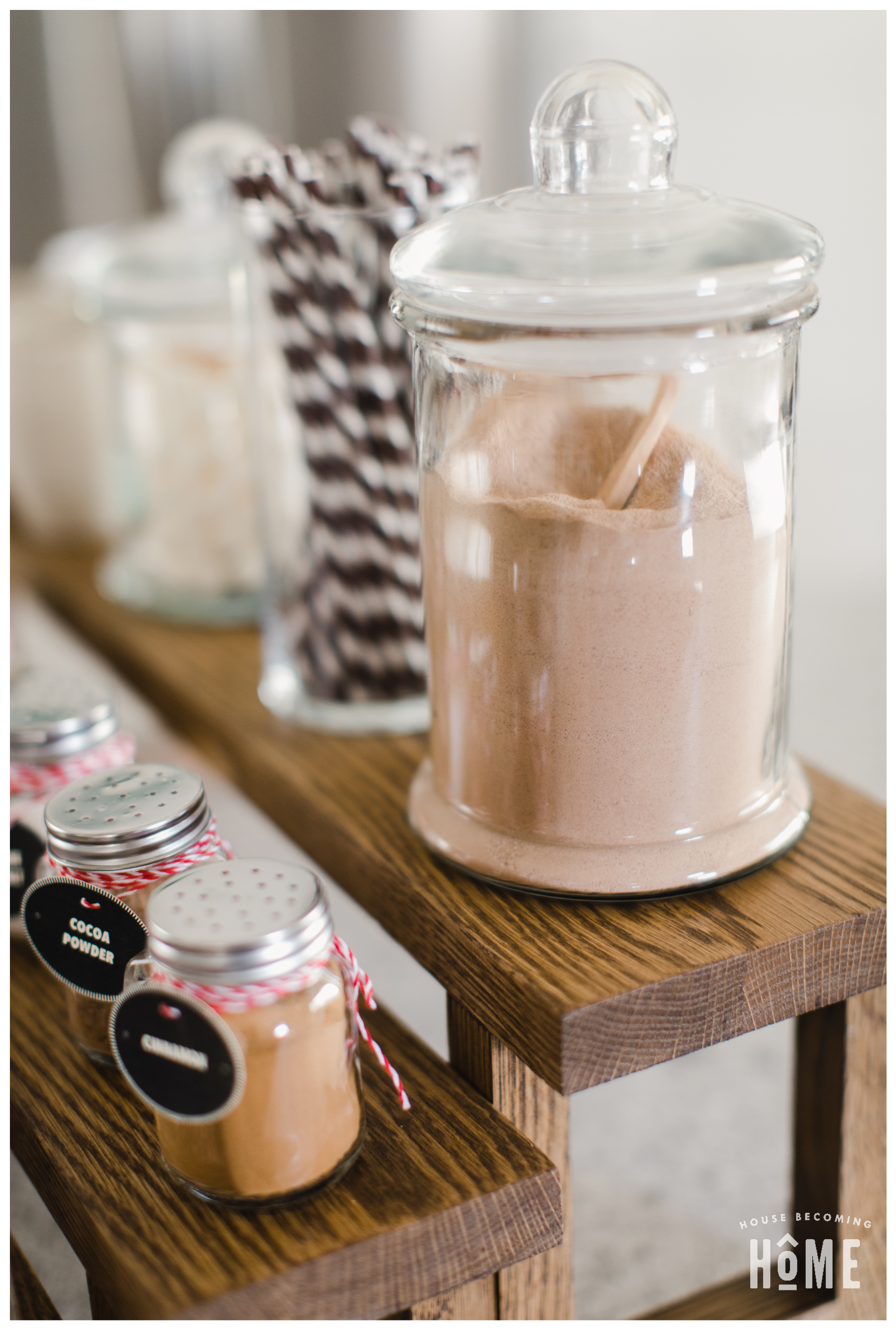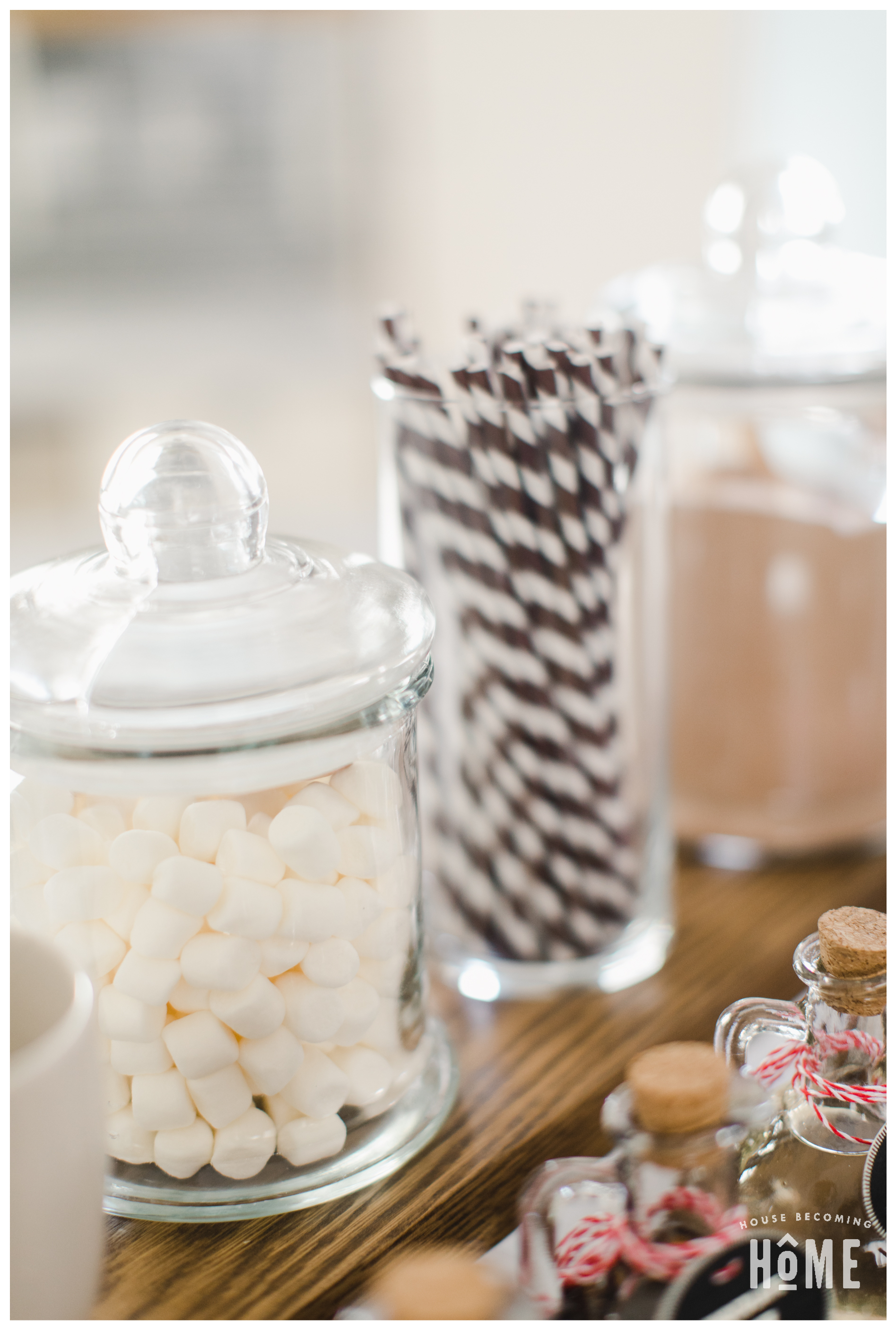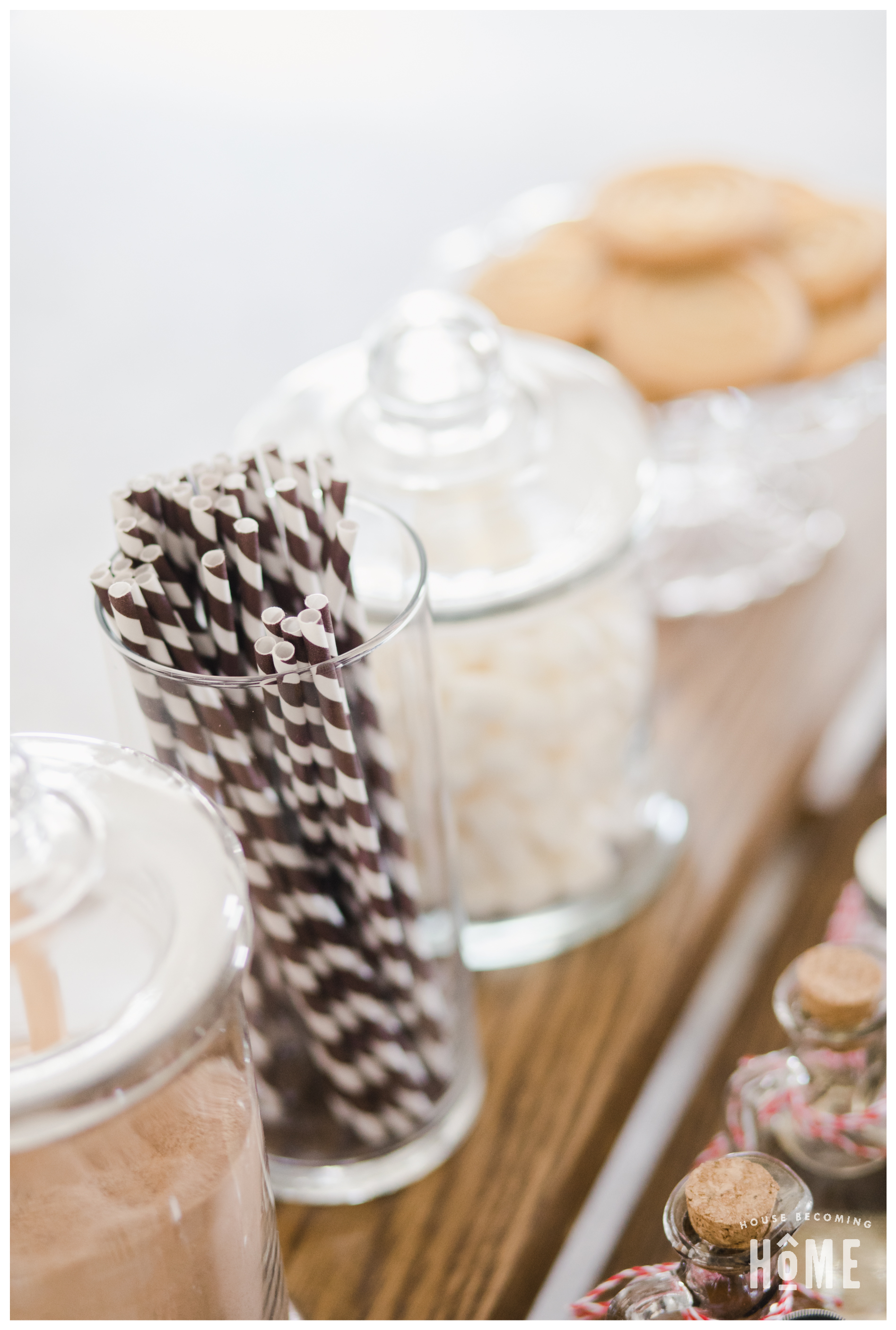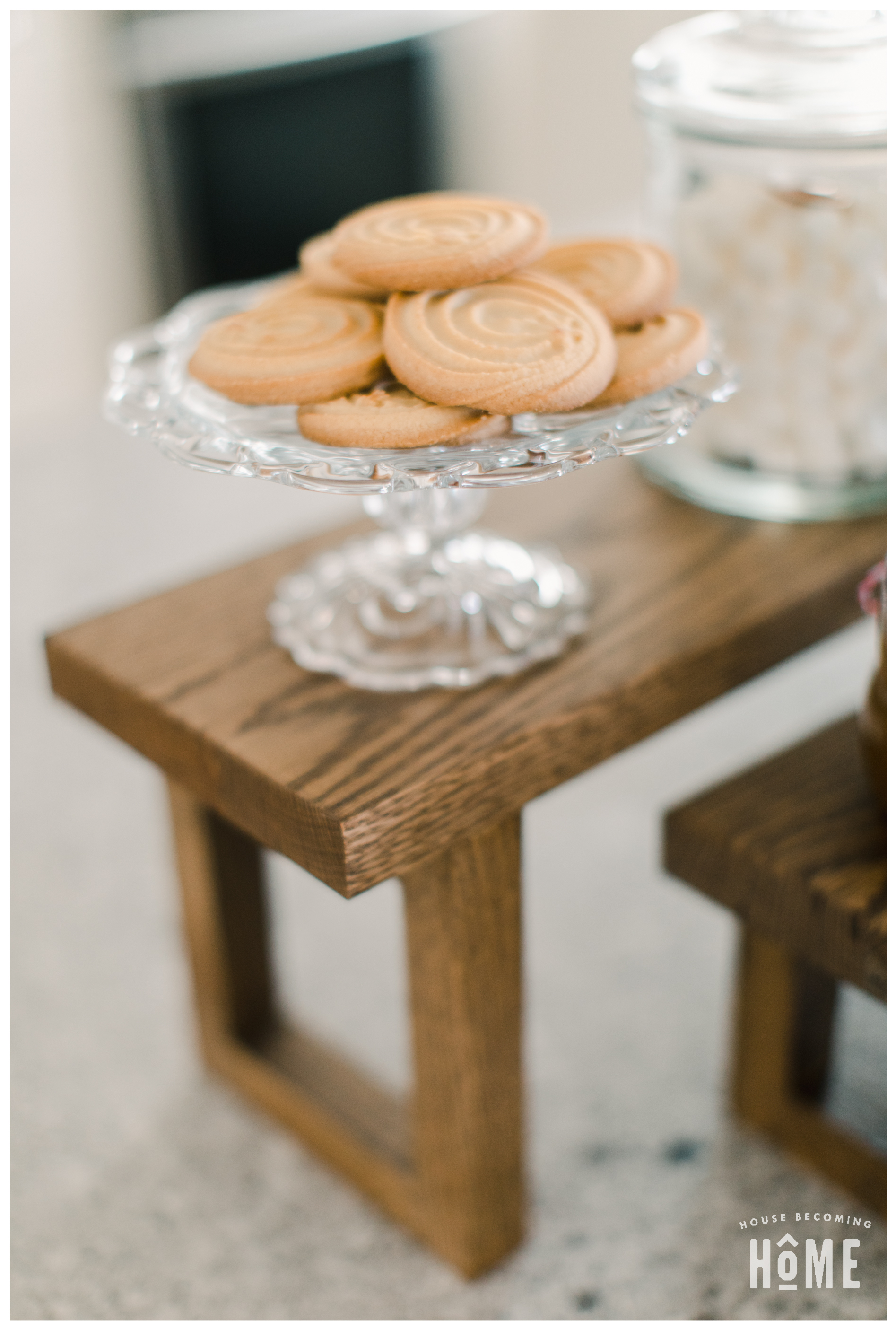 DIY Hot Cocoa Bar Resources
Jars, Scoops & Straws
Labels
Most of the jars in my hot cocoa bar have labels. I printed them on cream-colored cardstock, then used a 2″ oval hole punch to quickly and cleanly cut them out.  After that I made two small holes next to each other near the top.  Through these two holes I strung some red and white baker's twine, which is wrapped around the jar several times and tied in the back.
---
If you're interested in creating a hot chocolate bar and saving some time by using the tags I designed, you can find them here:
The pdf file includes the 18 tags I used in my hot cocoa bar, + another 18 blank tags to add your own hand-lettering for custom items.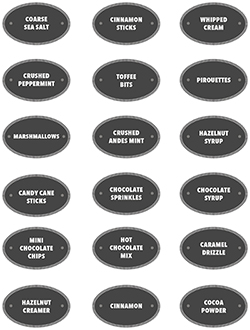 ---
What's your favorite way to enjoy hot chocolate?  Am I missing any toppings you love? Share them in the comments!