Confession. When it comes to making the dinner table look pretty, I completely fall flat. I'll deem dinner a success when I prepare a nutritious meal that my kids don't spit out. Bonus points if all of the dishes from last night are washed and everyone has a clean plate to grab out of the cupboard and/or dishwasher. Extra bonus if the crayons left on the table from Lucy and Jack's earlier-in-the-day-coloring-escapade are cleared off. Setting the table and making it look nice, well, it just doesn't happen in this house. Lately though, I've been thinking it might be time to change my ways.
As a wedding photographer, I look forward to our quick 15 minute breaks in the evening to eat dinner.  Not just because I love eating (!), but I love sitting down to a table carefully prepared with beautiful flowers, flatware, china and candles. There is something about a table set with so much love that makes me feel . . . special. With Thanksgiving and Christmas feasts right around the corner, I've been thinking I'd love to attempt to create a beautiful tablescape, to give guests at my table that same feeling I get when I sit down to a dinner at a wedding. I know I'm not capable of this on a weekly (or–let's be real– monthly) basis, but for special occasions, it's time. 🙂
I reached out to my very talented friend Robyn of Bare Root Flora to get some tips for creating a Thanksgiving tablescape. With a contemporary and unique style, Robyn is a highly sought-after florist in Colorado, and I was excited to hear her insights. Below are just a few of things I learned about creating a gorgeous tablescape for the upcoming Thanksgiving and Christmas feasts.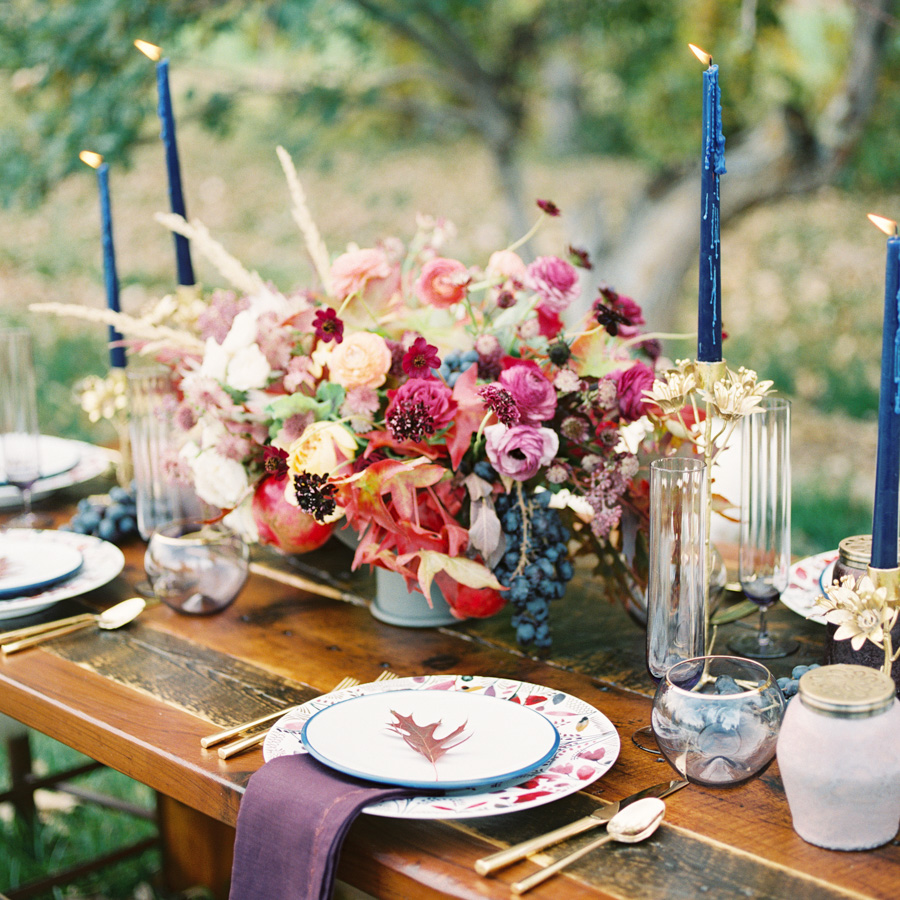 **A GINORMOUS THANK YOU to Callie Hobbs Photography who shot the gorgeous tablescape images in this post and Robyn of Bare Root Flora who designed the flowers and table, and shared with me some valuable tips for creating my own Thanksgiving tablescape. **
Creating a Tablescape : Four Tips from a Florist
Tip #1
Creating a Floral Centerpiece: Browse the produce aisle at your grocery store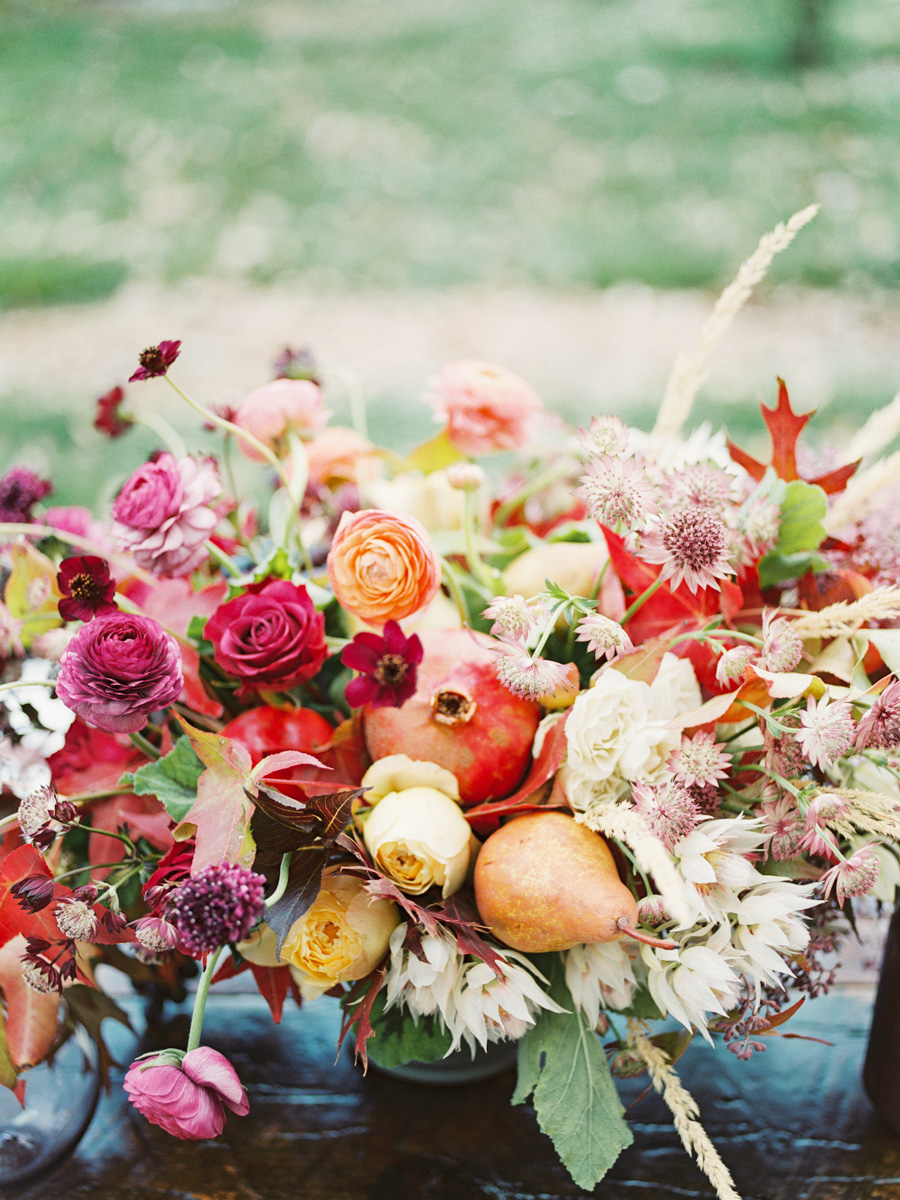 When putting together a floral arrangement to serve as the centerpiece for your Thanksgiving table, browse the fresh produce at the grocery store! Don't be afraid to incorporate food elements into your arrangement, especially for a food-centered gathering. Robyn loves artichokes, pomegranates, herbs, grapes, pears . . . just stick a bamboo skewer into it and add it into your arrangement.
Tip #2
Floral Centerpiece: not all elements need to be purchased. Collect from Outside.
Incorporating found and foraged items from the outdoors can add a sense of place to your dinner table. Grab some rose hips from your garden and add them to your floral centerpiece. Even in Autumn, when many of the flowers have disappeared with summer, look to the wild grasses and colorful Fall leaves, both found in this Thanksgiving floral centerpiece.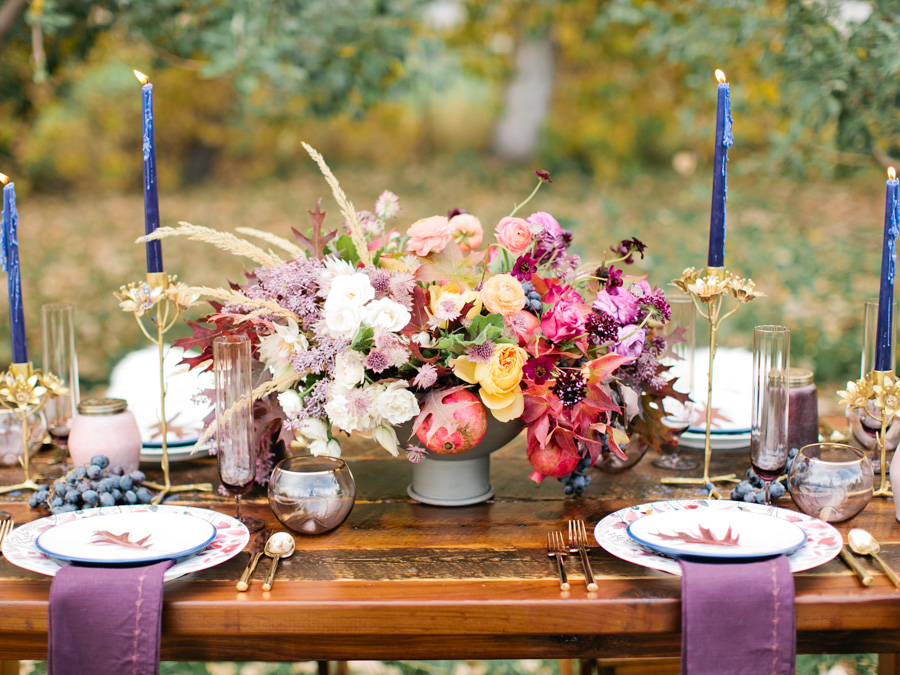 Tip #3
Think beyond the centerpiece. Scatter items below the arrangement
Include more than just a centerpiece to add another dimension to your table. Robyn mentioned finding piles of acorns fallen from an oak tree (tip #2!), and suggested they would make a lovely addition scattered on the table below the arrangement. Aspen branches or other foliage could work well too. In this Autumn tablescape, Robyn scattered bunches of grapes beneath the arrangement which adds a beautiful textural element to the table.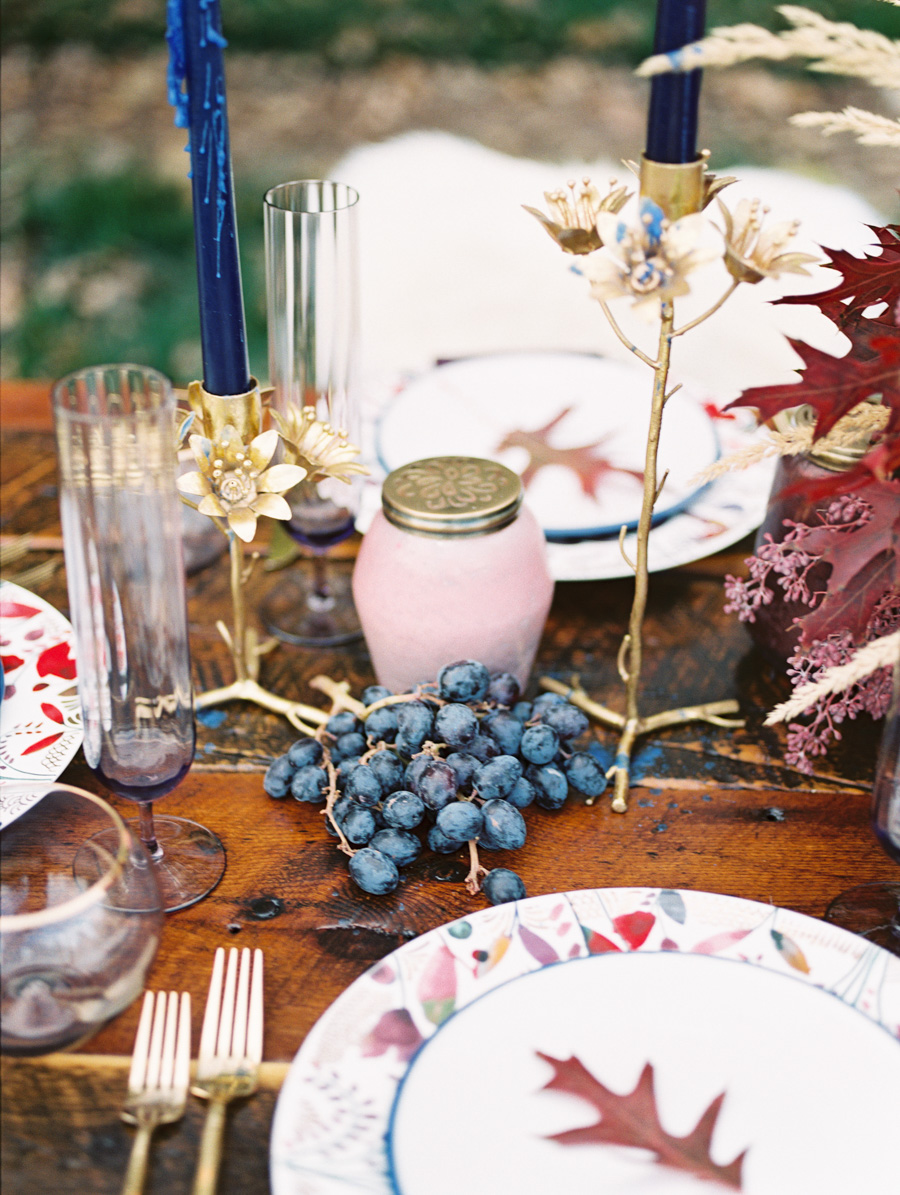 Tip #4
Elevate the table with colored glass, layered place settings, and a simple napkin treatment
Robyn had several suggestions for additions to the table that can take it up a level: -Add colored glass in the form of wine glasses, water glasses, etc. -Layer the place settings -Include a simple napkin treatment, like a sprig of rosemary or lavendar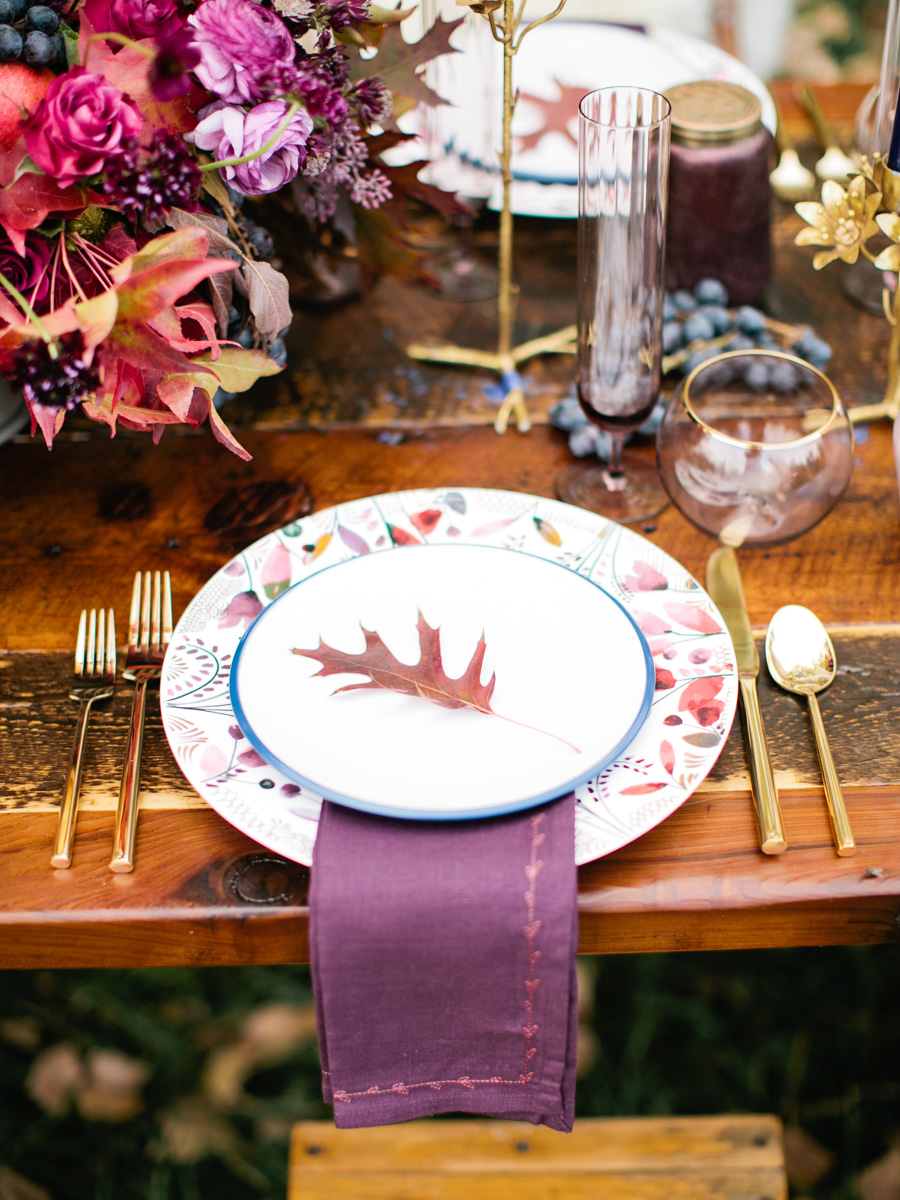 Bonus Tip #5 (From Angie the Amateur!)
Find Items for your Thanksgiving Tablescape: Browse thrift stores, flea markets and the online used marketplace
As I mentioned earlier, this is new territory for me!  My existing collection of pieces to incorporate into a tablescape is small. Luckily, these items don't have to be purchased new, and in fact, some are better purchased used. It's been delightful to comb through local thrift stores and indoor flea markets in search of gold flatware, dinner and salad plates, colored glassware, napkins, brass candlesticks, and more. As you look for containers to hold a floral centerpiece, don't feel like you are stuck to the traditional vase. Antique pedestal bowls, tin cans, pitchers, even old spittoons have potential to work. With their age and patina I think they are often more beautiful than anything you can purchase new.
Share your Tips!
Do you have any tips for creating a Thanksgiving tablescape?  If so, please share them with me in the comments!