Before I started building the offset bunk beds for Lucy and Jack, I started thinking about a feature wall for their room. I browsed wallpapers–both temporary, removable wallpaper as well as traditional wallpaper, but had a hard time finding something I liked that wasn't crazy pricey. Thinking about all the great (and affordable!) fabric I'd seen recently I started to wonder . . .
Can I cover a wall in fabric?
Good news. Turns out you can.
AND:
It's more affordable than wallpaper
Covering a wall in fabric is an easy/beginner DIY project
It takes minimal tools/supplies to cover a wall in fabric
It's durable BUT ALSO
Easy to remove in a non-destructive way
FABRIC–there are SO MANY options!!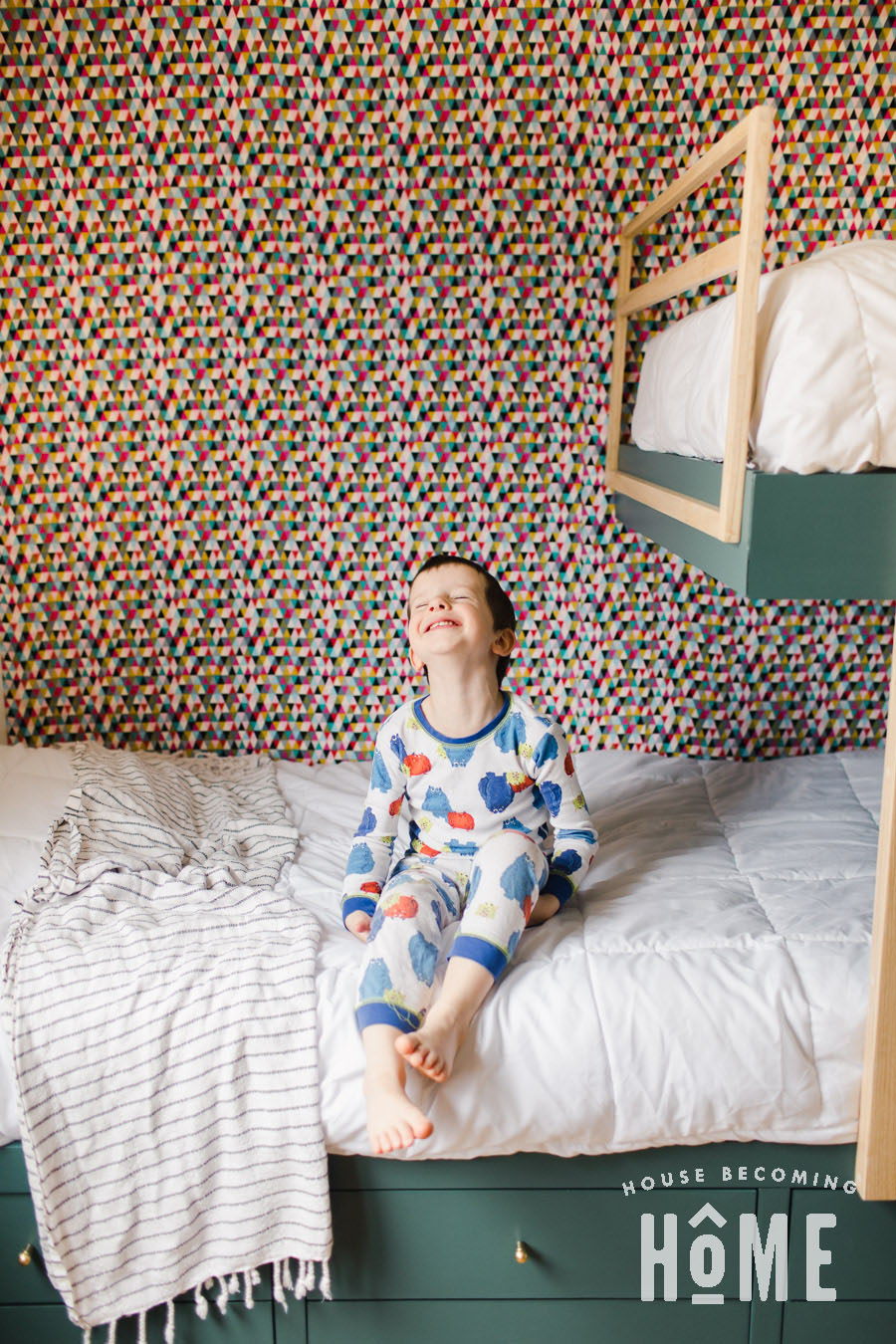 House Becoming Home is a participant in the Amazon Services LLC Associates Program, an affiliate advertising program designed to provide a means for sites to earn advertising fees by advertising and linking to Amazon.com. Some links in this post may be affiliate links. Read my full disclosure policy here. 
What supplies do I need to cover a wall in fabric "wallpaper"?
Covering a wall in fabric requires minimal supplies and tools. The main item you'll need is liquid starch. This is the "paste" that keeps the fabric stiff and firmly attached to the wall.
Supplies
Fabric (enough to cover your wall. I purchased 6 yards to cover one wall of my kids' room and had a little left over)
Sta-Flo Liquid Starch (I bought a 64oz. bottle, and still have about half of the container left after covering one wall)
Tools
Paint Roller
Paint Tray (or a Disposable Cake Pan, which is what I used)
Putty Knife (optional–I didn't use mine too often. Fingers work well too)
Sewing Measuring Tape (a standard carpenter's measuring tape could work too, but a flexible one is easier when you're dealing with fabric)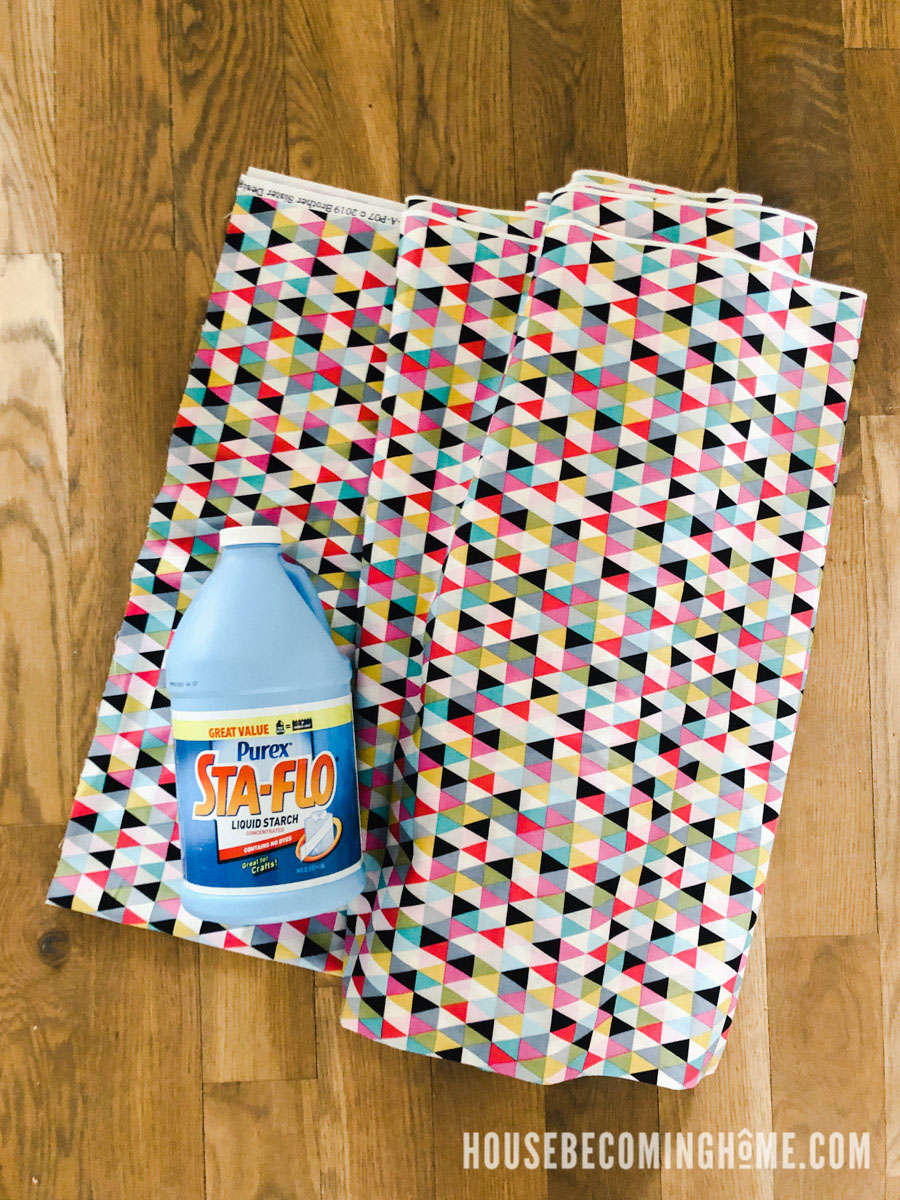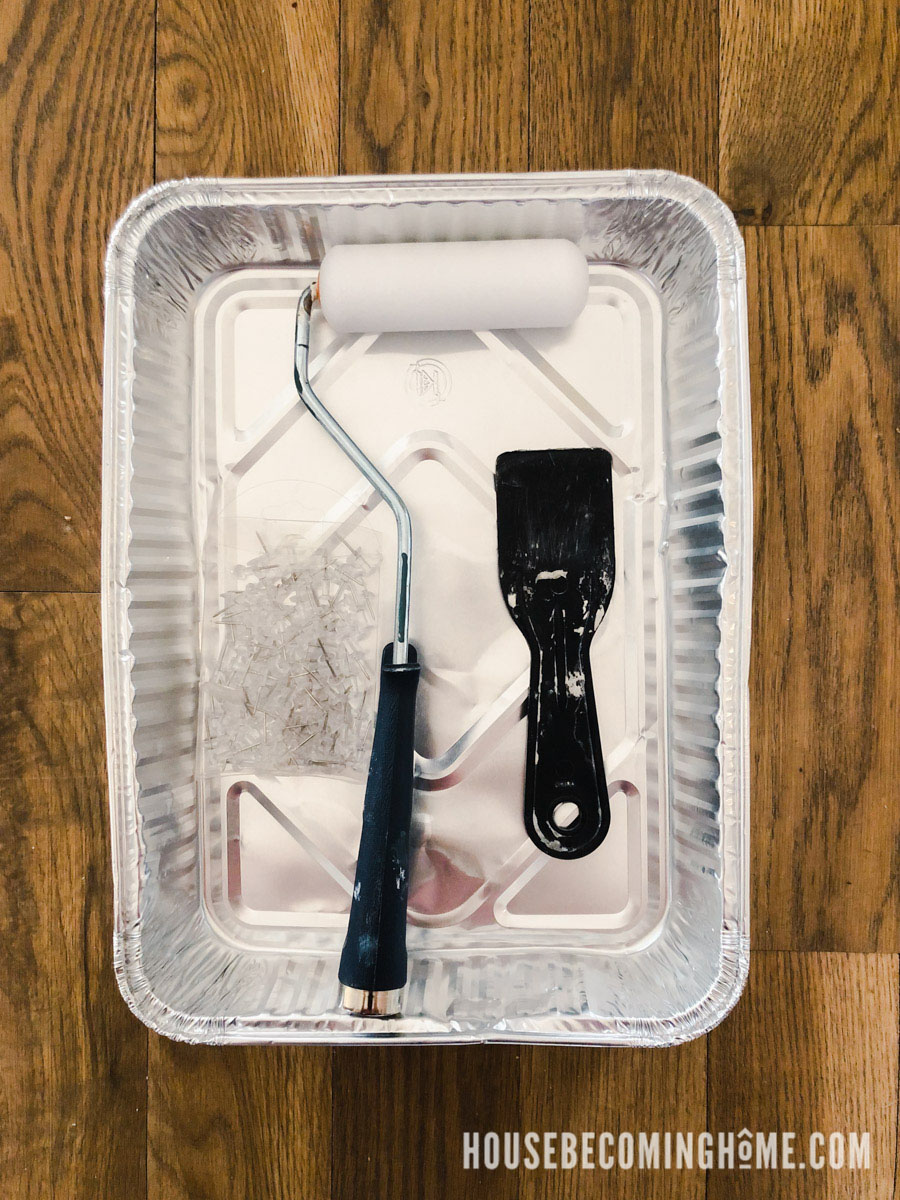 How to DIY a Fabric Feature Wall
Step One : Trim edges from fabric & Cut to Length
I am not kidding, trimming the branded white edges from the fabric was possibly the most time-consuming part of this DIY project. Necessary though, because you don't want to see it on your wall.
After that, measure the height of the wall you're covering and cut your fabric to the correct length.
Step Two : Pin Fabric In Place
Align your fabric on the wall, then temporarily secure it into place with push pins. I placed my pins near the top of the wall on both the left and right edges, as well as the top-middle.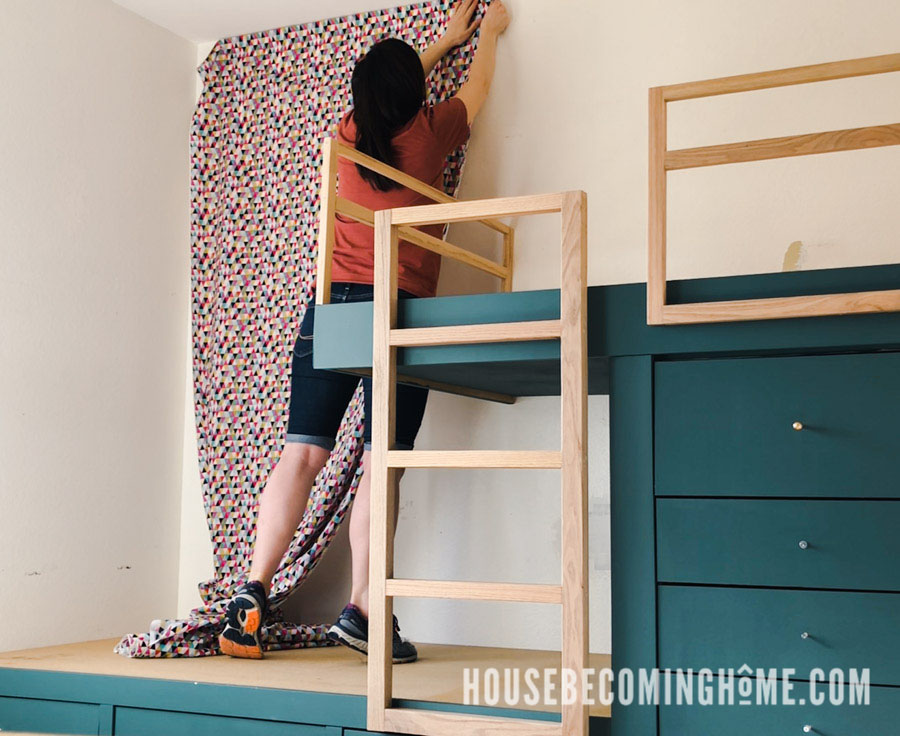 Step Three : Attach Fabric to Wall with Liquid Starch
Add liquid starch to your paint tray (or cake pan!) about 1/4 full. 
Load your roller with liquid starch as you would if it were paint.
Roll the liquid starch straight onto the fabric. I worked my way from top to bottom and left to right, working out bubbles and wrinkles as I went. 
You can use a putty knife to push the fabric into corners, but I found using my hands and fingers was usually sufficient.
WHAT I LEARNED
I initially tried rolling the starch onto the wall instead of directly onto the fabric. I quickly found it to be much easier and effective to roll right onto the fabric. If the roller is loaded with liquid starch and you're using a cotton fabric, the starch will go straight through the fabric and onto the wall anyway.
Liquid starch is runny! If you're used to rolling paint onto walls, this is a lot thinner. Keep a wet rag nearby to wipe up inevitable drips.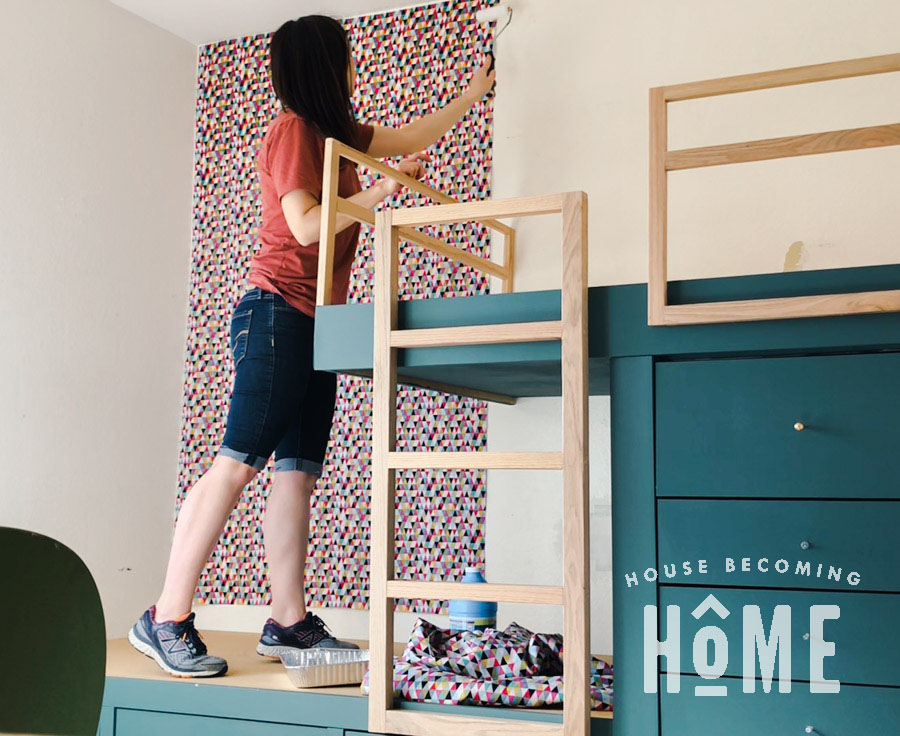 Step Four : Continue Adding Fabric Until the Wall is Covered
Add another strip of fabric right next to the previously applied strip. Don't overlap, just line the fabric up so there aren't any gaps between the pieces. As I used the roller, sometimes the fabric would pull away from the other piece, creating a small gap. Just use your fingers to stretch it back into place as you go. Don't let too much time pass though–it will become harder to move as it dries.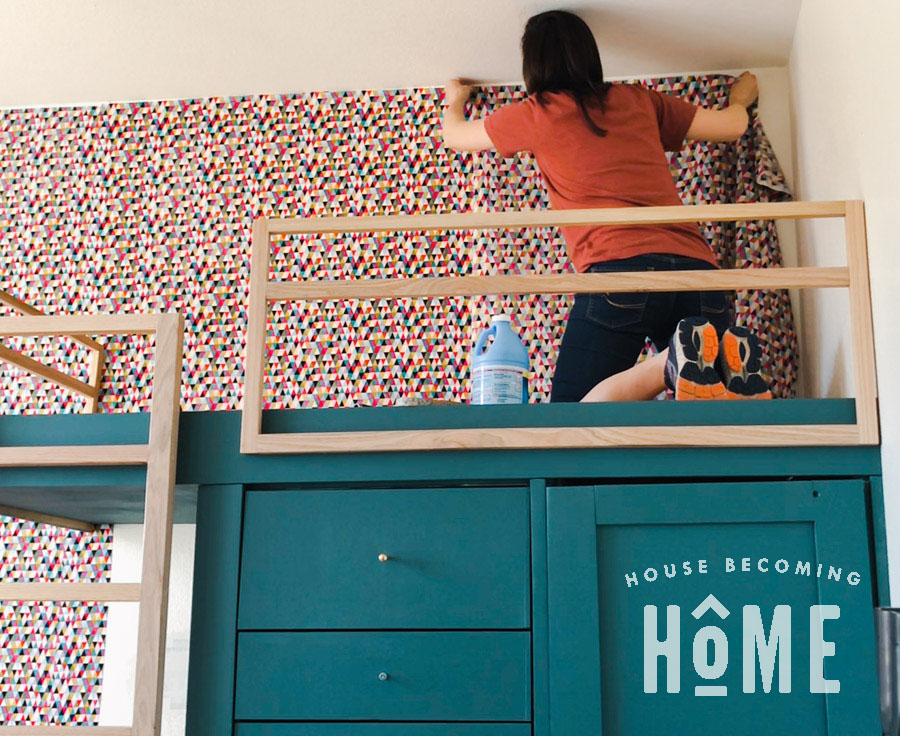 DIY Fabric Feature Wall Tips
Can I put fabric on textured walls?
When I was researching DIY fabric feature walls, I only saw the recommendation to NOT cover textured walls with fabric.
Prior to purchasing six yards of fabric, I purchased 1/4 yard to do a quick test on my 1990's textured wall. The image below shows the test right after I added it to the wall (which is why you can still see the wet spots. Don't worry, those dry and disappear in less than an hour).  You can see the texture of my walls in this photo.
The texture is faintly visible in some parts, but only if you're looking for it. My verdict is that, YES, you can put fabric on textured walls, or at least walls with the level of texturing that mine have (I'd say no if you've got cottage cheese levels of texture happening).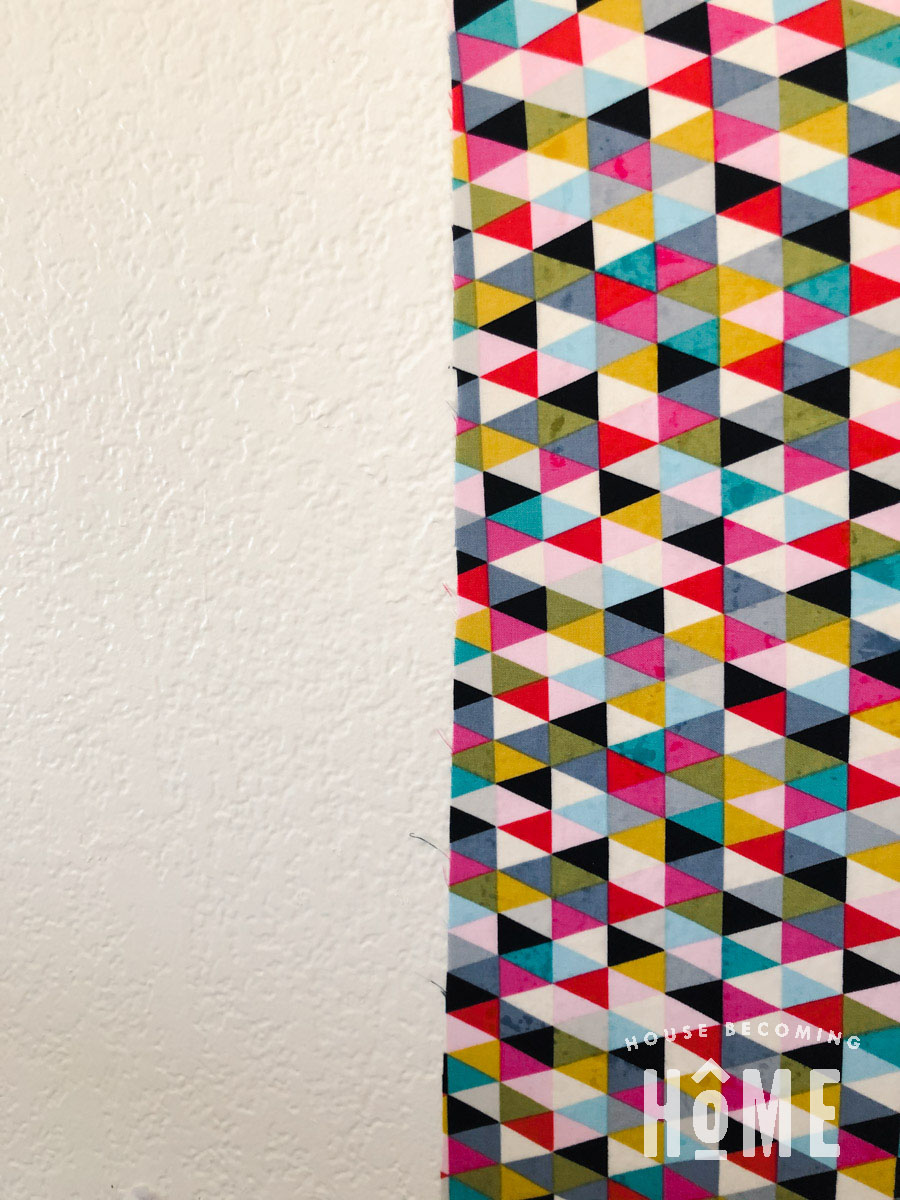 Choosing Fabric for a Feature Wall:
FABRIC TYPE
I used a lightweight cotton fabric from Hobby Lobby. Other types may or may not work, but I can't recommend them yet as I don't have experience with them.
COLOR/PATTERN
If you have a textured wall like I do, it's probably a good idea to pick a fabric color/pattern that hides the small lumps. Darker colors and busier patterns will hide the texture better than solid white fabric.
Matching Up
One of the fabrics I considered using was a buffalo check print. I ultimately decided against it as I was worried that the pattern might be hard to match up. I didn't want it to look obvious where one piece of fabric ends and another begins. 
YOU WILL SEE WHAT IS UNDERNEATH (especially in lighter colored fabrics)
Anything on your wall will be visible through the fabric in the lighter areas. I patched up a hole in the wall and didn't completely cover the drywall mesh with drywall mud (see photo below). It is faintly visible in the lighter areas of the fabric, as you can see where I circled in green.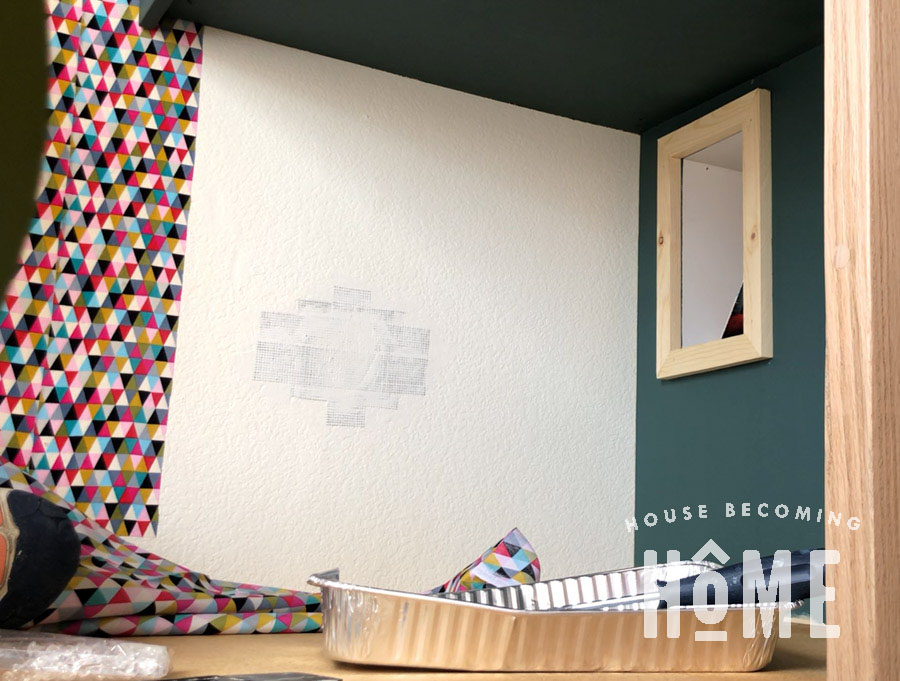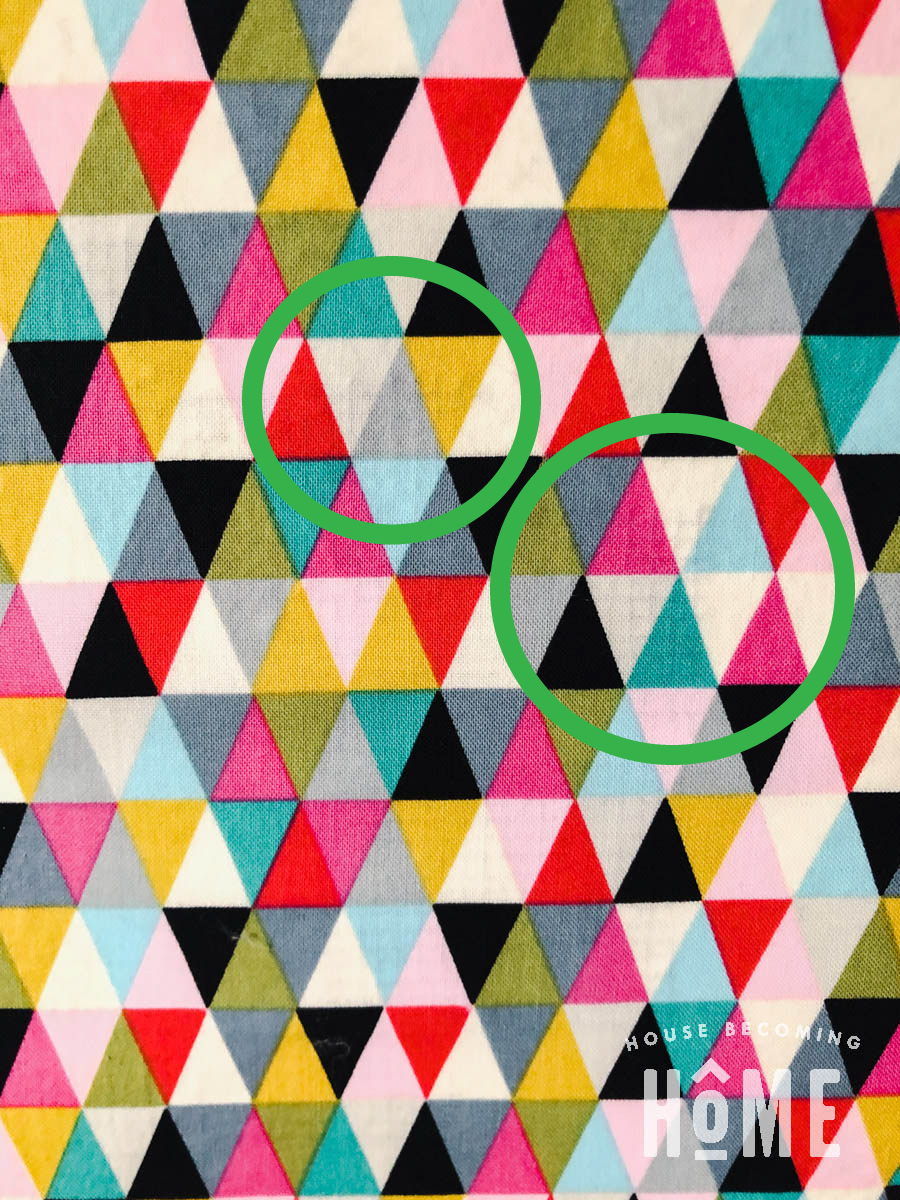 Does it damage walls?
As I mentioned earlier, I did a small test strip before covering the entire wall. I left it on for about a week. When it was time to remove it I simply peeled it off. It left nothing behind, nor did it pull up any paint or drywall. From my limited experience, I'd definitely call this a renter-friendly DIY wall treatment. 
How Long Will Temporary Fabric Stay on My Wall?
I don't feel qualified to answer this question yet as it's only been a week, but I will keep you updated as the months pass. It feels securely attached to the wall and I am confident it will last for quite awhile.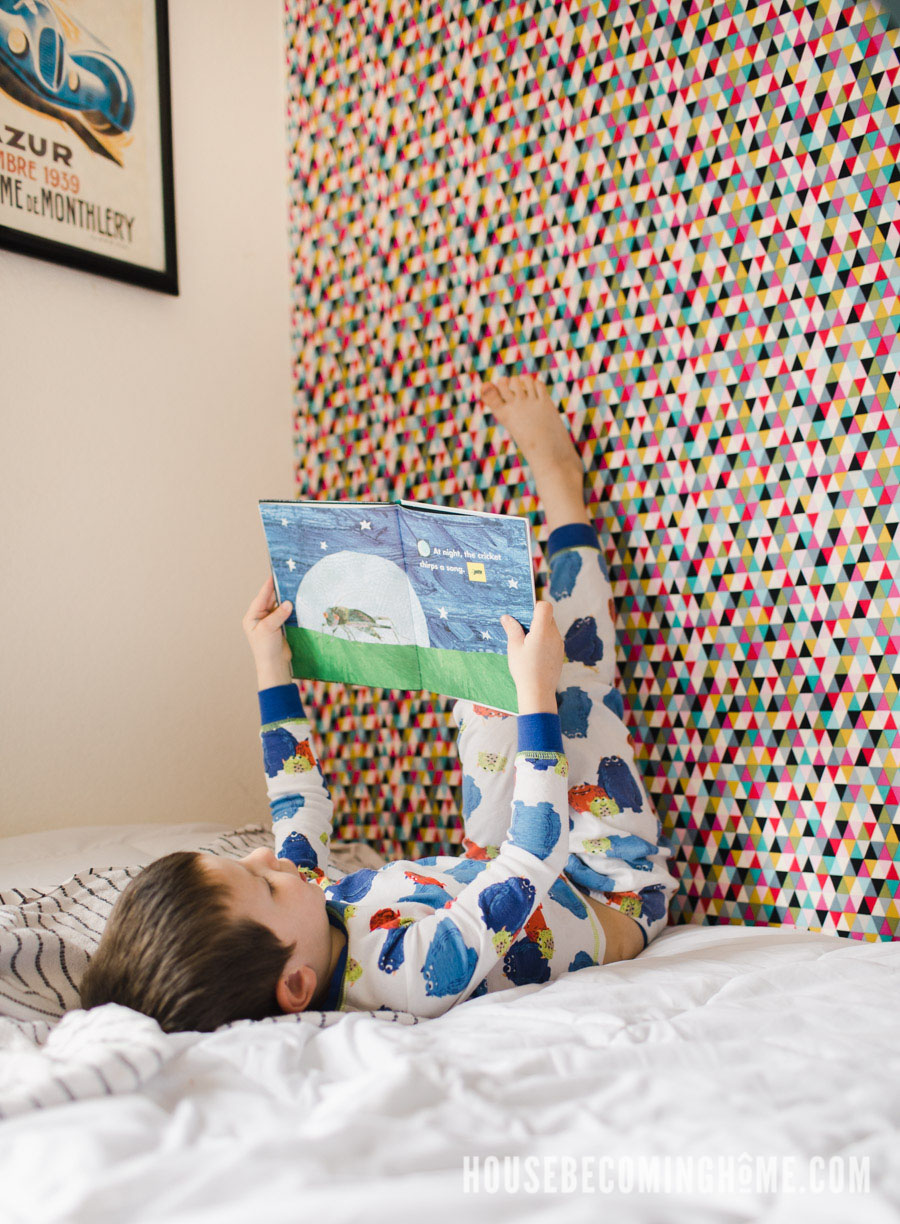 Fabric Feature Wall How-To Video
I recorded the entire process of covering this wall in fabric. Here's a super sped-up version of my DIY fabric feature wall. If I can do it, I'm pretty sure you can too!
Let me know if you have any questions and I'll try my best to answer them!