House Becoming Home is a participant in the Amazon Services LLC Associates Program, an affiliate advertising program designed to provide a means for sites to earn advertising fees by advertising and linking to Amazon.com. Some links in this post may be affiliate links. Read my full disclosure policy here.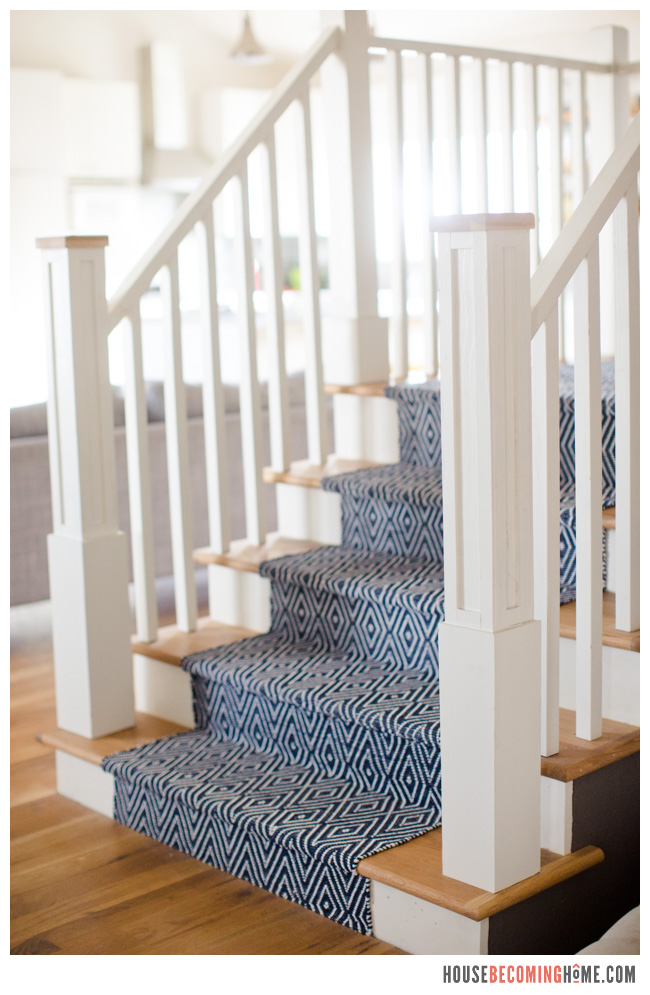 Last month you saw the first part of our Stair Update, where we said goodbye to dirty carpeted stairs and hello to white oak stairs with white risers. Today I want to show you the final step to updating our stairs–adding a Dash and Albert stair runner.
The Dash & Albert diamond rug is something I discovered while working as a photographer.  I was photographing a newborn baby in my client's home.  They had beautiful wood stairs with a black diamond Dash and Albert stair runner.  It looked amazing.  I put it on the "things-I-will-eventually-have-in-my-home" list.  And here it is. In my home. I love it.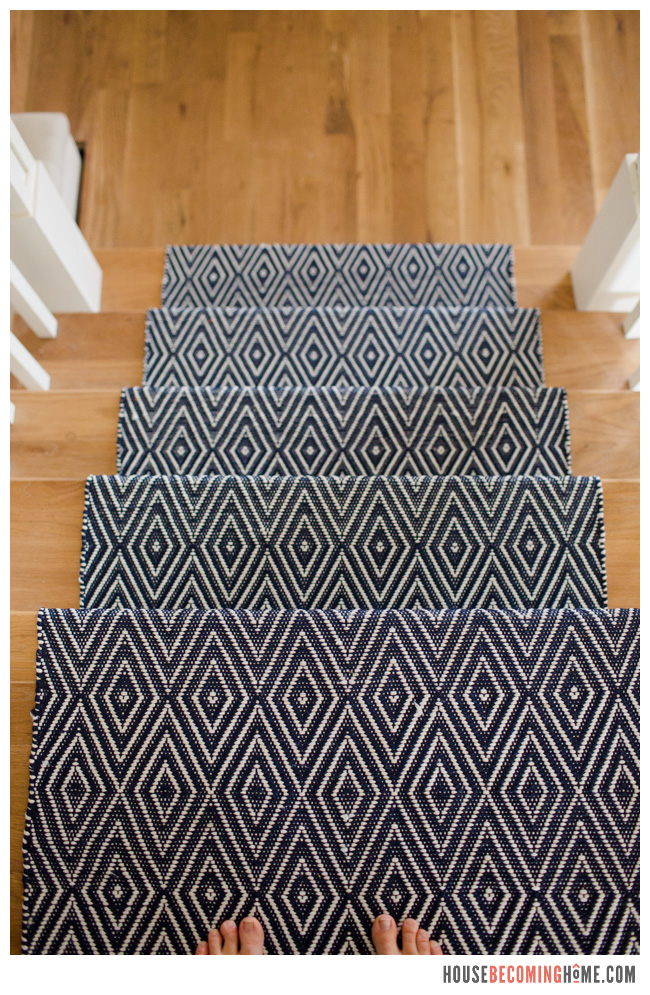 Putting it in, believe it or not, was quite simple, especially compared to our previous task of figuring out even baluster spacing and the correct angles, etc. For this we needed a staple gun, lots of staples, and a pair of scissors.  That's about it.
Here's how you do it
Measure the width of your staircase to determine how much space will be on each side of the runner. My runner was 30 inches across, and my stairs (where we started, which isn't pictured) are 36″ across.  That meant the runner was supposed to be three inches from the left wall, and three inches from the right wall.
Place your runner in its correct spot and staple every 2-3 inches across the top of the riser.
Pull the runner tight and staple every 2-3 inches at the very bottom of the riser. (note: you will only be stapling the rug into the riser, never the tread.
Continue working your way down the stairs until you reach the bottom. As you work your way down the stairs continue measuring the distance between the edge of the runner and the wall to be sure you aren't starting to go crooked!
If you have a long set of stairs and need more than one rug (we needed three!), you'll have to make sure you can't see where one starts and another begins. We cut ours off a couple of inches under the top of the lowest riser it could make it to, then placed the new runner on top of that, and stapled as normal, every 2-3 inches.
Here's an image, in case you're a visual, need-to-see-it type like me: