When Jim and I decided to update our small powder room I was hoping to keep the cost under $500. There were so many things wrong with that bathroom. The paint on the wall. The light fixture. The sink. The counter. The flooring. EVER-Y-THING. Except the toilet, I guess, which we replaced when we moved in.
I knew keeping the cost down was going to be a challenge, but with a little creativity and lots of DIY we kept this bathroom within budget. (Money saved = money to fix up something else!)
First, here's a look at the before and after: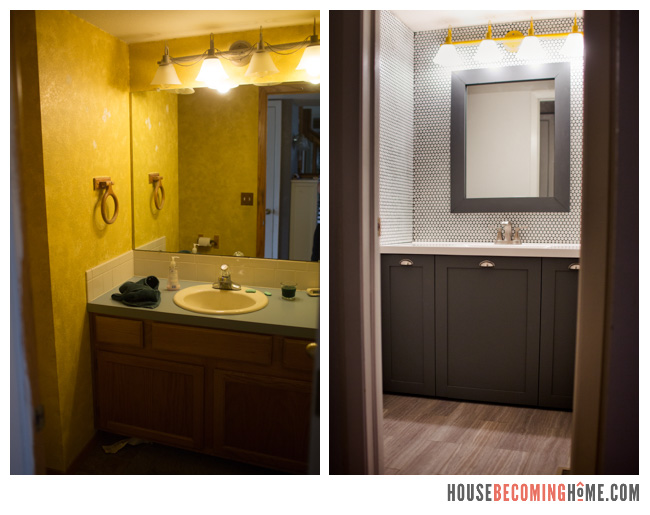 Here's the before shot of the sad light fixture: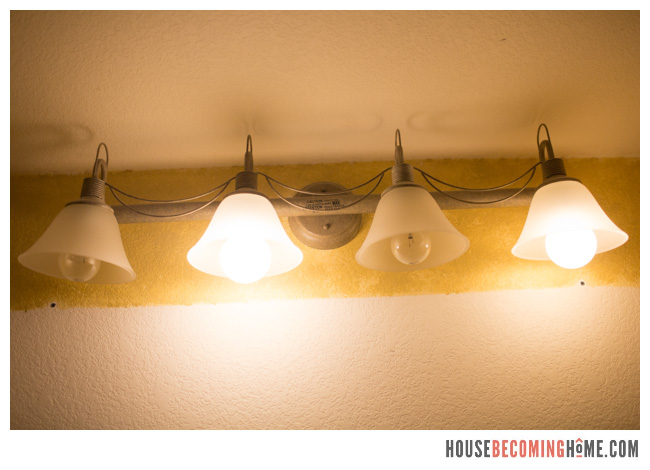 I hated the color, and I really hated those metal "strings" draped between each light.  They collected dust and just looked. . . weird. So I cut them off with some wire cutters, cleaned off the fixture and spray painted it a bright, fun yellow: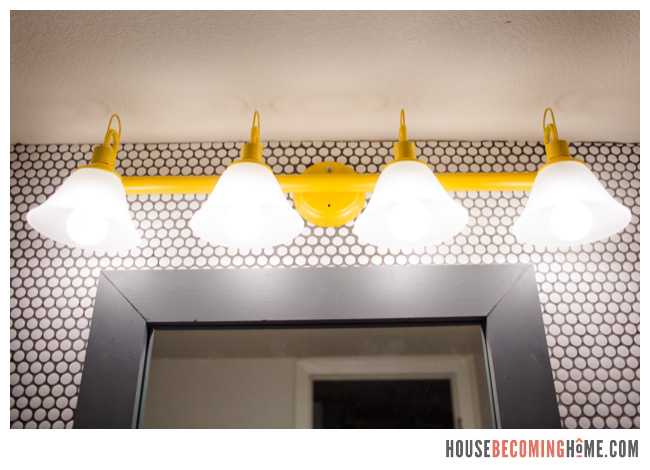 The mirror had been one of those ginormous, builder grade mirrors mounted straight to the wall with clips. After taking it down I brought it down to a reasonable size with a small, handheld glass cutter.  I'll be honest though, it took several failed attempts before I got this one.  Luckily, since the mirror started out HUGE it was okay to mess up a few times.  Does anyone have experience cutting a mirror?  Tips please?! 🙂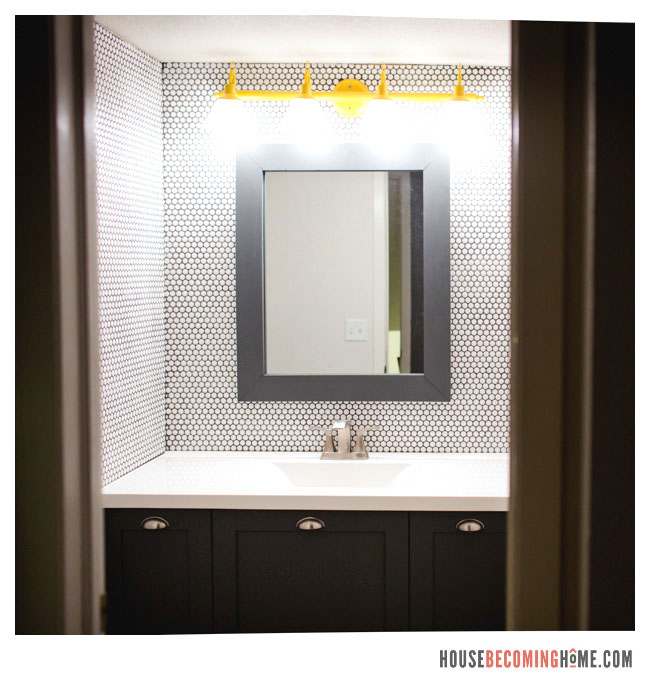 I cut some leftover 1×4's and painted them the same color as the vanity to make a nice frame: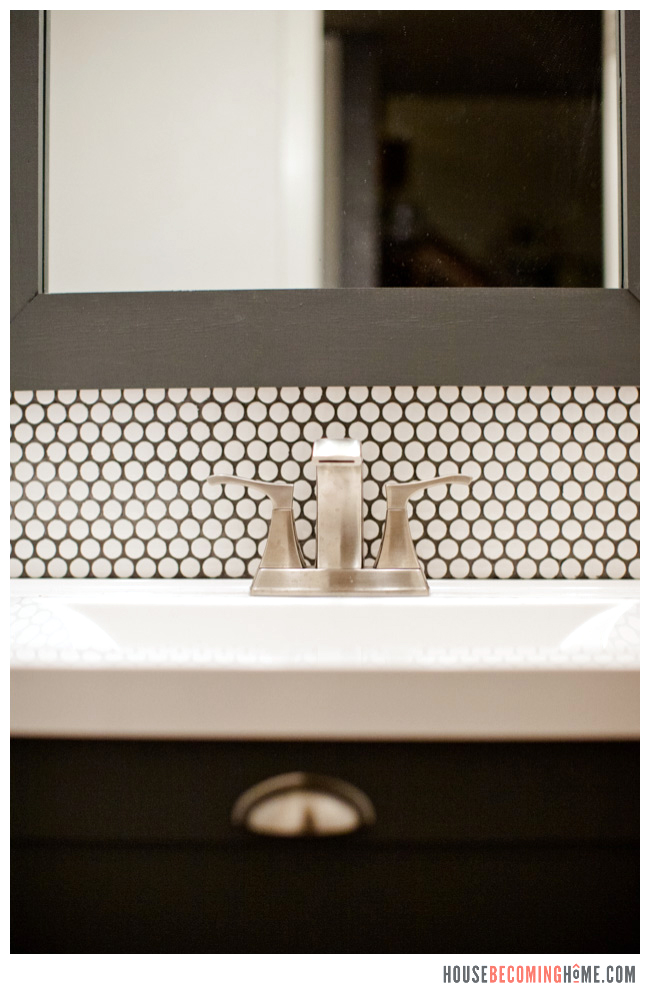 Penny tile!  I LOVE penny tile and I LOVE that it is an affordable way to add visual interest to a space (if you're interested in my penny tile installation tips, you can find those here: Four Tips Before You Installing Penny Tile).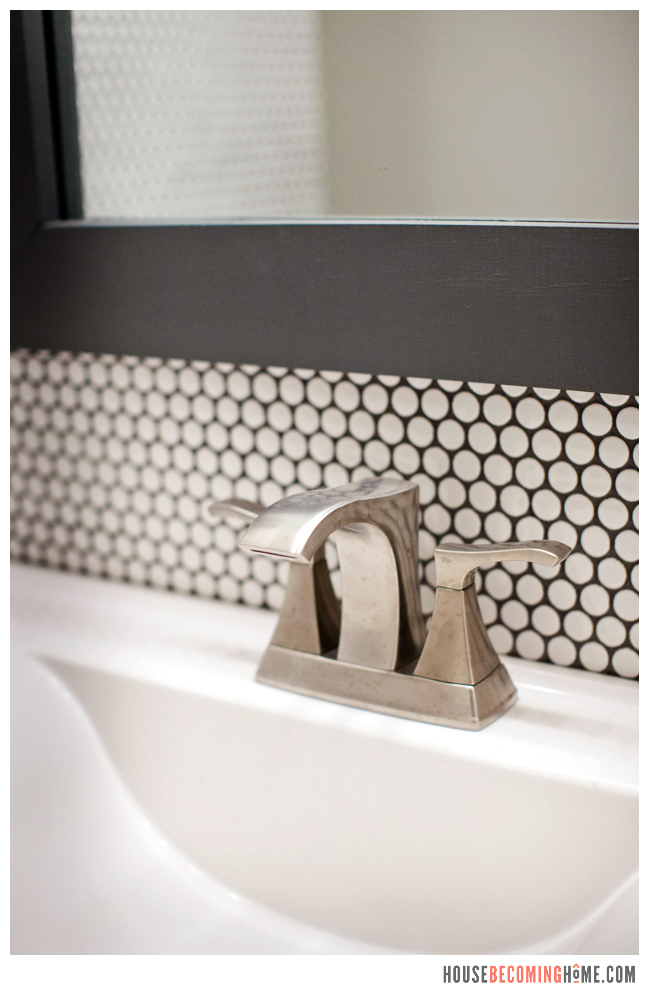 The bathroom vanity was another DIY project, in fact, my first-ever attempt at building furniture.  You can find more details about that process here: DIY Bathroom Vanity.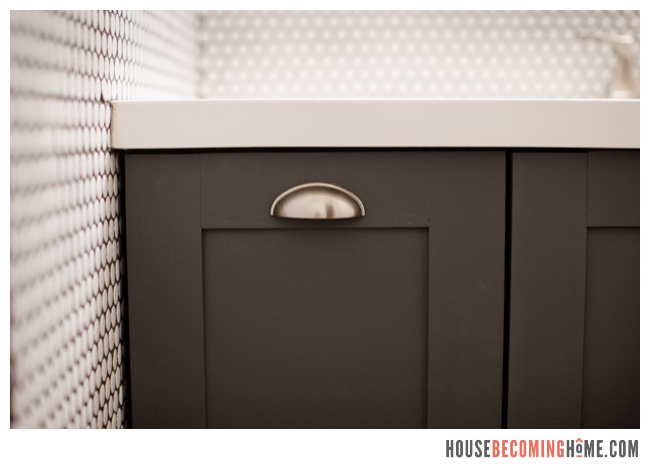 We went with a super affordable peel and stick, grout-able vinyl tile flooring. I was nervous that it wouldn't last.  But it's been a year and a half and it still looks great. The cabinet countertop and faucet both came from the big box home improvement stores at very reasonable prices.
So there it is! Our affordable, DIY bathroom update.  What creative ways have you found to save some money doing a bathroom update?
More From this Bathroom Update:
Building the Bathroom Vanity
Tips for Installing Penny tile