This post has been sponsored by The Home Depot. All thoughts and opinions are my own.
It's pretty obvious that I love a good room update—tearing down walls, covering new ones in floor-to-ceiling tile, replacing light fixtures, etc. But improving a space doesn't always involve days and weeks of manual labor, as was the case with our living room. I was certain an updated sofa + a few accessories would be enough to breathe some life into this tired room, so I began my search.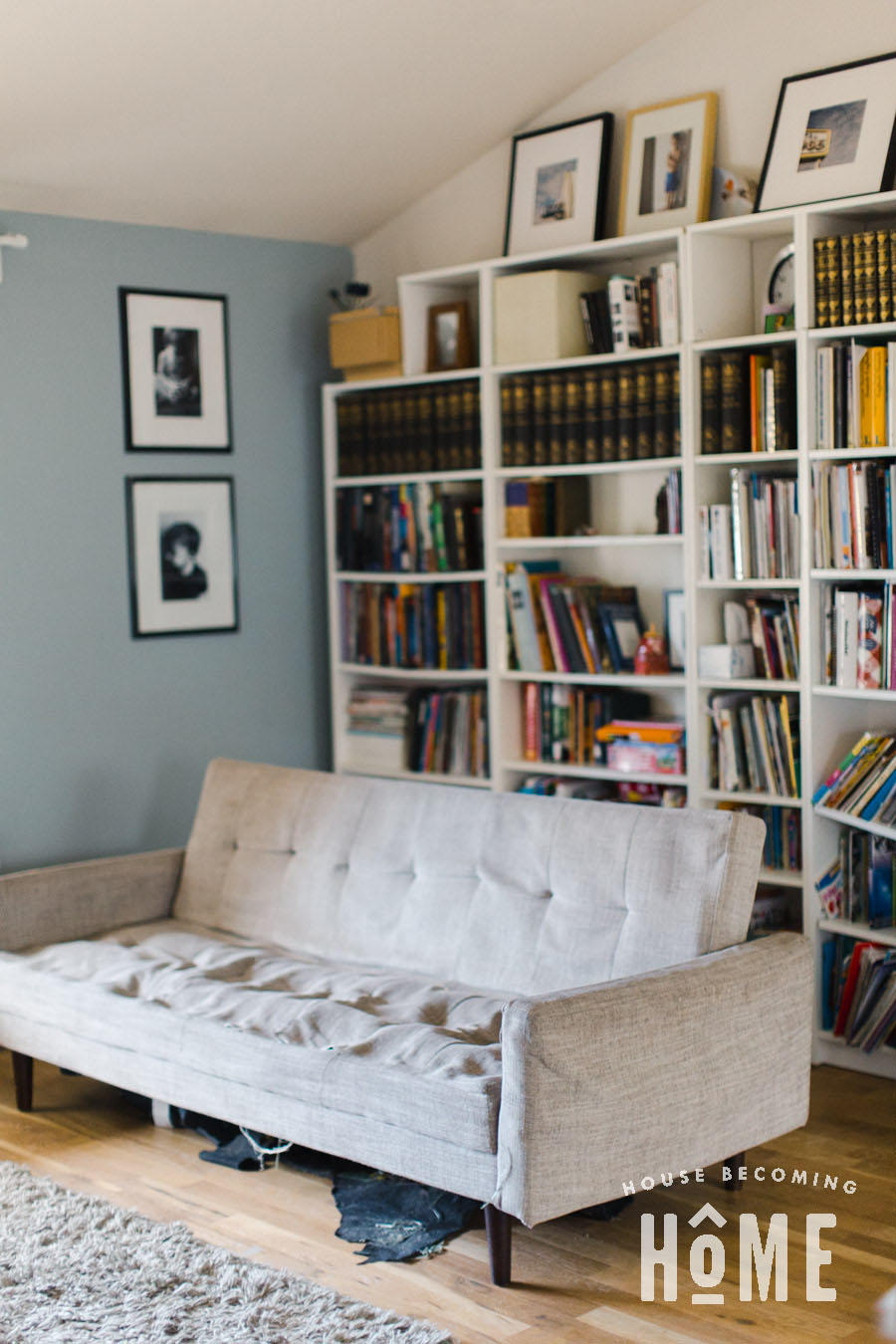 For over a year, I've been dreaming about owning a blue velvet sofa. I picked up my phone, browsed decor at The Home Depot, and was happy to find not only lots of options but also lots of filters to narrow the results and hone in on exactly what I was looking for. I simply checked "blue" in the color options and "velvet" in the upholstery material options. It was only a matter of minutes before I found the Womble Space Blue Sofa. I loved the look, loved the color, and loved the price.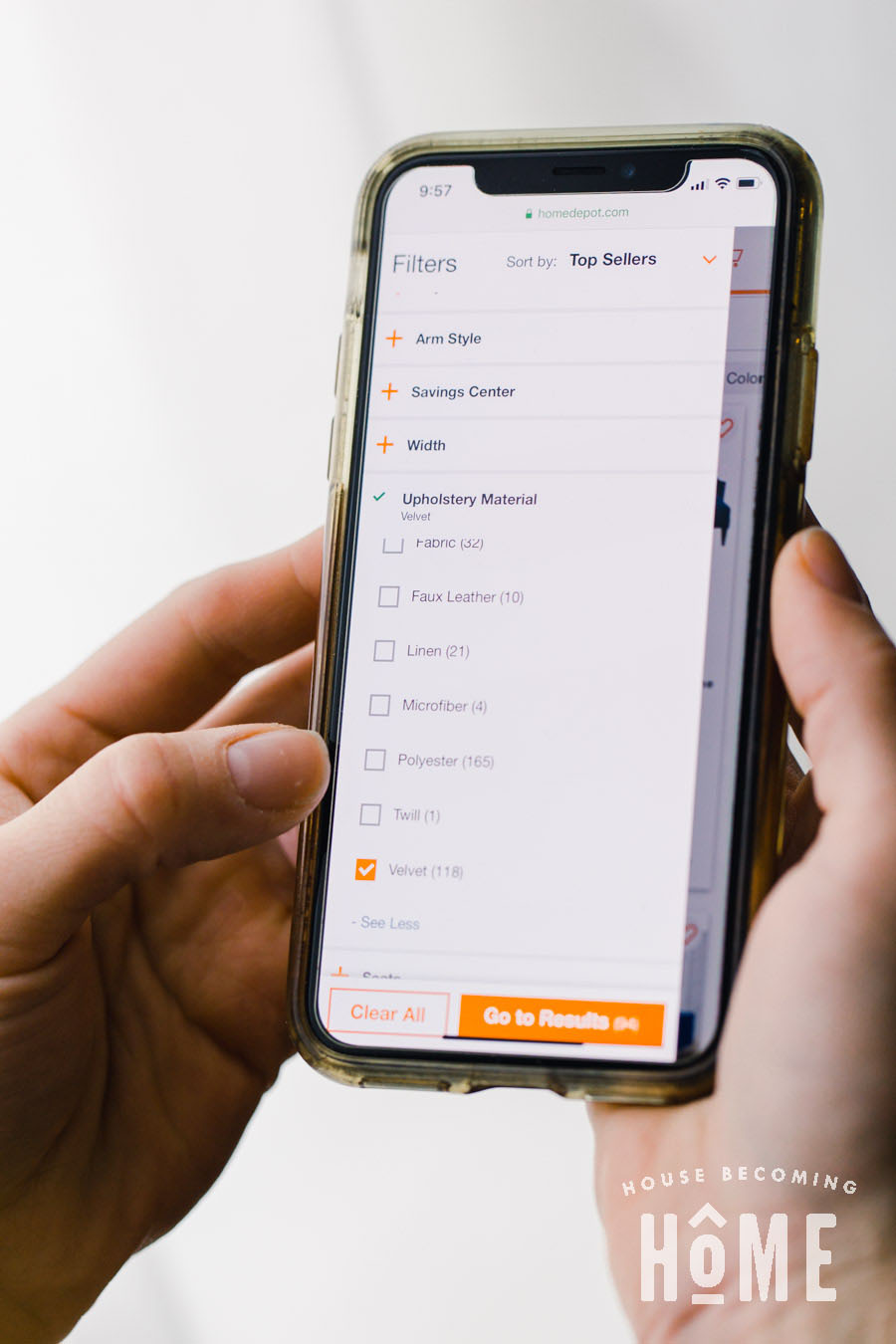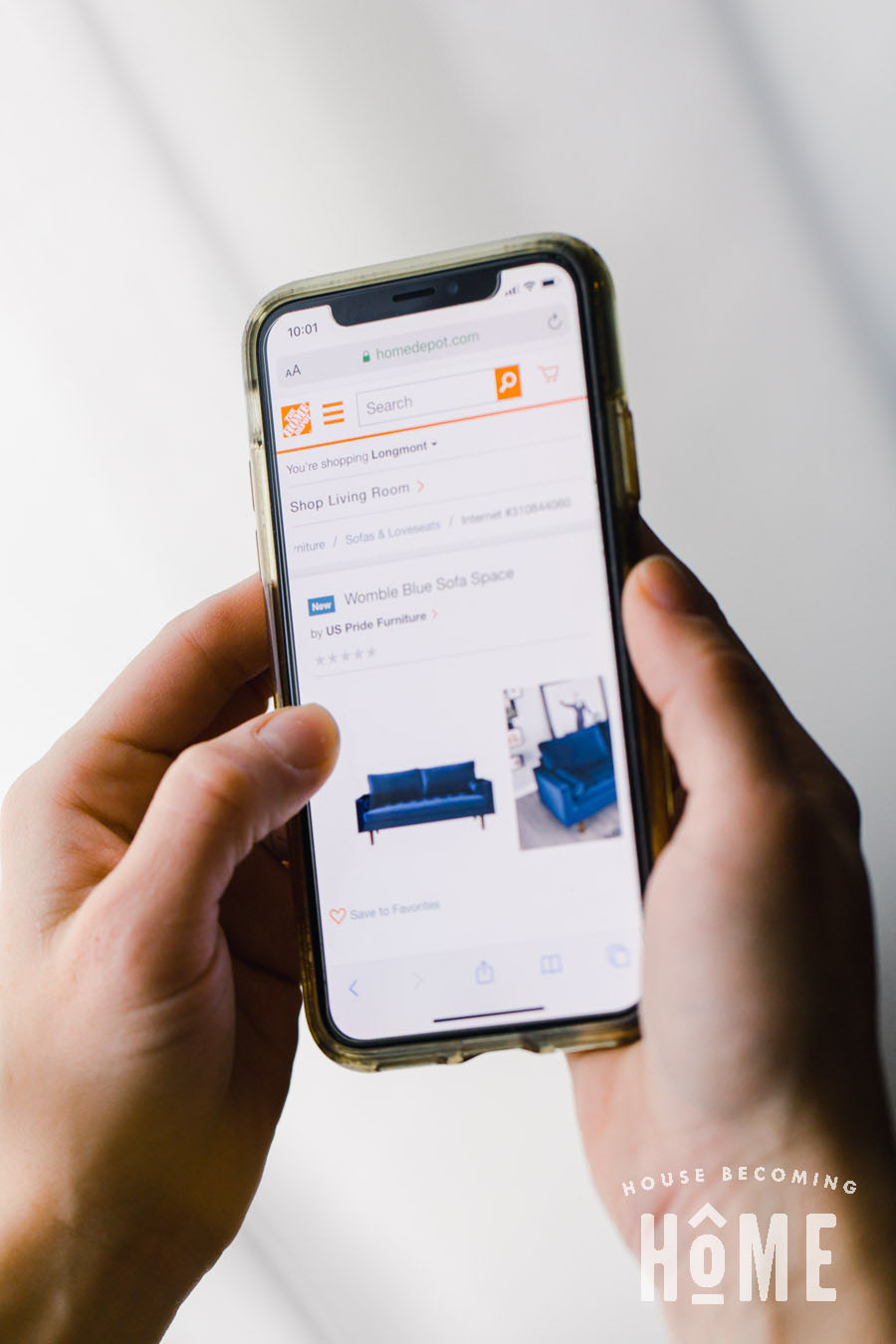 Save Up to 40% on select furniture & decor using this offer here
What Size Sofa Will Fit In My Space?
Style, price, color…check! The last thing I needed to do was make sure it wasn't too big or too small for our space. I jotted down the dimensions listed on The Home Depot website and brought them to our living room.
TIP: Grab a roll of painter's tape and mark out the length and width of the sofa on the floor where you plan to put it. Does it fill the space appropriately? Walk around the "sofa." Is it too long or wide, making it too tight of a fit with its surroundings? The Womble Sofa seemed like a good fit for our living room—not too small, nor too big. So, I added it to my cart.
Shipping
This sofa is only available online, but shipping was free—and quick! The large box was delivered right to my front door several days after I placed the order—better than picking it up at a store and lugging it home, if you ask me!
The Home Depot offers easy and free online and in-store returns. I'm a picky person and was slightly worried the color might not be what I was expecting—it was nice to know I wasn't locked in if it wasn't what I was hoping for.  No need to worry, though! I opened the box as soon as it arrived, and I loved the color as well as the material.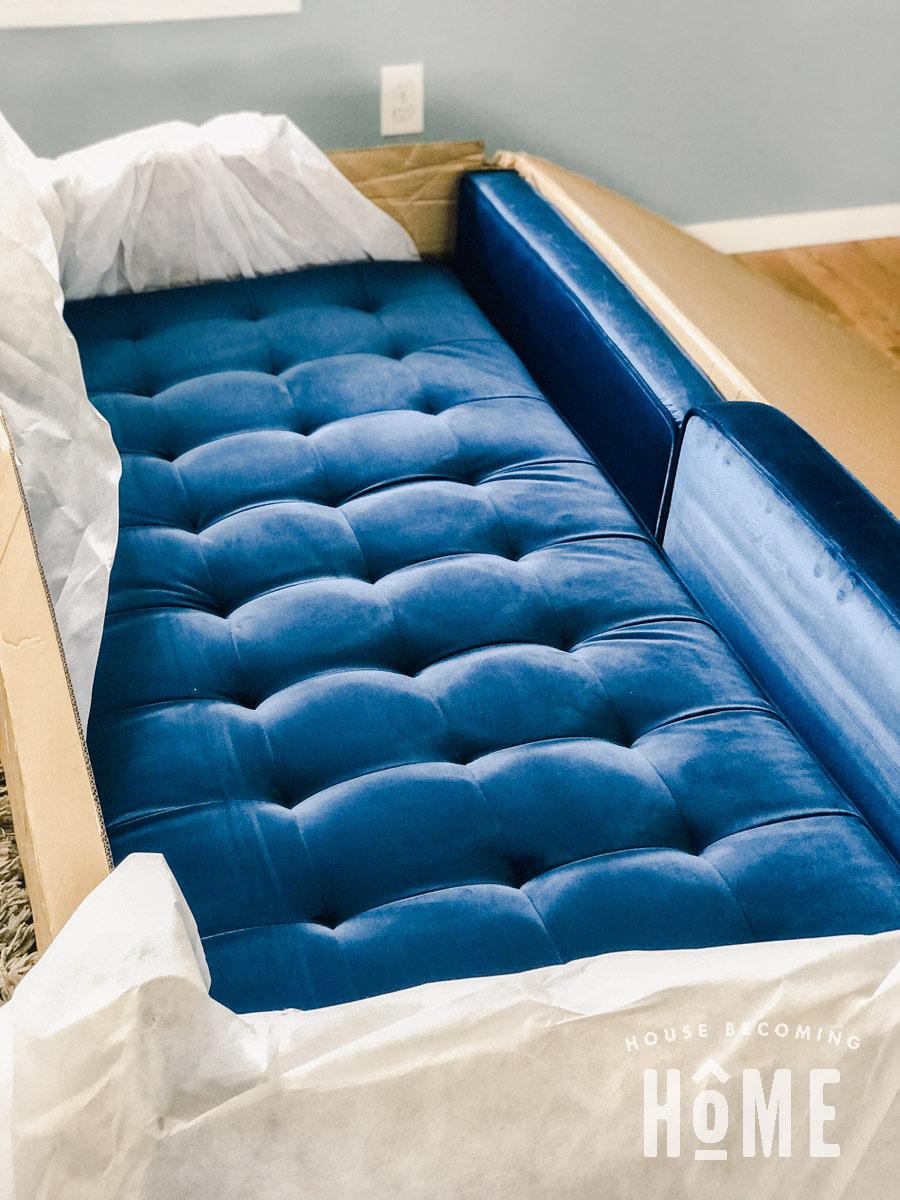 Adding Living Room Accessories
When combining furniture and accessories in a room, my general preference is to include a little bit of everything. Variety is the word that describes what I'm aiming for. A variety of colors, patterns, and textures. I love mixing patterns and solids, showcasing multiple textures, and including a variety of colors—making sure to include both warm and cool color tones.
I found a lot of great throw pillow options on The Home Depot website. Again, I used the helpful filters in my search to quickly find some I loved.
To balance out the cool blue of the Womble Sofa, I wanted to bring in some warmer colors.
The Safavieh Golden Noir Brown and Champagne Solid Faux Fur Down Alternative 20 in. x 20 in. Throw Pillow adds texture and warmth with its brown faux fur. This one was a keeper.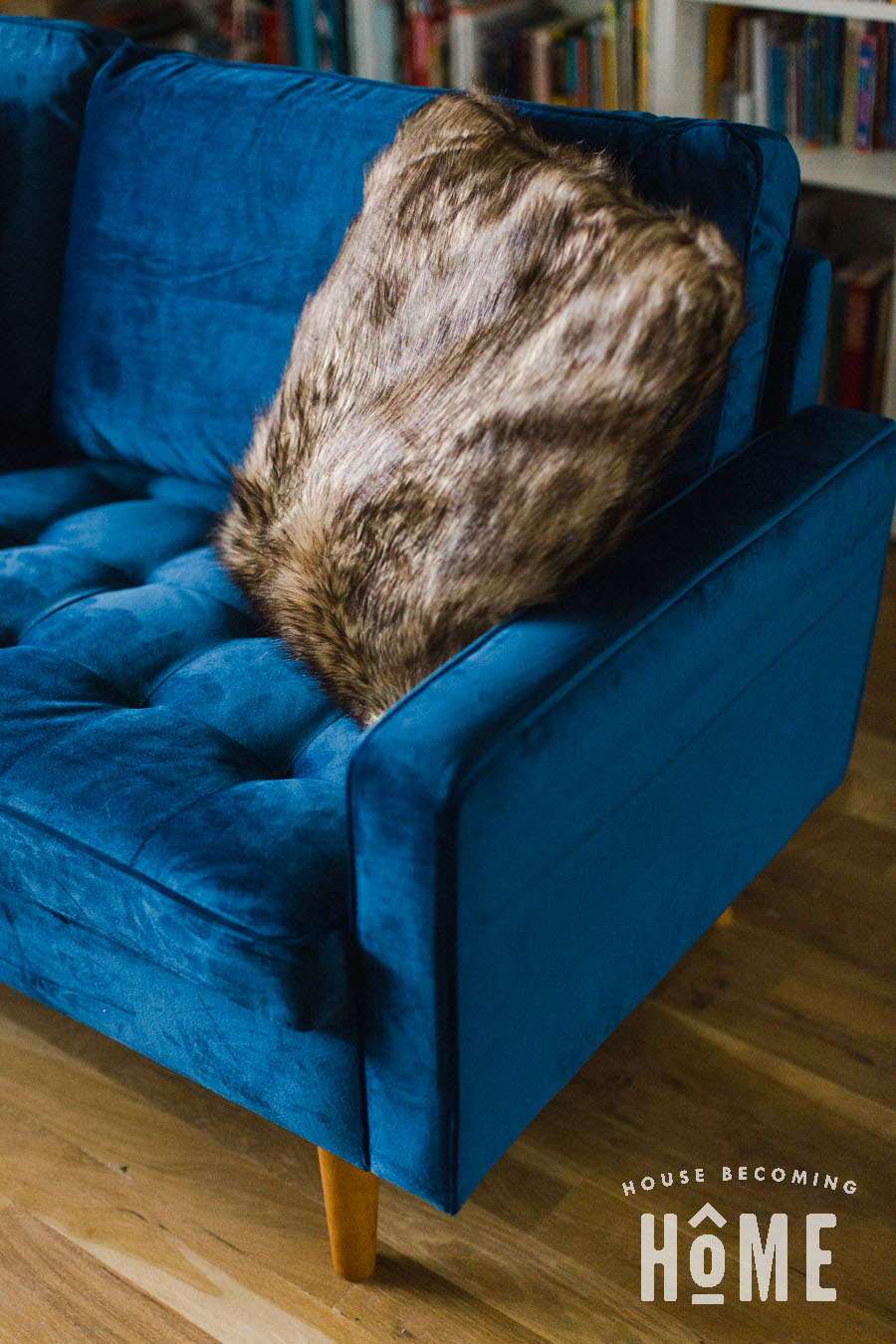 To introduce a little pattern, I found the Artistic Weavers Larosa Blue Geometric Polyester 20 in. x 20 in. Throw Pillow. I love love LOVE the adorable woodland fauna and flora packed into a modern print. Such a win!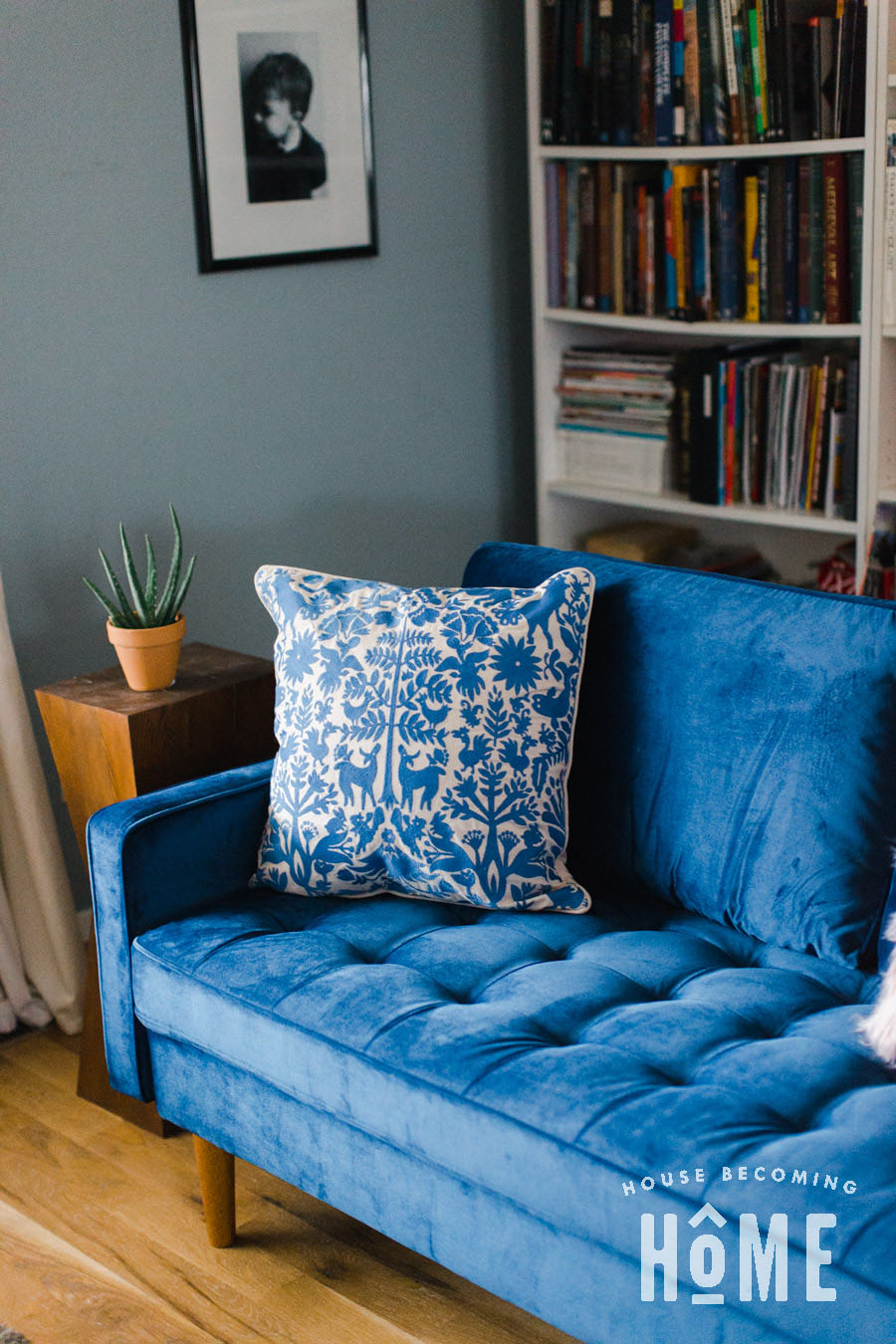 Again, these items were only available online but shipping was free since the order was above $45. This time, I opted to pick up the pillows at my local Home Depot instead of having them shipped directly to my house, since the estimated shipping time was a bit quicker that way (and I wanted them here in time for Thanksgiving guests!).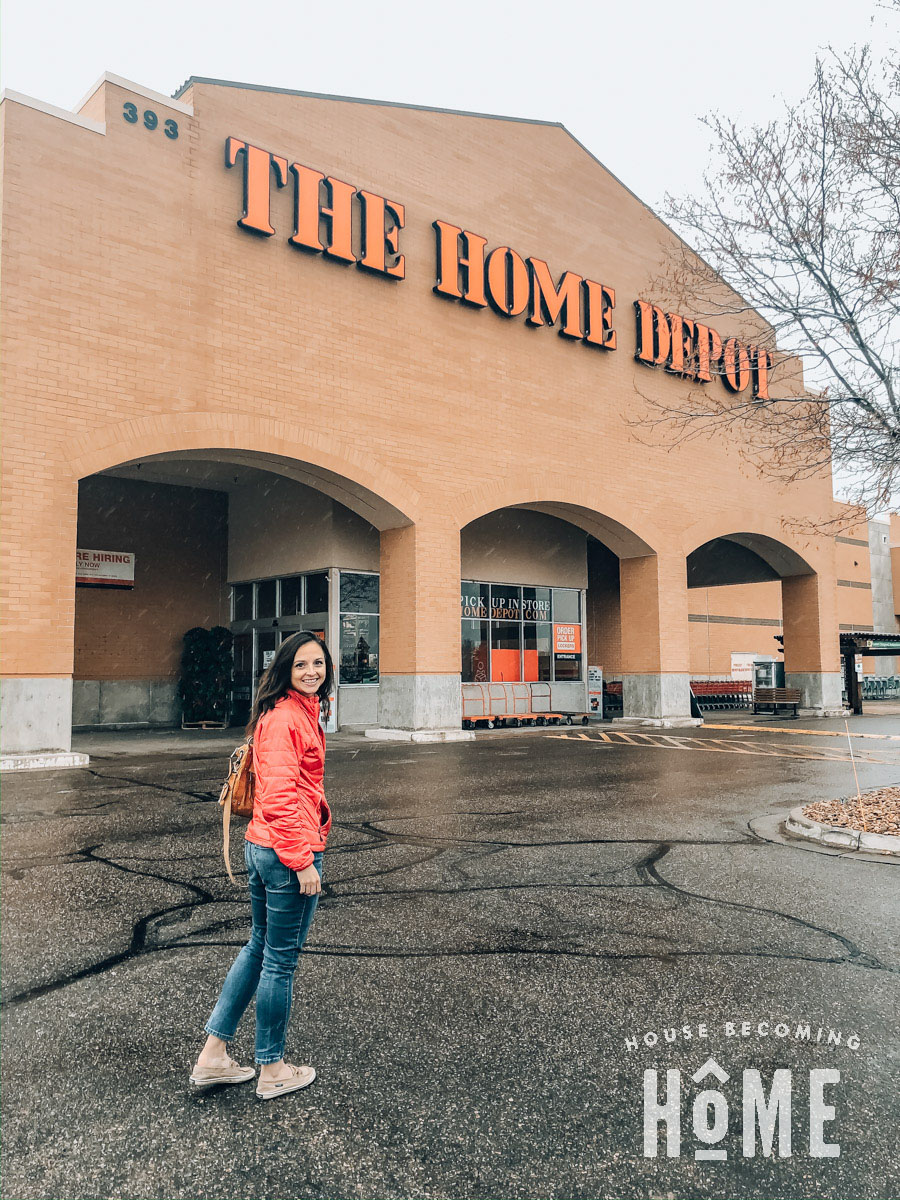 Final Touches
I built this geometric side table awhile ago and thought the warmth of the pine would look nice next to the sofa. I found this cute aloe plant in The Home Depot after I picked up my pillows: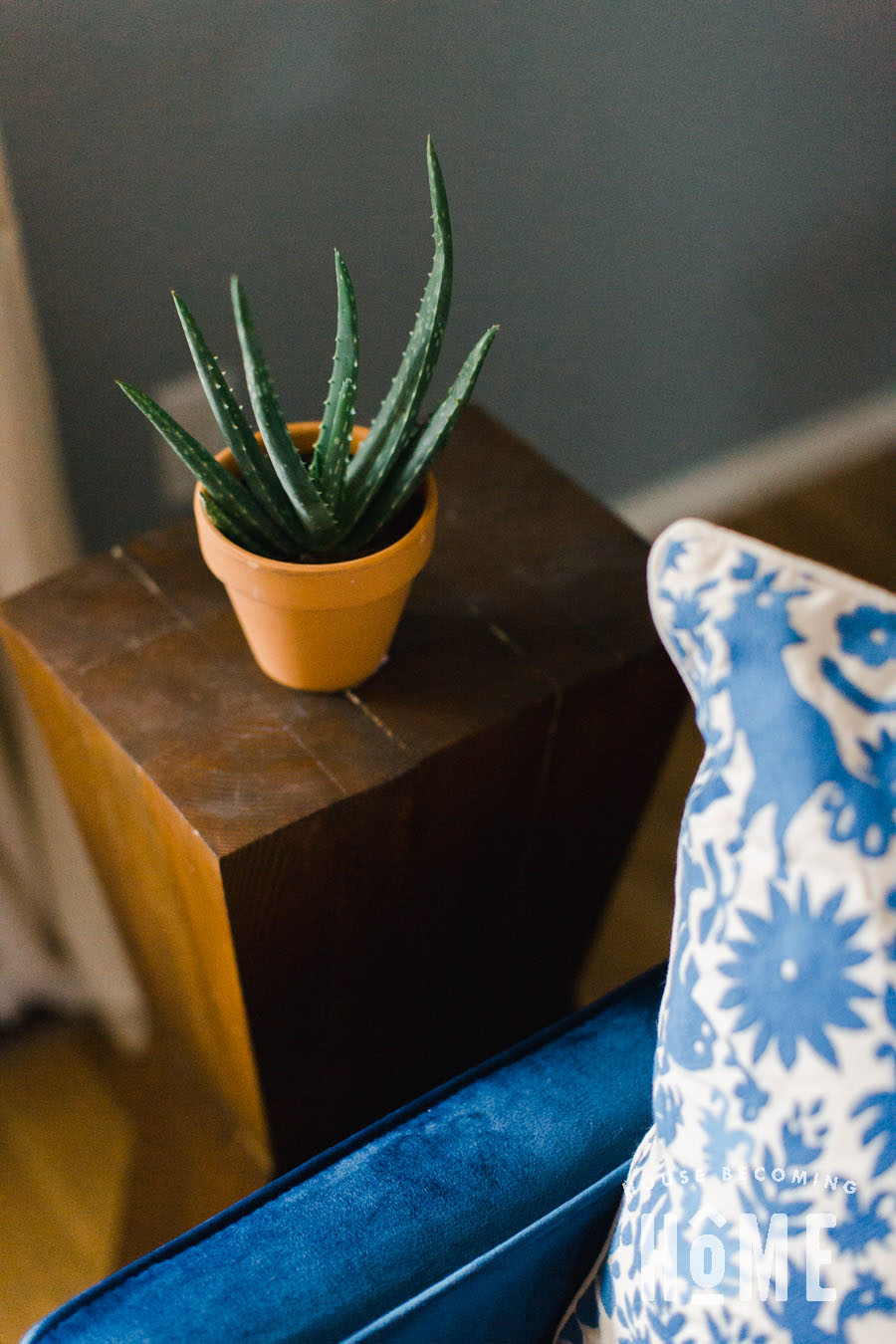 And here's the living room update, before and after. Don't forget to save Up to 40% on select furniture & decor using this using this offer here!
What do you think??